By Adam Lucius - originally published in Northern Beaches Review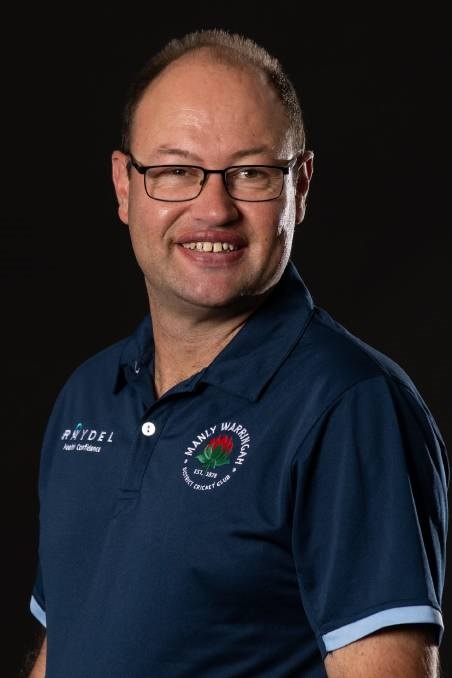 Of the hundreds of tributes offered up following the untimely death of Manly Cricket Club volunteer Michael "Juice" Shepheard this week, a couple stand out as really nailing the sort of person he was.
We'll let former Manly cricket captain Peter Procopis open the bowling from the Sydney Rd end.
"Between 1999 and 2003, Michael pulled off an incredible feat," Procopis wrote.
"He slowly, surely, patiently and expertly taught my wife, Leanne, how the game of cricket worked.
"Juice was patience personified as bit-by-bit he achieved something well beyond my capabilities!
"Each Saturday, he would keep an eye out for Leanne. Before long he would stroll over; deliver an impeccably polite greeting; and then it was down to the business of enlightening the young lady as to the brilliance of the game of cricket."
And this from Manly vice-president and close friend David Gainsford, operating from the Raglan St end.
"You taught me that life is about what you give, not what you get," Gainsford wrote.
"You never bowled a ball, hit a run or took a catch but the impact you made is greater than anyone who has.
"From the time I met you when you arrived at Manly at the age of 16 to our last dinner together with my family not long ago, you always remained a gentleman.
"Your legacy will live on through all of us."
Michael was born with mild cerebral palsy but that didn't stop him going at life full tilt.
Outside of his family, his two great loves were the Wests Tigers and Manly cricket.
He regularly caught public transport from his Narrabeen apartment, which he proudly purchased last year, to watch the Tigers play all over Sydney, getting home hours after fulltime, venting his spleen over another loss or enthusiastically celebrating a win.
For 27 summers, it was all about the Waratahs.
He did everything from work the old Manly Oval scoreboard to manage the first grade side, making sure players from both sides, umpires and officials were catered for, not to mention the odd cricket novice.
There was nothing he would not do to make the day more comfortable for somebody.
Last year the selfless Juice became one of a handful of non-players to be granted life membership of the Manly club.
There was not a dry eye in the house as he made his acceptance speech (Juice could blubber with the best of them).
It's fair to say - with due respect to the 50 life members to go before him - there hasn't been a more popular recipient in the club's 144-year history.
There will be more tears on Thursday but this time they will flow in sadness as the 42-year-old is farewelled at, fittingly, the presbyterian church across the road from his beloved Manly Oval.
His sudden passing - Juice collapsed while finishing his shift at Coles, Dee Wy last Wednesday - has rocked the tight-knit club and wider cricket community.
The club's Facebook post announcing Michael's death has attracted near record engagements and comments, underlining his standing.
"Our club is broken. Our heart, our soul for so many years is no longer with us," the club wrote.
Long-serving president Andrew Fraser has not seen an outpouring of emotion to match it.
"There is a saying that no one is irreplaceable, but that doesn't apply to Juice," club president Andrew Fraser said.
"He is irreplaceable. No one can provide what he's provided us for 27 years.
"We are absolutely devastated but will make sure we give this great man the send-off he deserves.
"His contribution will never be forgotten."

Join the cricket network to promote your business and expertise. Make it easy for people to search and find the people and services they need through people they know and trust.
Join the network