Murray Radcliffe love of cricket crosses all aspects of the game. He's been a player, selector, administrator and coach and has and continues to make a tremendous contribution.
He is a life member of Australian National University Cricket Club and Cricket ACT.
Image: In 2014 Murray is pictured with Australian batsman Mike Hussey when Hussey was at ANU Oval to promote Blind Cricket ACT.
Murray arrived at Western Suburbs in Sydney in 1984 and in 5 seasons with Wests and one at St George he took 245 wickets at an average of 18.79. Best figures of 7 for 43 and he took 5 wickets in an innings 10 times. Murray was incredibly unluckily not to have been selected to play for NSW
In Canberra playing for ANU Murray took 257 wickets at an average of 16.5.
Let's find out more about Murray's journey in the game
Wests Ashfield Leagues Club is a proud sponsor of Western Suburbs Cricket Club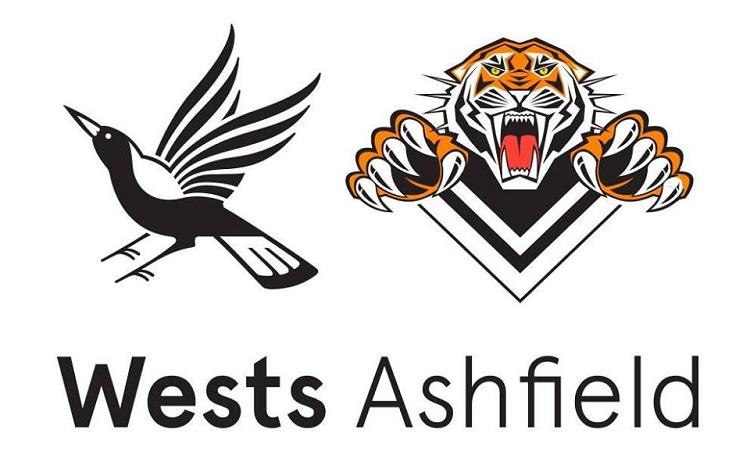 What year you were born?
1960
Can you remember you first game of cricket?
Not really. It would have been with the Barham under 16s when I was about 8 or 9.
Tell us briefly about your cricketing journey?
I grew up in a small town in the Riverina called Barham. Played juniors and seniors there until I finished high school. When I was 16 I spent the summer with my grandparents in Sydney and trained with Northern Districts. I played one game in their 5th grade side at Parramatta with the psychiatric hospital in the background.
After school I had a year without playing because of a disease in my spine. Coinciding with that healing itself I went to University in Canberra and joined the ANU Cricket Club.
In 1981 I was selected to tour Singapore and the UK with the Australian Universities touring team (players chosen from all Universities in Australia). I played for the ACT team for a few years and then decided to try my luck in Sydney and joined Wests in 1984/85.
After the first year, I had an Australian winter playing as a professional for Clackmannanshire in the Scottish Counties competition. I played for Wests for five seasons and then played for St George for my last year in Sydney. Upon return to Canberra I played on with ANU until retiring to administration.
In which grade and at what age did you make your debut in grade cricket?
I debuted in 3rd grade at ANU when I was 19. In Sydney my first game was in first grade on the last Saturday of September 1984 when I was 23, can't remember when or who it was against.
If you can share with our readers, how would you describe yourself as a cricketer?
I was a fast-medium bowler that tried to swing it away from right handers. I thought my batting prowess was better than anyone else thought. As a bowler, I tried hard not to give the batsman anything easy. In my mind, keeping the score down contributed to winning games.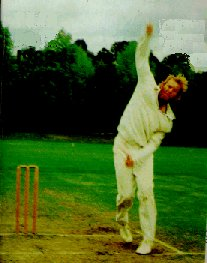 What was your highest score in senior cricket?
In Sydney, I scored a 50 at Pratten Park against Fairfield. I scored a century for ANU Second Grade at Condor against Tuggeranong when I was about 38 years old and when I was 18 I scored 115 for Barham against Wakool at Wakool.
What were your best bowling figures in senior cricket?
7 for 43 for Western Suburbs
Who have been the best three fast bowlers you have played against?
Often batting at No 11, you didn't get to face too many and if you did it wasn't for long. Played against Dave Gilbert in a Country v City game at Manly one day and he skidded one into one of our opening bats who wore glasses – not a pretty sight.
For the ACT I bounced Richard Hadlee one day and he was pretty fired up when our boys went out and proved what a world class bowler he was.
In grade cricket, I always had a great respect for Richard Stobo who gave his heart and soul. I also thoroughly enjoyed my season at St George bowling with Phil Alley. He bowled from a great height and being a lefty was very difficult.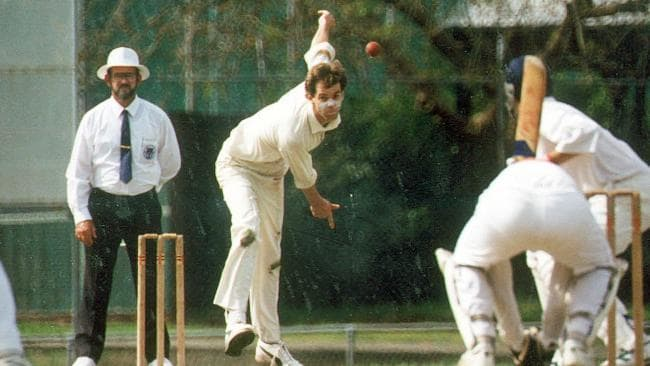 Richard Stobo
In Canberra, I played with and against Ken McLeod. He was a really quick left-handed Jamaican. Played a couple of seasons with Campbelltown and was frightening when revved up. Still a great friend as well.
Who has been the best three spinners you have played against?
Maxi (the fruit taxi) Bennett had the ball on a string. I faced him a few times and you would think you could give it a whack but it dipped at the last minute and left you nowhere. I have always had great respect for Tommy Shiner. He killed it in grade cricket but didn't get a chance at higher levels.
I lured him to Canberra at the end of his career and he played at ANU.
I never played against Greg Matthews, always played with him, but I always admired his drive and commitment to be better. Through enormous will and dedication he played successfully for his country.
Who has been the best 3 batsman you've played against?
Mark Waugh always scored heavily against us. He didn't seem to move around much but his head was always in line and he hit with the full face of the bat. On a good pitch, he never looked like getting out, especially to my pies.
Mark Taylor was obviously another with a fantastic technique and temperament. Another who played with the full face and scored heavily against teams I played in.
Earlier in my career, I played against Zaheer Abbas. I could do nothing to stop him smashing a century.
In Canberra, Peter Solway is a richly deserved legend.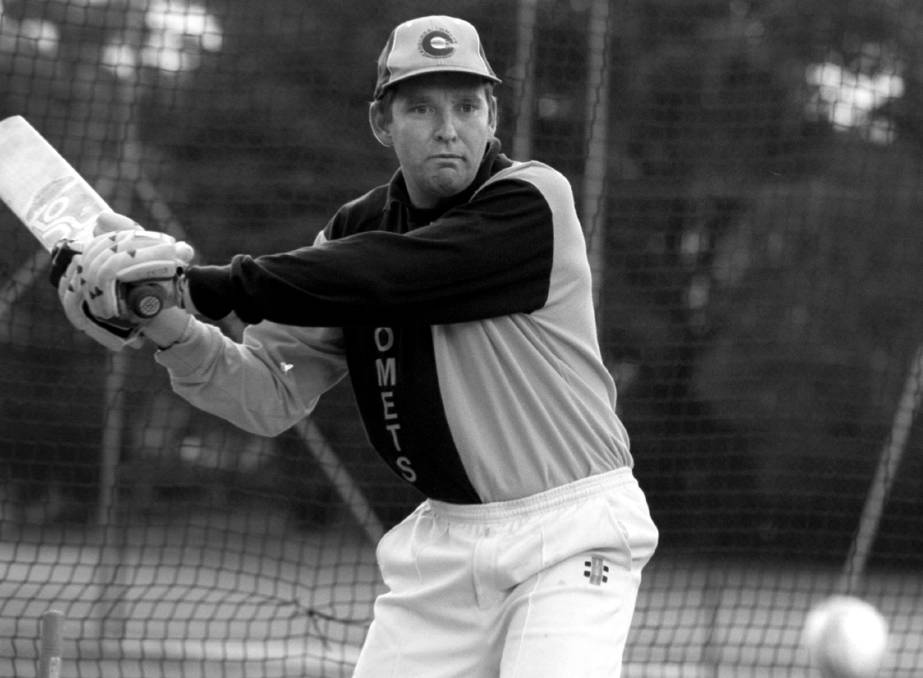 Peter Solway
Who played the best innings you've seen firsthand playing with or against?
Playing with Scott Hookey was exhilarating. He scored a big hundred against Fairfield in their first season or two on their ground. I have never seen anyone hit the ball so hard and so far. In a time before these monster bats, he was hitting it well over 100 metres over the bowlers head. Through and over the covers he was peerless.
I also loved the day Matt Troy scored his only century in first grade. I had sold him the bat he used only a few days before.
Was there any batsman in particular that stirred the emotions and competitive spirit where you really wanted their wicket?
For absolutely no reason, my blood boiled when I played against Garry Baldwin.
Darby Quoyle bounced me in an Intervarsity game once so I bounced him a lot – got him out third ball once for 12. I also hated left handers. Especially those in the top order that could play and miss for Australia.
Who was the best wicket keeper you've seen firsthand playing with or against?
Wasn't I lucky. I got to play with Greg Dyer. He was brilliant behind the stumps. Up to the stumps he was lightening at times – sometimes too quick for the umpire.
Then I had the pleasure of bowling with Paul Ryan behind the stumps, very good on his feet and very safe hands.
Back in Canberra, a 14 year-old Brad Haddin played with us at ANU. As we all know he became the best keeper-batsman in the world for a few years. What a bonus for Australia to have the best two all-rounders in the game - Gilly and Brad – one after the other.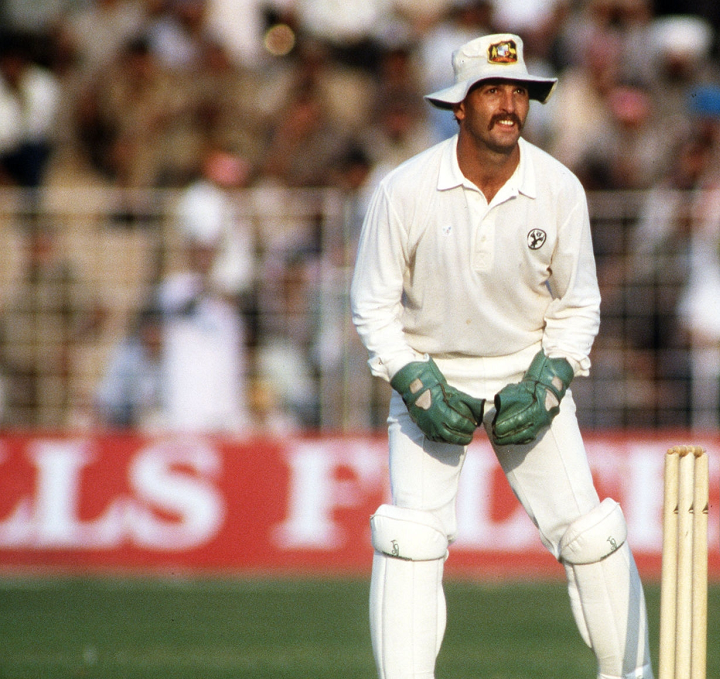 Greg Dyer keeping for Australia
Who are the two players you admired most in terms of skills and competitive spirit in the competitions you played?
Brad McNamara. Buzzard turned himself from a pretty good grade batsman who chucked a few down, into a brilliant all rounder who could execute whatever he wanted with the ball, a reliable first-class batter and a highly skilled catcher and fielder. He played hard on the field but was always convivial after the game.
Greg Matthews was the other. Through shear will and effort he became a very successful international cricketer.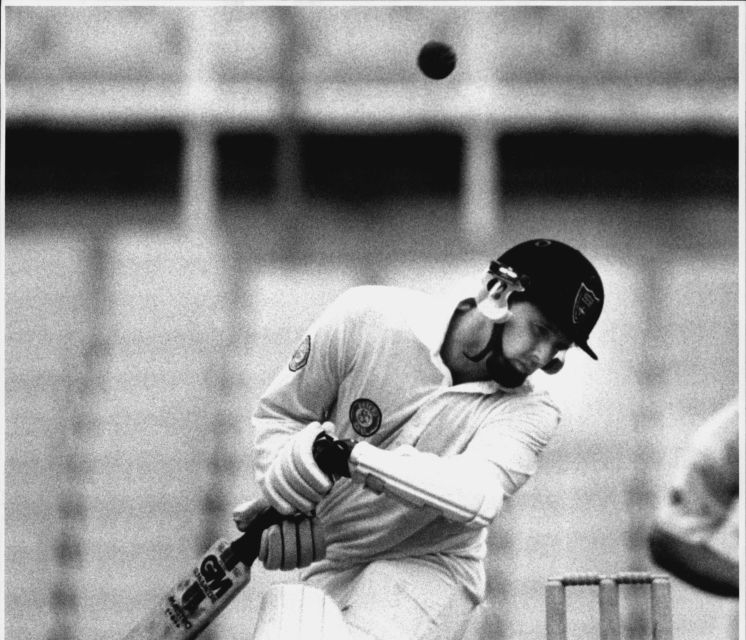 Brad McNamara batting for NSW
Who was the best captain you had the good fortune to play with?
My favourite captain was my first at ANU. His name was Barry Andrews. He was about 4 feet 8 inches and a little portly, a brilliant historian with the quickest wit of anyone I have ever known. A few words from him from mid-off and the batsmen were so confused they couldn't concentrate and would get out. Knew the game intimately.
Can you recall some banter or an exchange on the cricket field that still makes you laugh today?
We were playing Petersham. I was bowling and our captain, Peter O'Reilly was fielding next to the pitch on the leg side about 15 metres from the bat. I bowled one and the batter hit it to Pete. He fielded it and turned around and noticed that the non-striker, Brian Riley, had backed up a fair bit.
Next ball, exactly the same thing happened except Pete whipped around and threw the ball towards the stumps. It hit Ryles right on the arse. Most people who played in that era would know what happened next. The meek and mild Peter O'Reilly copped a colourful blast from that one.
What was your most embarrassing dismissal in senior cricket?
Against St George at Pratten. Max (Murray Bennett) was bowling and I tried to whack one. Flew off my bat onto my chin, bobbed up in the air and John Bain dived in and caught it. I collapsed to the ground pretending it hurt and in the fluster the umpire gave me not out. I was laughing so much the next ball I was no chance.
Who was your childhood hero?
Dennis Lillee and Andy Roberts. Dennis was rhythmical and aggressive, Andy was quiet, brooding and dangerous.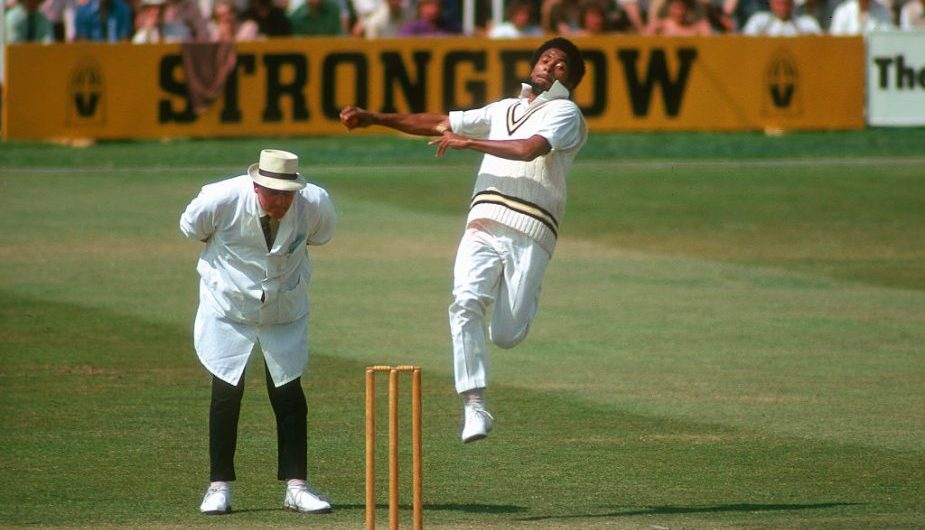 Andy Roberts
Who are the three sports people in the world you'd most like to meet?
Adam Scott, Daniel Ricciardo and Pat Cummings
Who's your favourite cricket commentator?
Skull (Kerry O'Keeffe)
What was your favourite ground to play at?
Coogee and Manly by the sea with plenty of eye candy
What there a particular team you especially looked forward to playing against?
Again, for no great reason, I never liked North Sydney. I think it was the inner west working-class boy resenting the north shore private school elites.
What do you enjoy most about playing cricket?
I loved competing but mostly, and why I am still heavily involved in Canberra, is because I love the camaraderie. In particular, the hour after the days play in the changing room having a couple of beers and catching up with the players from the other team. Now I have a beer with the players after the game because it makes me feel a bit younger.
What's been your most memorable moment in cricket?
I loved playing cricket. I think the match I played at Headingly in Leeds was a highlight. I have been fortunate to play against New Zealand, West Indies, England, India, Pakistan and Sri Lanka. An absolute privilege.
What's the best win you've been involved with?
Probably a game for St George against North Sydney at Hurstville. We made just over 300, Graeme Smith scored a ton. North Sydney were something like 5-297 (needed 6 to win) when I bowled Graham Spring for about 160. If he had hit that ball it would have been game over. Anyway, a run out, a catch and before we knew it, they were out for, I think, 300.
Who are the three players from your playing days at the top of the list for a Saturday afternoon barbeque?
Greg Dyer, Geoff Lawson and Brad McNamara – all great blokes who are very successful, with great stories to tell.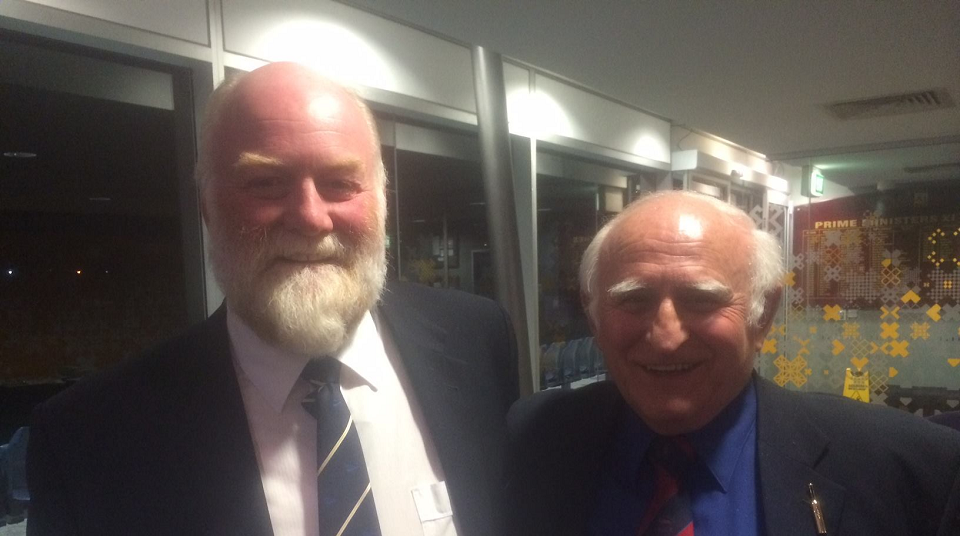 Murray Radcliffe and Jim Meszes both received life membership of Cricket ACT in 2014
What are your hobbies?
Play golf poorly. Quite into food and wine.
What's the best advice you've received?
If you are thinking about bowling an inswinger, wait another couple of overs.
What is your current occupation?
Public Servant
Let's give your employer a plug, who do you work for?
Manager of the Griffith Office of the Murray-Darling Basin Authority – but planning my retirement
Are you still involved in cricket and if so, in what capacity?
Yes. At the end of my playing days I became a selector for ACT teams. Then I joined the Board of Cricket ACT. More lately, I have started up and still help run the ANU Junior Cricket Club. We have about 150 kids playing with ages ranging from 5 years to 13 years. As a result, I am also on the Board of ANU Cricket Club.
If you were running Cricket at a State Level what would your 2 priorities to ensure cricket in the state remained strong and successful on and off the field?
The first thing would be to bring back rivalry. Rather than allowing Shield Cricket to just be a selection trial with people playing grade in one state and shield in another, or playing for a day or two of a four-day game, I would try to make it serious again.
The other thing would be to assign every staff member working for the Cricket Australia, Cricket NSW and Cricket ACT to work for two or three hours per week with a club – helping out with the enormous administrative burden.
Join the cricket network to promote your business and expertise. Make it easy for people to search and find the people and services they need through people they know and trust.
Join the network
If you'd like to see more content from Western Suburbs District Cricket Club, they'd be very grateful for your support and contribution. Western Suburbs District Cricket Club will receive 80% of all funds contributed.