Published at lunch on Day 3
Like a student watching a lecture on double speed after missing the first class of semester, India are playing catch-up in the series, owning their home conditions like only they can. While many bemoan the "sporting" conditions, the added spice and intrigue makes for captivating cricket as both sides play for a spot in the WTC final.
So often dubbed 'moving day' in Test cricket, the third day usually gives an insight to the likely result, or at least who can lay claim to being ahead of the game. In India, however, or at least in this second Test, everything is happening at double speed. So much so, that by the time the teams arrived at M.A. Chidambaram Stadium on Monday, you couldn't help but feel that this one had already passed England by.
Cooking up a bone dry, vicious turning Bunsen burner of a wicket, it was as if the home side pressed fast forward on this one before it had even begun. Nigh on a certainty not to last the full five days, whichever team could get themselves in front of the game on day 1 – heck even whichever team won the toss would go a long way to winning the match. That said, even from the first session, everything was fraught with danger. With a positive intent and striking at almost a run-a-ball, Rohit Sharma was largely alone in breaking the game apart on a wicket that was already doing the same. Bringing up his seventh century in India, the powerful opener now averages in excess of 85 at home; his record on home soil second now only to The Don.
With foot firmly on the accelerator and 329 runs already in the bank, it was almost a matter of winding Ashwin up and watching him go on day two. The fast off-spinner naturally got the ball to misbehave; his exemplary skill set only enhanced by the rapidly deteriorating surface. Claiming his 29th 5-wicket haul, Ashwin further solidified his record as one of India's finest spinners; particularly at home. Pressing pause on a story racing to what seemed a foregone conclusion, Ben Foakes showed the resolve, patience and skill that was largely absent in the six Englishmen who came before him. His determined 42* pushed England beyond the ignominy of the follow on, but still 195 runs in arrears and having to bat last on the fiercely unpredictable surface, it seems just impossibly out of reach.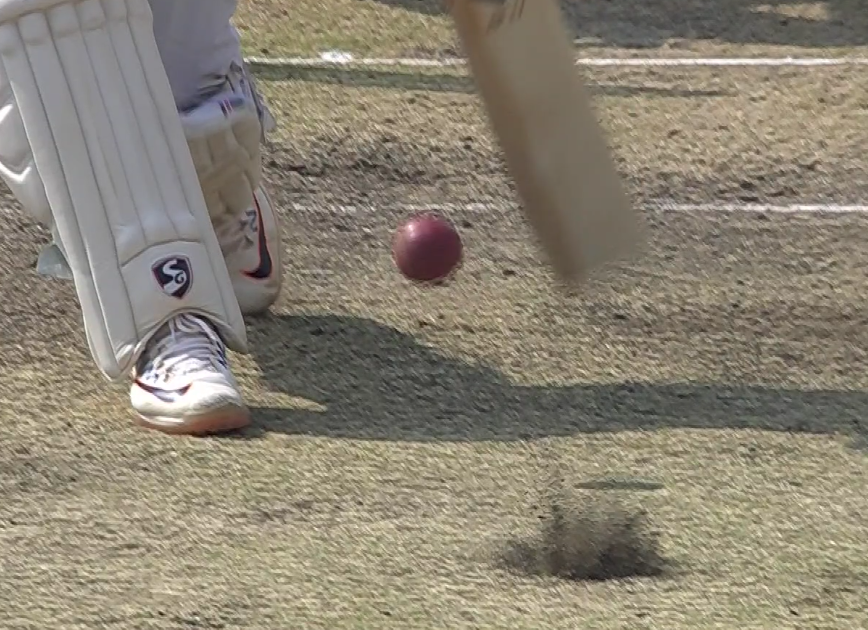 (Puff of dust as the ball penetrates the surface when Rishabh Pant was dismissed this morning)
It was that Foakes who became a kind of a constant for the English team in the early part of day 3, too. With the spinners working overtime and stump microphones turned up to compensate for the smaller workday crowd, his happy support for his bowlers, "bowled Mo" and "lovely skill, Leachy" - only ceased when he was dialled in to complete the dismissals of Pujara, Pant and Sharma. Having a fine match, Foakes shone (and also turned 28) and such a performance in adverse conditions will do nothing to hurt his chances of solidifying his Test position.
While England dominated the early part of this third day as Indian wickets fell left and right, every puff of dust or big turning spinner – be that off or orthodox, was ironically the knell of English hopes. Former star and fifth all-time run scorer, Kevin Pietersen used to exaggerate any misbehaviour of the pitch when batting in the third innings; highlighting to his opposing batsmen the challenge that remained in front of them. In Chennai this morning, with a lead in excess of 300, the Indians needn't exaggerate, as balls rolled, bit and spat at all sorts of angles. So, while they owned the first session, England remain impossibly far behind, and it would take something to the degree of Ben Stokes' Headingley heroics to get them out of this one.
If you'd like to see more content from Andrew Young, they'd be very grateful for your support and contribution. Andrew Young will receive 80% of all funds contributed.