The coveted Bradman Scholarship has been awarded for 2021, to Emily Hinze of Mount Barker, South Australia and Toby Snell of Carindale, Queensland.
The Scholarship, which has been awarded since 1990 to aid undergraduates balance their cricket and academic pursuits, was expanded in 2019 to include both a male and a female recipient each year. Snell and Hinze, who applied in February, are both exceptionally talented cricketers who have also demonstrated an ability to maintain strong academic records at school and the early part of their university studies. This duality helped them to stand out amongst a strong nationwide pool of applicants.
Hinze, 18 will now add Bradman Scholar to an already distinguished list of academic and cricketing achievements. Having graduated as College Captain from Cornerstone College in 2020, she is completing a double degree in Electrical Engineering and a Bachelor of Mathematical and Computer Science at the University of Adelaide. Whilst she found the transition from school to university to be a significant one, she is thriving in the new environment. "I love learning, so the switch to a more self-driven style has been quite easy for me," she said. Passionate about the content, too, Hinze relishes the fact that her work can have a tangible impact – "we are always encouraged to think about the human context," she said. "Considering how what we do affects people is what really excites me."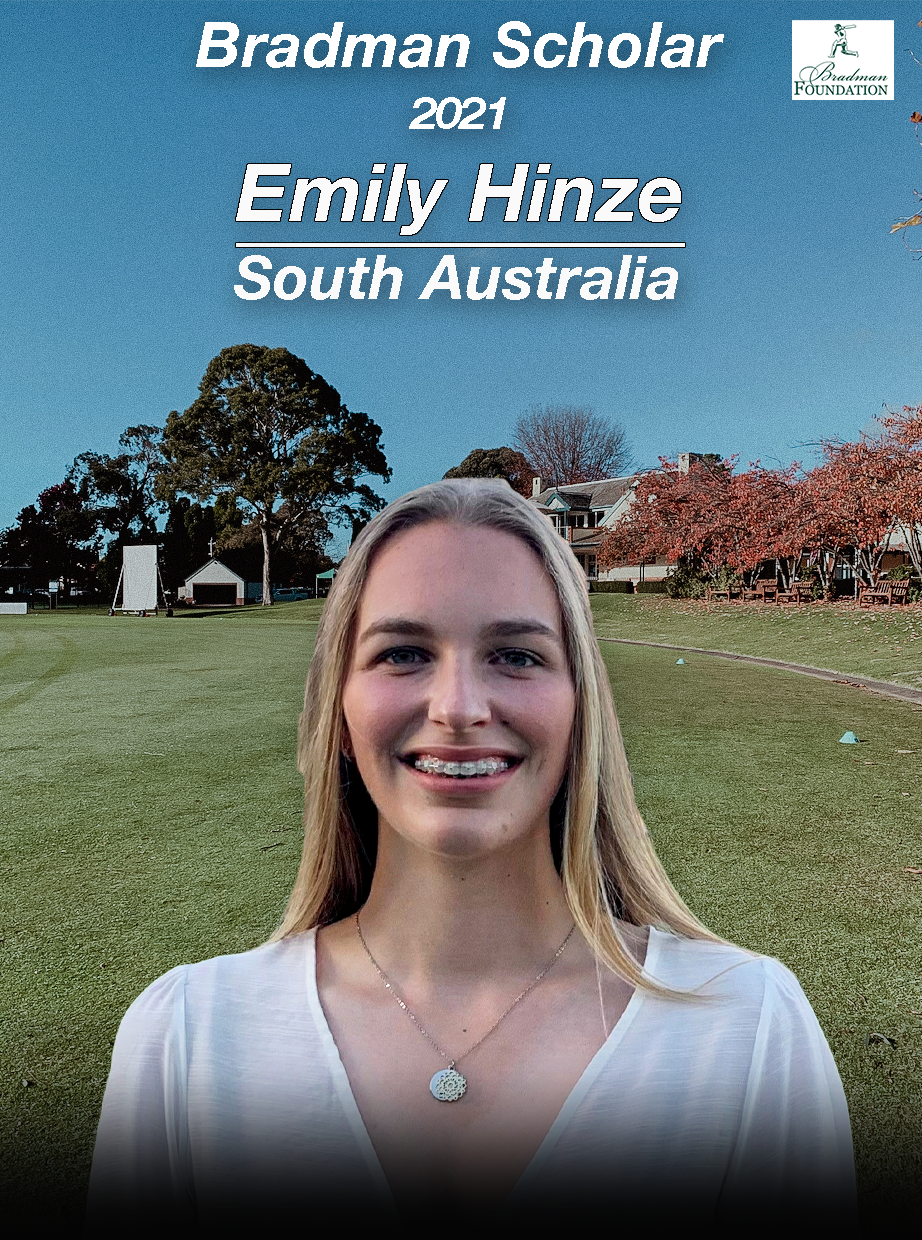 Emily Hinze is the 2021 Female Bradman Scholar
Equally passionate about her cricket, Hinze still harbours a burning desire to play at the highest level. Having joined West Torrens as an eleven-year-old, she has been a regular feature of the SACA high-performance squad ever since. Currently part of the Under 19 team preparing to travel to Perth for the National Championships, Hinze is one of the pre-eminent young bowlers in the state.
A worthy recipient, Hinze was humbled by her receipt of the scholarship. "The Bradman legacy is unbelievable," she said. "The sorts of morals and values that are upheld by the Foundation should be spread through life and particularly cricket." Excited to use the opportunity to champion equality and opportunity for women in sport, Hinze is looking forward to meeting as many people as possible once restrictions allow for it. "It's great to be part of something bigger than myself."
Toby Snell, also 18 is currently studying a Bachelor of Advanced Business (Honours) at the University of Queensland. Having excelled at school, he has settled in nicely to university, where he is enjoying the added freedom to choose his own path. "I am a bit of a numbers man," he said. "So the chance to pursue something in accounting and finance is certainly where my heart is at."
Snell has also enjoyed the increased freedom of university; suggesting it allows him to balance his studies with an increasingly busy cricket schedule. "I struggled a bit with the balance at school," he said. "Now I can re-watch classes in my own time and still get that volume of cricket in." And a good deal of cricket there is, too. A member of the Queensland high-performance academy, Snell has also represented Australia at Under 16 level. Chasing more First XI opportunity as a young wicket-keeper batsman, he has made the move to Toombul from Northern Suburbs in the off-season. Endlessly keen to develop as a player, he is content with the decision – "loyalty is important, but I had to do the right thing to help progress my cricket."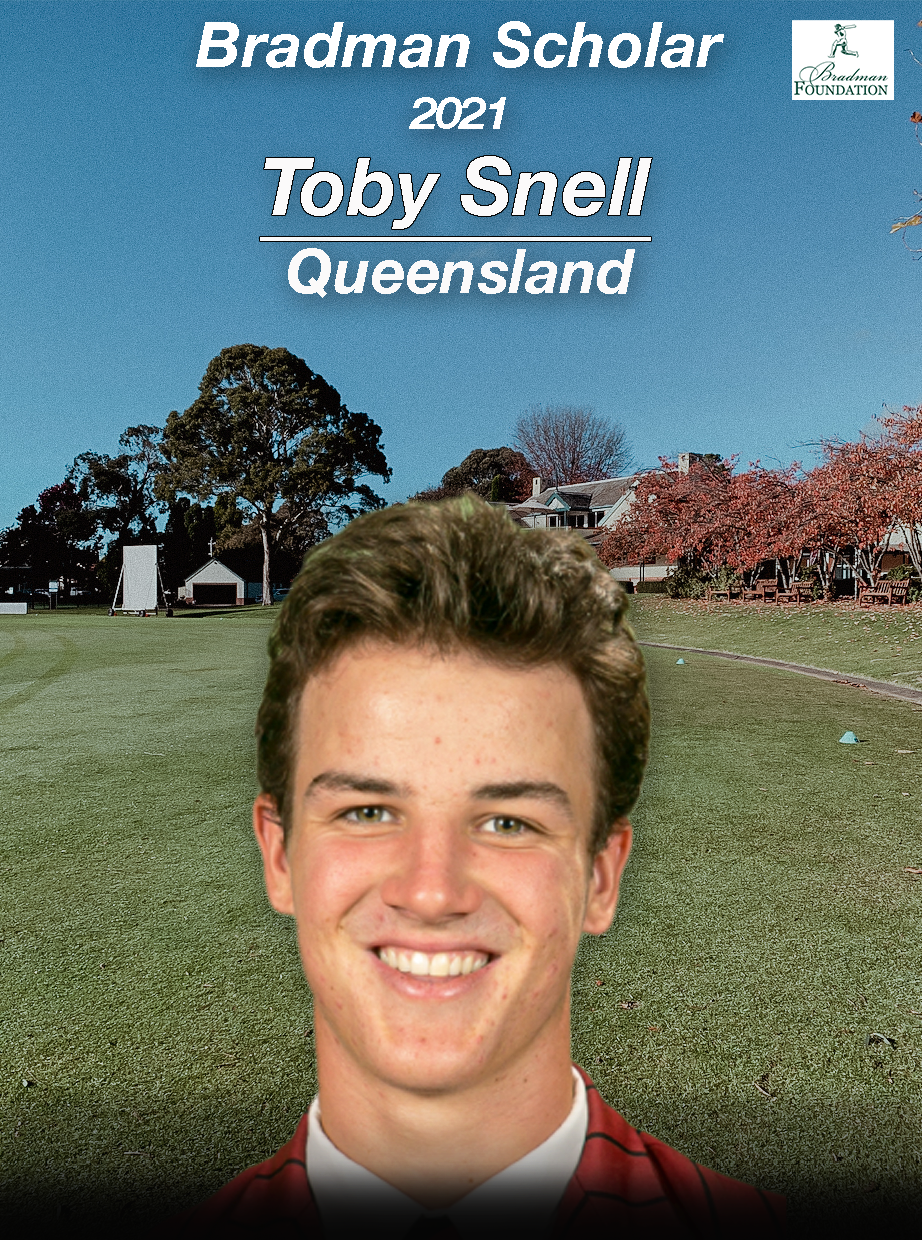 Toby Snell is the 2021 Male Bradman Scholar
A fine candidate for the scholarship, Snell was "stoked" when he found out his application had been successful. Looking forward to meeting as many people as possible and forming connections in the cricketing world, he is thrilled to be part of the Foundation now and into the future. "For someone who has always been involved in cricket, it is an honour to be a Bradman Scholar," he said. "It is very special."
Executive Director of the Bradman Foundation, Rina Hore is thrilled with the scholars for 2021. "We had another exceedingly strong field of applicants, but Toby and Emily shone through," she said. "They are high quality people, and we look forward to welcoming them into the Foundation."
The Bradman Scholarship is worth $15,000 over three years and is designed to assist young cricketers as they balance their sporting and academic pursuits at university. Applications for 2022 Female and Male scholarships will open in February.
Toby and Emily join a team of previous scholars who have given back to the game via their respective professions, club and state organisations.
Join the cricket network to promote your business and expertise. Make it easy for people to search and find the people and services they need through people they know and trust.
Join the network
If you'd like to see more content from Bradman Museum, they'd be very grateful for your support and contribution. Bradman Museum will receive 80% of all funds contributed.