After NSW reached the 70% vaccination milestone, and with summer just around the corner, we are thrilled to announce that facilities will gradually re-open at the Bradman Centre, beginning Monday 11th October.
As we prepare to for the resumption of play, the outline below is designed to give some clarity as to how it will look. The Bradman Centre is a COVID-safe venue, and we will continue to comply with the state government guidelines.
N.B. Only residents from regional areas of NSW are allowed to visit the Bradman Centre under current restrictions.
This means the following opening protocols do not apply to our friends in the Greater Sydney area, who are not yet allowed to travel to regional NSW – we hope to be allowed to see you again soon!
Monday 11th October:
Re-opening of all outdoor facilities. This includes outdoor seating at the café, as well as benches and amenities at Bradman Oval. No mask required outside on the premises. On Monday, the café will be open 8am – 2pm for takeaway only.
Kookaburra pop-up kiosk opens at the Bradman Pavilion. Jock will be manning the store and selling a range of high quality cricket equipment for the season. In addition, drinks, ice-cream and takeaway food will be available from the kiosk for those training in the nets. The kiosk will be open 4pm – 6pm and Masks along with proof of vaccination will be required to enter the kiosk.
Community cricket sessions are allowed to resume at Bradman Oval. This includes training in groups of no more than 30 people. Those over 16 must be vaccinated.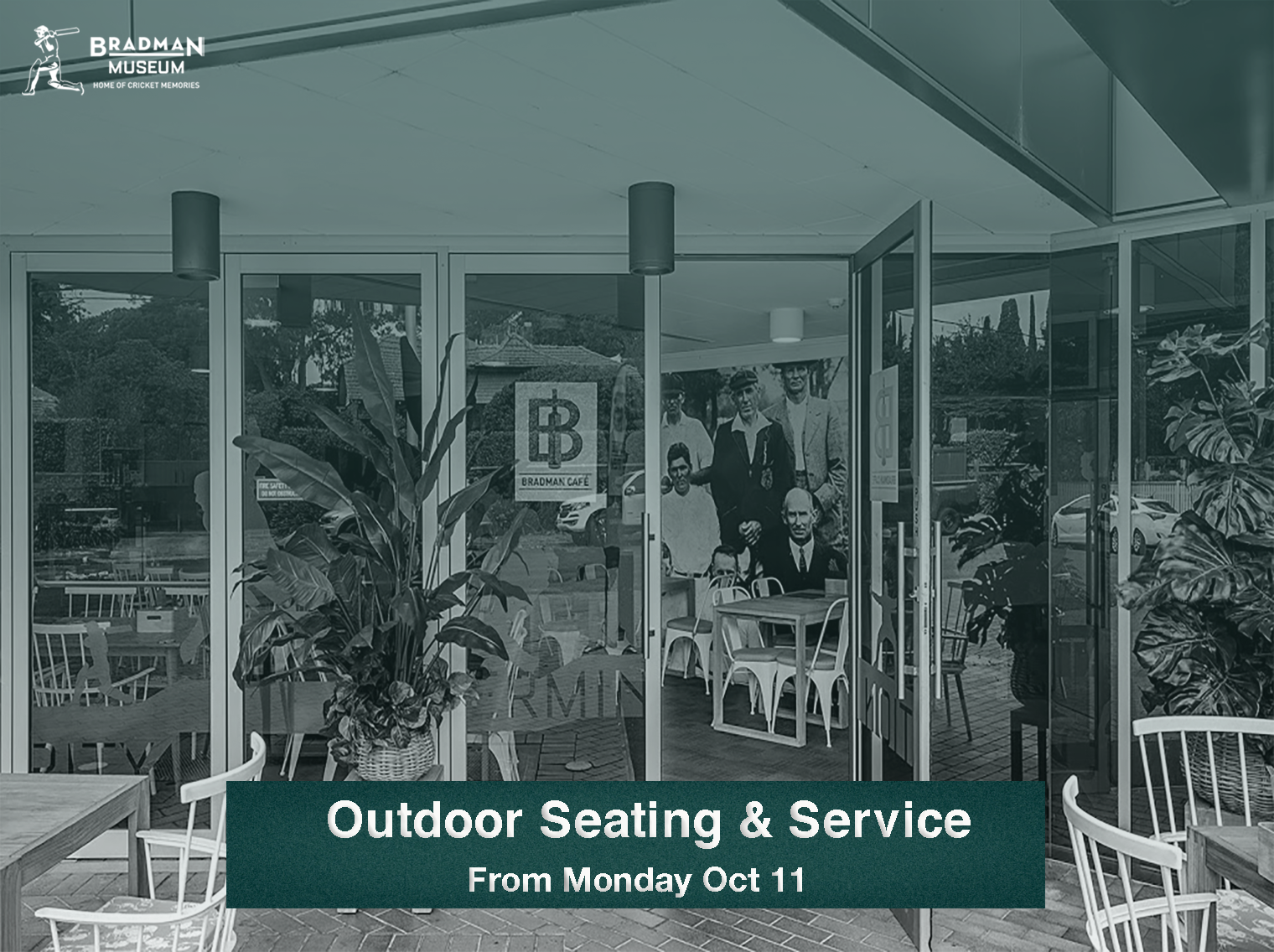 N.B social distancing requirements remain in place while outdoors.
Tuesday 12th October:
Indoor seating available for up to 20 vaccinated patrons. This includes inside the Bradman Café and foyer area. We will be serving a short menu and welcome our locals back for a sit-down meal and coffee. Bookings are essential. The indoor area will be open 10am – 2pm.
Bradman Shop is back open – again for vaccinated patrons only. Click and collect available for unvaccinated. The shop will be open 10am – 2:30pm.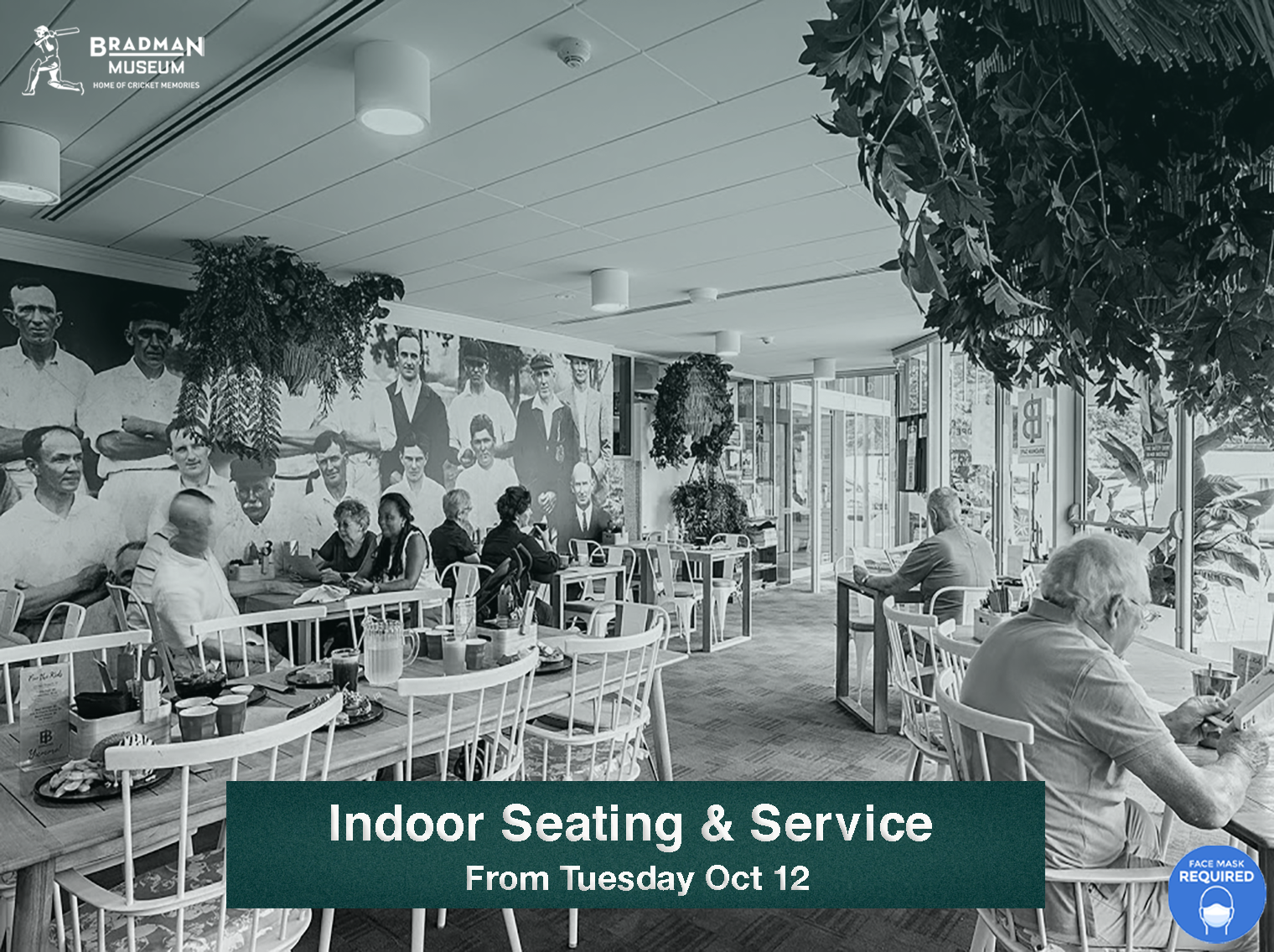 N.B strict social distancing while be enforced indoors, with 1 person permitted ever 4 square meters. Masks required indoors unless eating or drinking.
Saturday 16th October:
Breakfast @ Bradman. After the loyal support we have received from our locals during lockdown, we are keen to return the favour. Each Saturday, 8am – 1pm, we will be running a Breakfast @ Bradman, with a full menu available – including a range of hot breakfast options. Numbers are strictly capped at 34 vaccinated adults inside so call 0248 612 039 now to reserve a table indoors.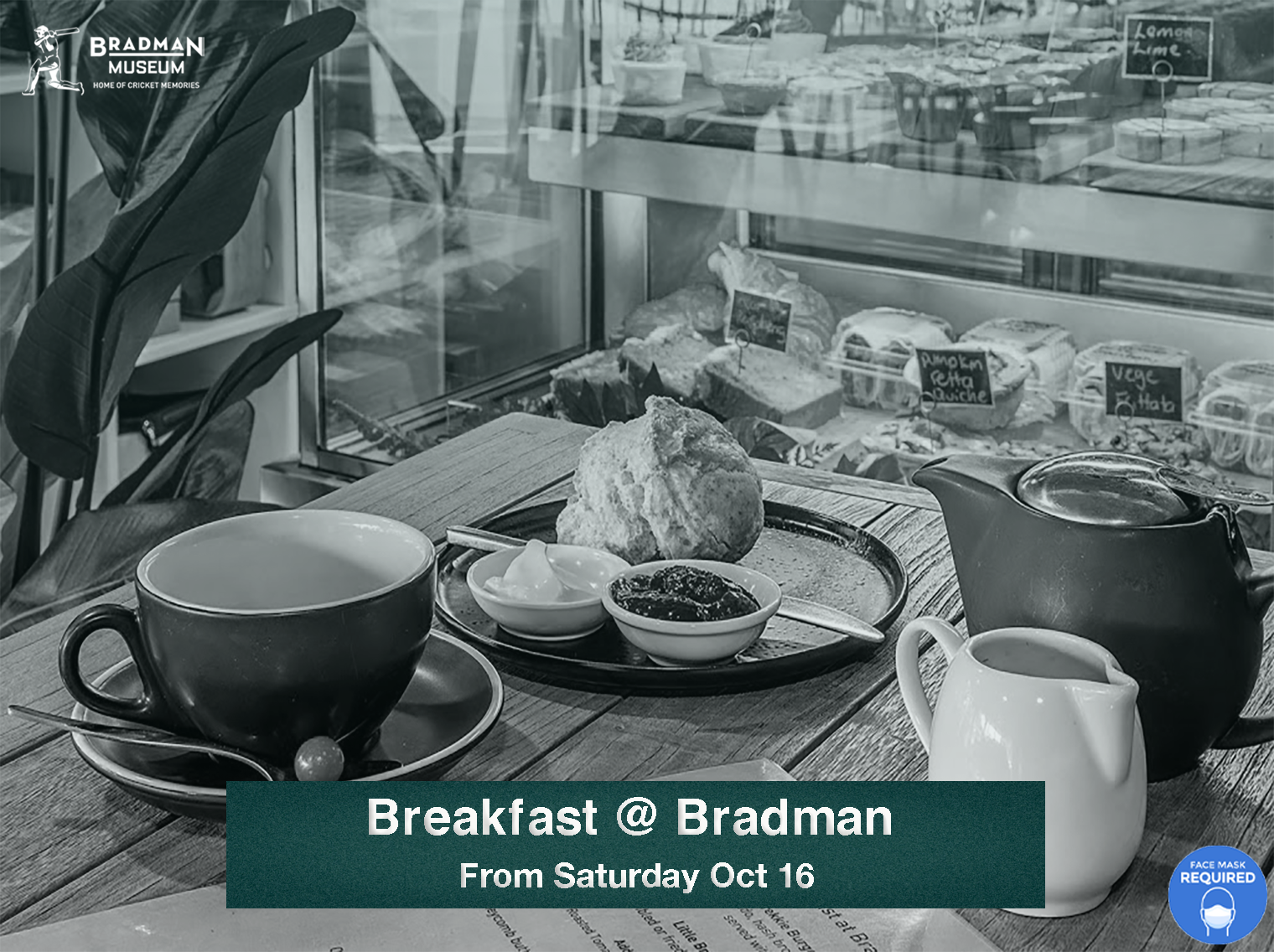 Ongoing:
Use of cricket nets and bowling machine hire available at Bradman Oval. To secure the bowling machine or to book a one-on-one coaching session with Jock, he is available for contact on: 0439 690 026
At 80% double dose vaccination:
The Museum will be allowed to open, and we anticipate that our re-opening date will be Sunday 31st October.
· A return to full community cricket can occur for those who are fully vaccinated.
If you would like further clarification on any of the re-opening protocols, please feel free to contact us at: 0248 612 039
Alternatively, follow our social media platforms for regular updates:
Facebook, Twitter, Instagram, LinkedIn
If you'd like to see more content from Bradman Museum, they'd be very grateful for your support and contribution. Bradman Museum will receive 80% of all funds contributed.