Viv Richards:
West Indies
Batsman
D.O.B: 07/03/1952
International Career: 1974 – 1991
"Fast bowlers, usually West Indian, have caused countless sleepless nights over the years, but Vivian Richards was the one batsman I've encountered who could intimidate his opponents – even before he'd received a ball." – Vic Marks
Much like in the days of Bradman, crowds would flock to the cricket purely to see Viv Richards bat. It was the unrivalled power, timing and impunity with which he batted that lingers indelibly in the minds of those fortunate enough to see him play and led to the appellation of 'Master Blaster' – one that the Antiguan bore with enormous pride.
Born to a cricketing family, Richards would have to overcome history if he were to enjoy a career for the West Indies; the national side thitherto made up of players from the big four Islands. Indeed, his own father – Malcolm, who had been the leading fast bowler for Antigua – was never given the chance to play international cricket on this basis.
Happily, as his early prowess for ball sports emerged (Richards was also a fine soccer player at school), the dial began to shift in terms of national selection; and irresistibly fast hands, a quick eye and supreme talent made a young Isaac Vivian Alexander Richards rather difficult to ignore.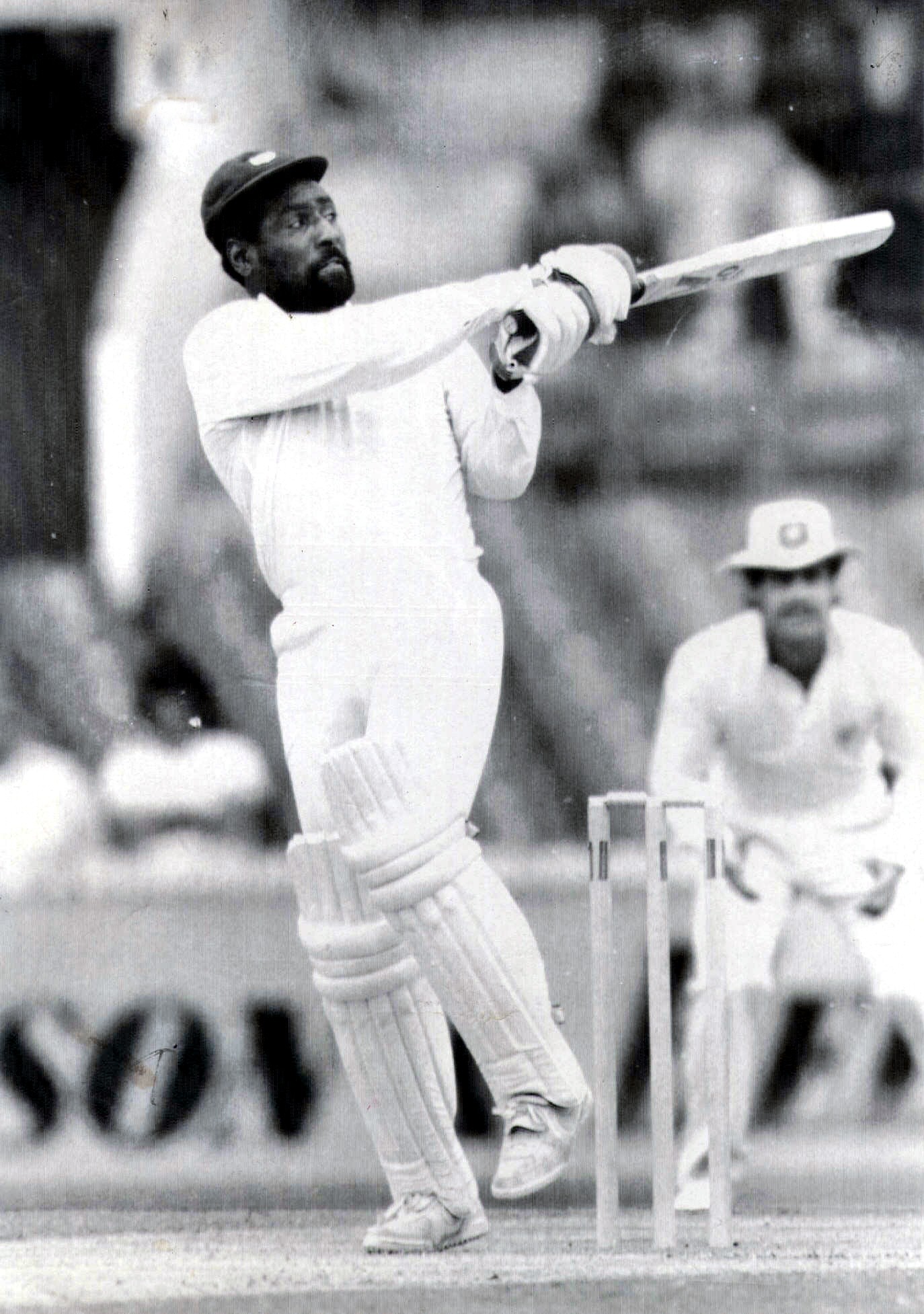 In full flight (Bradman Archives)
Richards sprung to prominence at the age of twenty when he made a blistering 82 for a Leeward and Combined Island XI against New Zealand. Unmistakably talented, he was predisposed at this early stage to get himself out; of this habit, Mike Selvey wrote that "he could be vulnerable if his desire to dominate the game overwhelmed him." Nevertheless, an impressive stint for Somerset in County cricket followed soon after, and Richards was plucked – as a precociously talented if slightly undisciplined youngster – for a tour of India, Sri-Lanka and Pakistan in 1974.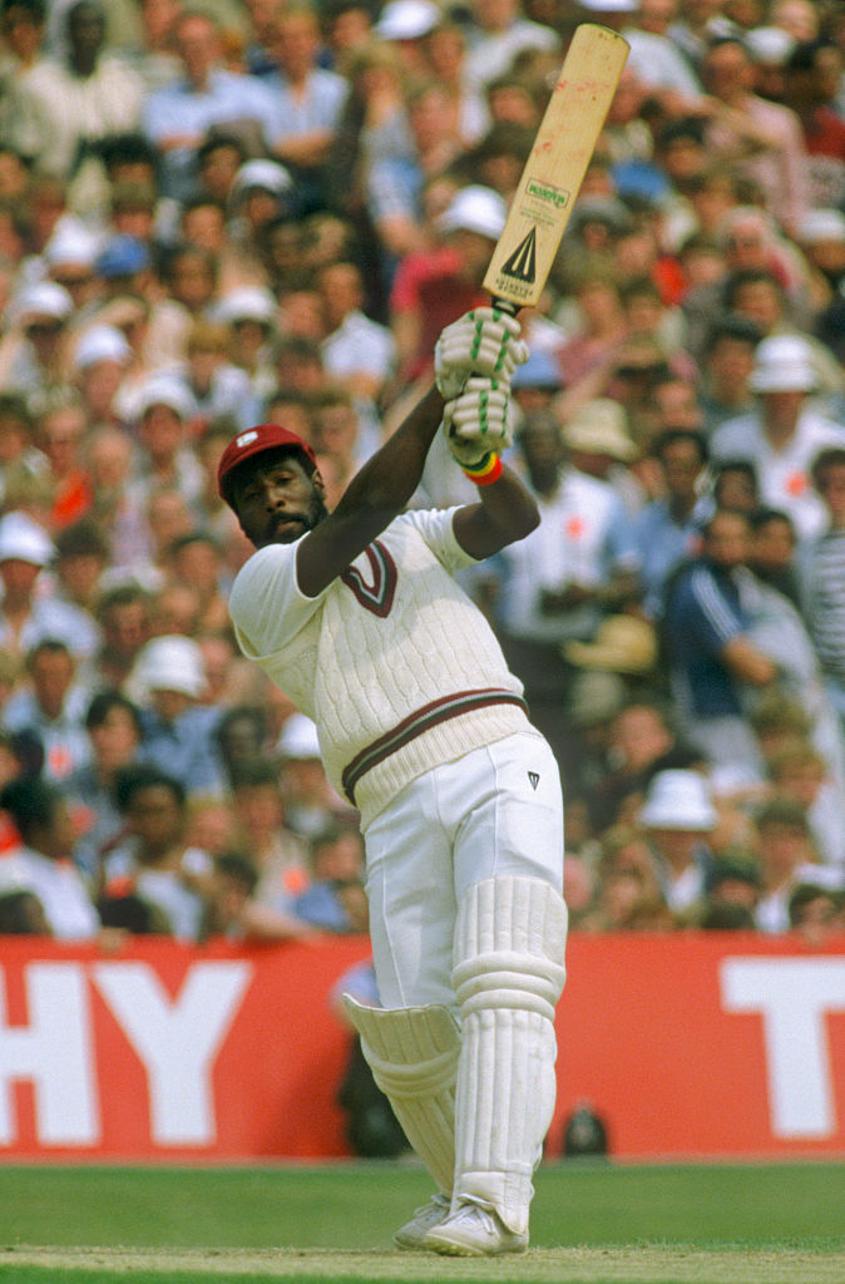 Viv was power personified (Getty)
Making a shaky start in the international arena with scores of 3 and 4 against India on debut, he quickly set things right with 192* in the second Test; a decisive moment from which he never looked back. Instead, swaggering, sauntering and swashbuckling his way into the record books. Announcing his genius in 1976, he blasted 829 runs across four Tests in England, and crammed 1,710 runs into the first eight months of the year – earning the mantle as Wisden Cricketer of the Year. His bruising style helped the West Indies to utter dominance in the Test arena, as well as to World Cup glory; securing the title of Champions in 1975 and then again in 1979 – led by a Richards masterclass; 138* at Lord's.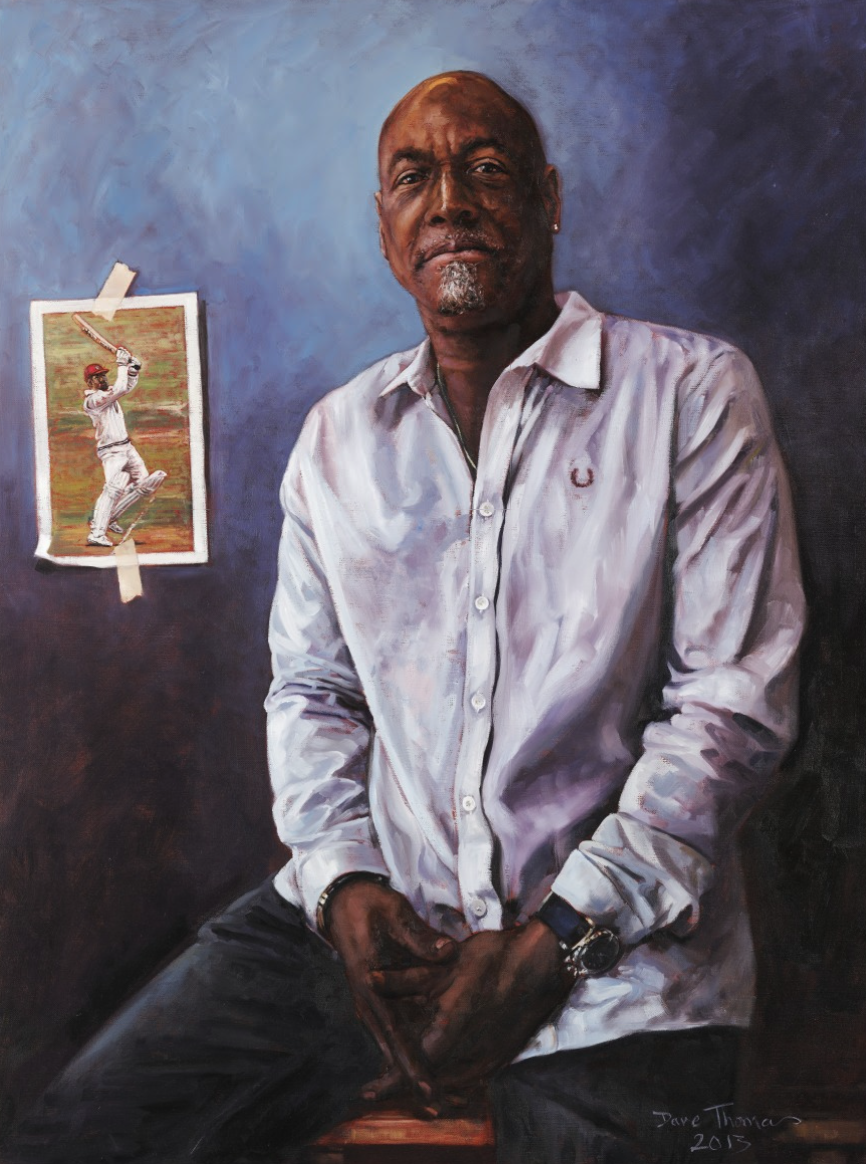 Viv's portrait by Dave Thomas on display at the Bradman Museum
It was indicative of his supreme confidence, that Richards always thrived on the biggest stage. Imbued with what Selvey recalls as a "calculated menace," his innings were equal parts theatrical and majestic.
It began with his walk to the wicket.
"His journey to the crease was a declaration of intent," writes Vic Marks. "It was delayed by a fraction, so the outgoing batsman could disappear; Richards did not want any distractions from his entry." Then he emerged, ferociously chewing his gum and donning a cap, tilted ever so slightly to one side. Arguably the most obvious symbol of his superiority, Richards withheld from wearing a helmet for the duration of his career, at a time when the fast bowler's stock ball whizzed past nostrils. Ultimately, however, it was the fury with which he played that struck fear into the hearts of bowlers and fielders the world over. "Bowlers had to be subjugated to recognise that he was the master," Marks recalls. David Gower, who captained the English side that Richards blasted for a then-record 56-ball century, goes a step further: "he was the most awesome, destructive batsman I've ever seen," he said.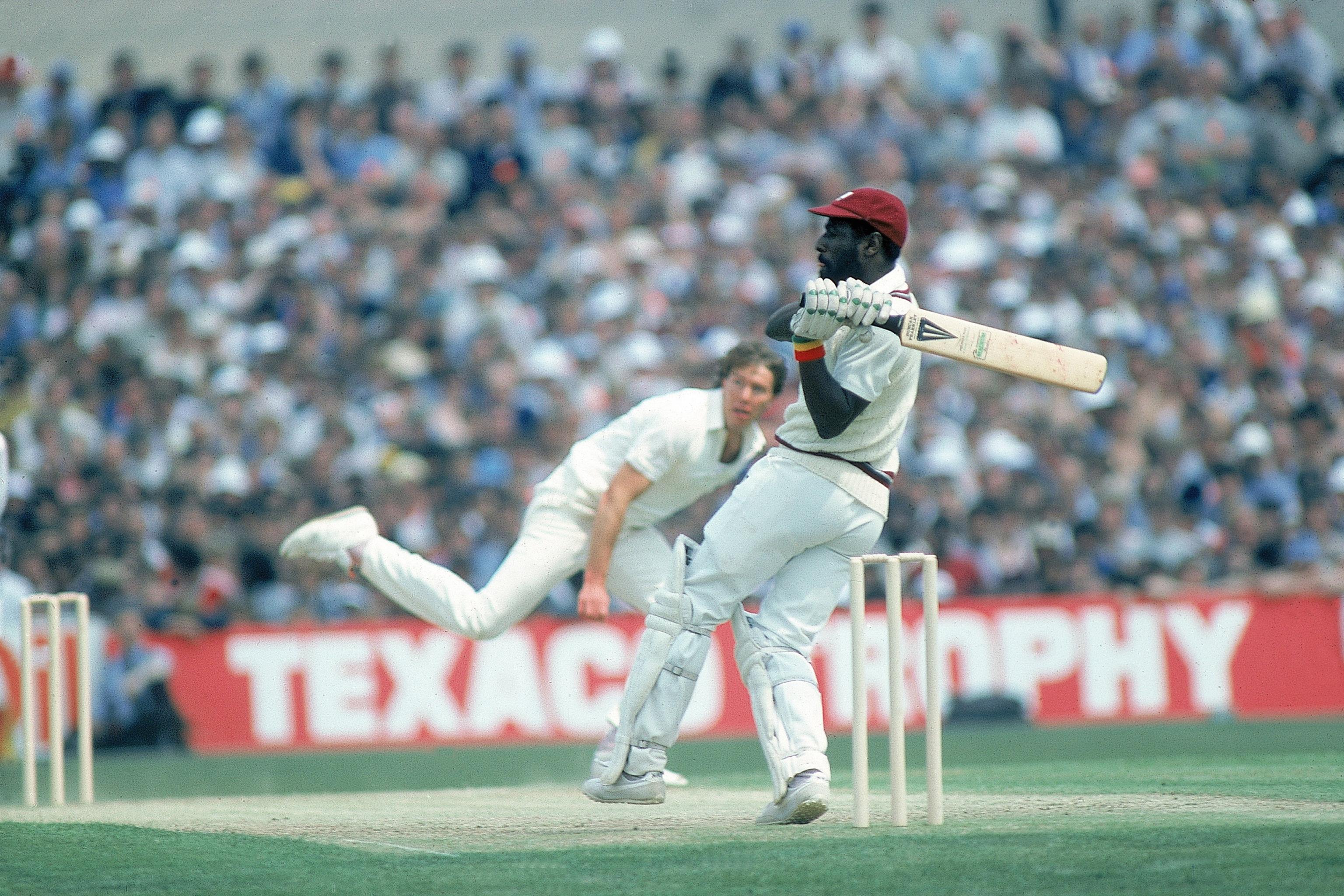 Drop short at your peril
Successful right around the world, Richards became renowned as the most confident of all touring batsmen when playing in Australia. Though he would often plant his front foot down the pitch to plunder bowlers through mid-wicket, he was devilishly quick to get back and hook the ball past square-leg; a pre-requisite for success Down Under. Sir Ian Botham, who played with Richards at Somerset, was in awe of his all-conquering style. "He could play on any surface just about, against any kind of seamers, spinners – you name it, he had an answer for it," he says.
Beyond his own destructive exploits with bat in hand, Richards also went on to captain the West Indies in 50 Tests. Never losing a series as skipper, his aura of invincibility became an infectious quality for the West Indies teams of the era.
One of Wisden's Cricketers of the Twentieth Century, Richards was knighted in 1999 for services to cricket. With flamboyance, self-confidence and an unconfined enjoyment of the game, Richards re-shaped cricket forever.
Join the cricket network to promote your business and expertise. Make it easy for people to search and find the people and services they need through people they know and trust.
Join the network
If you'd like to see more content from Bradman Museum, they'd be very grateful for your support and contribution. Bradman Museum will receive 80% of all funds contributed.