Sir John (Jack) Hobbs
England
Batter
D.O.B: 16/12/1882
International Career: 1908 – 1930
"He had all the gifts of the great batsmen. Others scored faster; hit the ball harder; more obviously murdered bowling. No one else, though, ever battled with more consummate skill than his" – John Arlott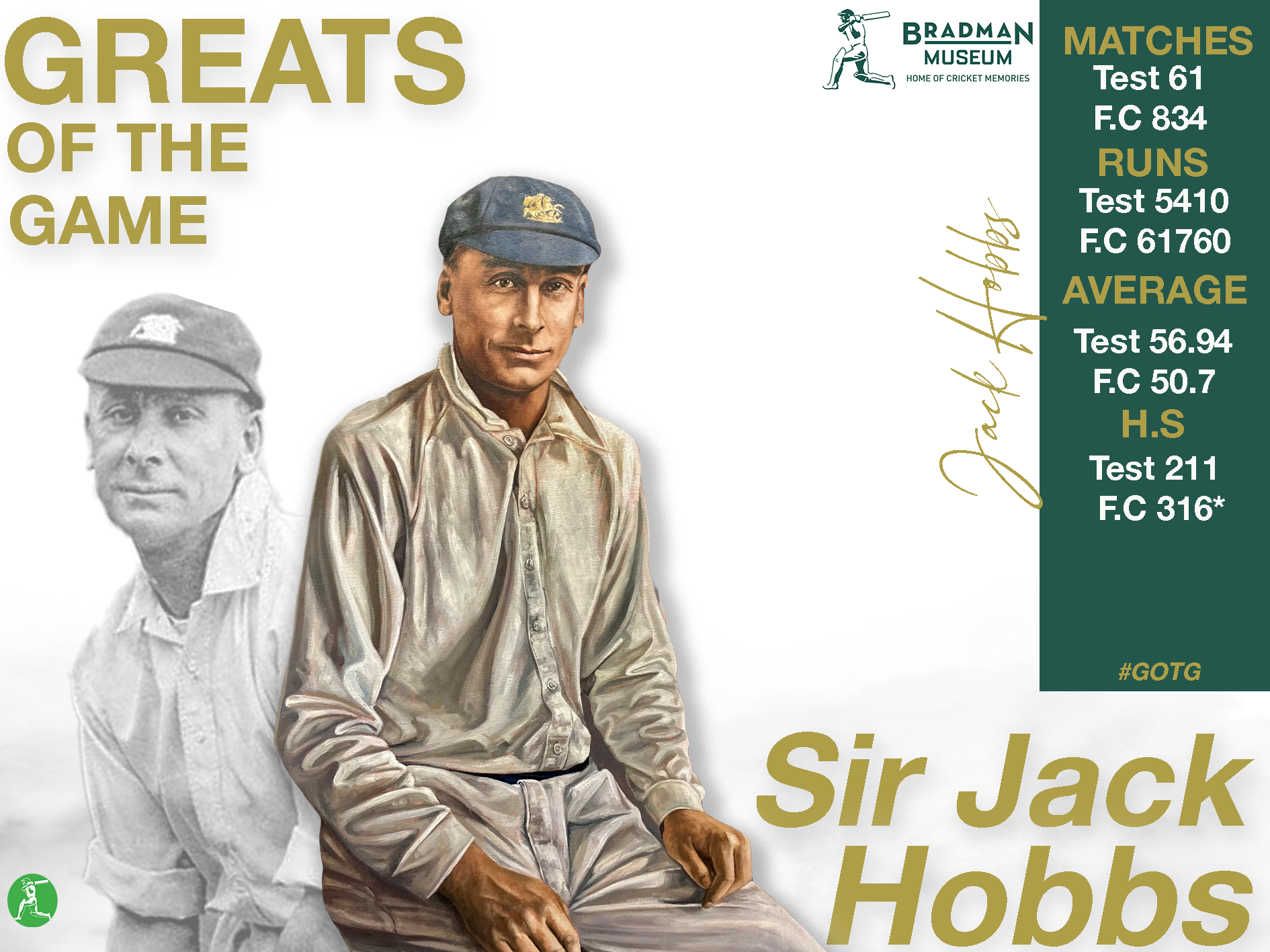 Unmatched, Jack Hobbs is GOTG 14
Sir Jack Hobbs remains the most prolific batter in the history of cricket. The leading run-scorer across all of First-Class cricket, the Englishman stands as a colossus over the game; having taken the discipline of batting to new heights throughout his thirty-year-long career.
Born into cricket, Hobbs – who was christened as John but known as Jack throughout his life – was the eldest of twelve children. His father was an umpire and groundsman at Jesus College, meaning a young Jack would immerse himself in the game, trying to emulate what he saw from the senior boys. It was here that he laid the foundations for arguably the greatest technique the game has seen; batting with a stump against a tennis ball on a gravel pitch.
Entirely self-taught, Hobbs had a passion for practice and a fervent desire to play at the highest level. Sir Neville Cardus writes that "Jack's supreme ambition was to be good enough to play for one of the leading counties," going on to stress that he "practiced morning, noon and night, and when he knew he would be busy during the day, he rose at six and practiced before he went off to work."
So, when Hobbs made his First-Class debut for Surrey in April 1905, it was both the actualisation of a boyhood dream, and the start of one of cricket's greatest careers. Quickly building up a reputation as "The Master," the early part of his career was typified by quick movement and a willingness to hit the ball all over the ground. Developing a technique that would thrive on the often-sticky wickets of the day, Hobbs merged forward and back play to combat fast bowlers, a tactic that led Cardus to suggest he was "without argument, the most accomplished batsman known to cricket since WG Grace."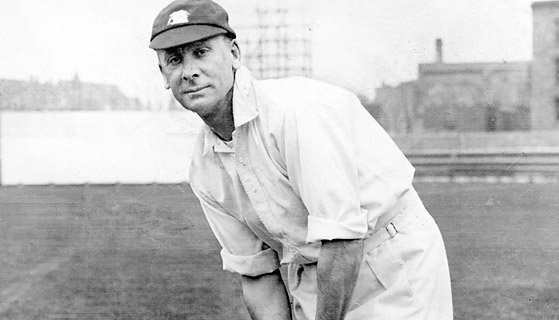 Hobbs at the crease (Bradman.com.au)
With a burgeoning First-Class record, Hobbs was selected to make his international debut in 1908 against Australia in Melbourne. Making 83, it was an early sign of his rare ability to make runs away from home. Though he had to wait until March 1910 for his first Test century – 187 also away against South Africa – Hobbs was forging a style that would allow him to thrive against all bowlers in all conditions. At a time when spinners were beginning to bowl the googly and quick bowlers the in-swinger, Cardus recalls "it was Hobbs who first assembled into his methods all the rational counters against the ball which moved the other way." Thriving in Australia – where he scored 9 Test centuries – as well as in South Africa, The Master reigned supreme wherever he played. Mark Nicholas even suggests that his style was enough to earn the adoration of Australian fans who were "enthralled by the nature of his technique and really enjoyed watching him bat."
Incredibly, for a man who boasts the most First-Class runs by a margin of almost 3,000, Hobbs missed four years of cricket due to the Great War, where he served in the Royal Flying Corps. Returning to the field thereafter, he ripened into a classical batter – his long innings typified by poise and grace. In the summer of 1925, Hobbs went to another level again. Cracking 3024 runs at an average of 70.32, he amassed 16 centuries – equalling and surpassing WG Grace's record of 126 career tons in the process.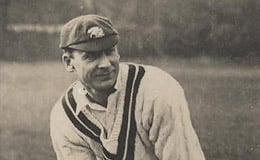 The greatest run-scorer of all time (bradman.com.au)
An incredible performance, it was an indication that for Hobbs, the game would not pass him by. Making 11,000 runs from the ages of 43-46, he incredibly made 8 of his 15 Test centuries after he turned 40, finishing with an astonishing 199 First-Class hundreds.
Hobbs retired gracefully, to ensure that Surrey's promising youngsters would be given a chance to shine, but not before his stamina and resilience had made him the most consistently heavy run-scorer the game had seen.
Dignified, charming and the ultimate gentleman, Sir Jack Hobbs became the first professional cricketer to be knighted in 1953, and was later named as one of Wisden's five cricketers of the 20th century.
Join the cricket network to promote your business and expertise. Make it easy for people to search and find the people and services they need through people they know and trust.
Join the network
If you'd like to see more content from Bradman Museum, they'd be very grateful for your support and contribution. Bradman Museum will receive 80% of all funds contributed.