Bill O'Reilly:
Australia
Bowler
D.O.B: 20/12/1905
International Career: 1932 - 1946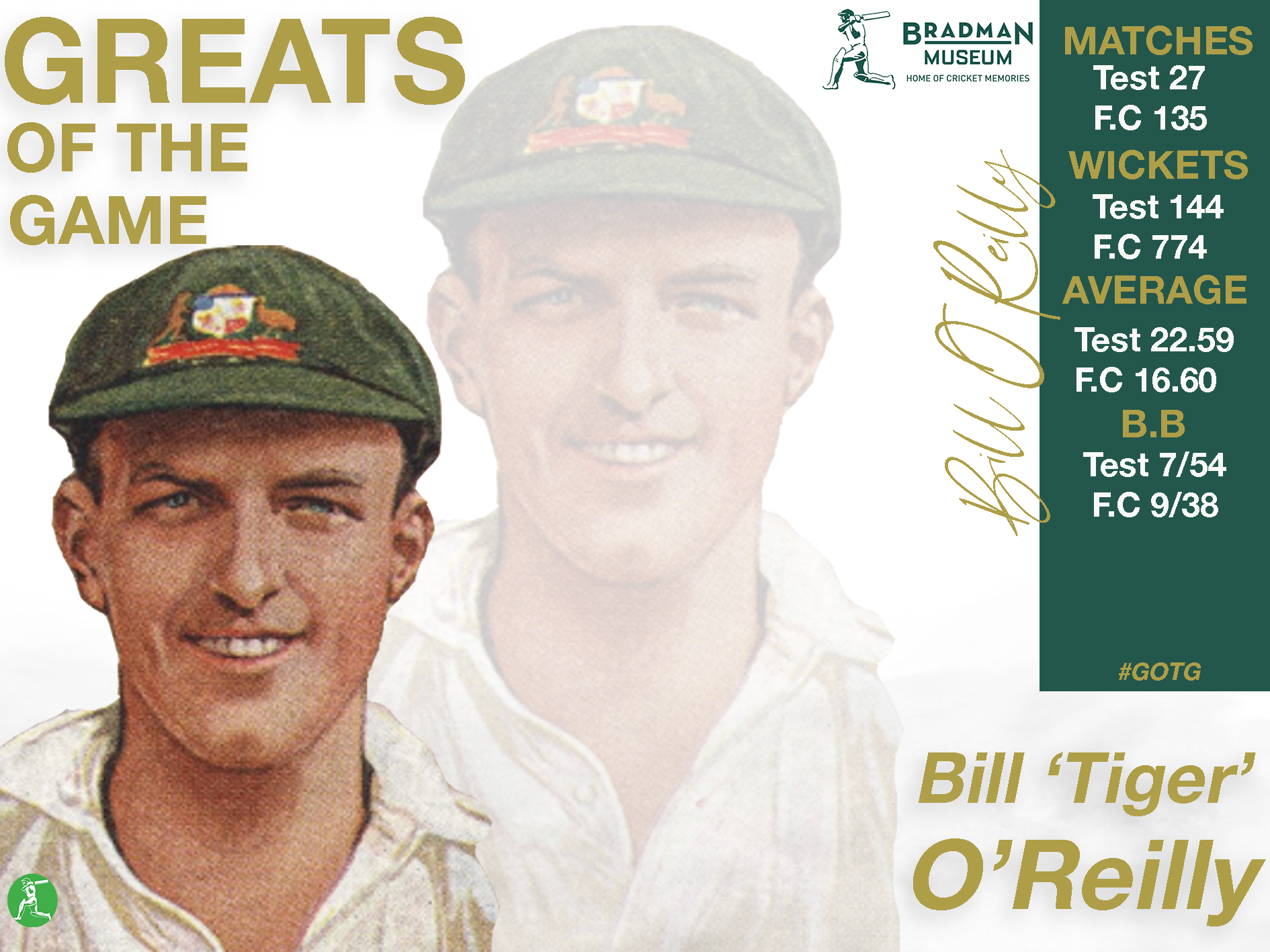 "It was nothing short of remarkable that despite the moderate support accorded to him, he bowled so consistently well and so effectively… when the wicket gave him the least encouragement he robbed the greatest batsmen of initiative and was most destructive. He is emphatically one of the greatest bowlers of all time." – Wisden
Fiercely competitive and unfailingly accurate, Bill O'Reilly remains widely regarded as one of – if not the greatest bowler in the history of the game.
Born in White Cliffs in rural New South Wales, O'Reilly was exposed to and thrived at a range of sports from a young age. Picking up cricket in the backyard, O'Reilly – as the youngest of four brothers – would naturally be summoned to bowl and bowl and bowl. Also establishing himself as a highly talented triple jumper, O'Reilly might have been lost to cricket, but thankfully he was selected for a junior match in Sydney to make up the numbers. An inconspicuous beginning, he thrived; Jack Fingleton observing that, "with a method that at first made everyone giggle, he quickly whipped out the opposition."
O'Reilly soon developed a distinctive – and particularly aggressive – bowling style. Standing at more than 6 feet tall, he was an intimidating presence, and with a flurry of arms and legs he managed to impart unseen revolutions on the cricket ball. As he was becoming a dominant force in local "upcountry" cricket, O'Reilly had a chance encounter with Sir Donald Bradman in 1925/26, on his way home from Teachers' College. Representing Wingello against Bowral, O'Reilly dismissed a 17-year-old Bradman for 234. From that point on, the two men would share a destiny – inextricably linked – as the best batter and bowler in history.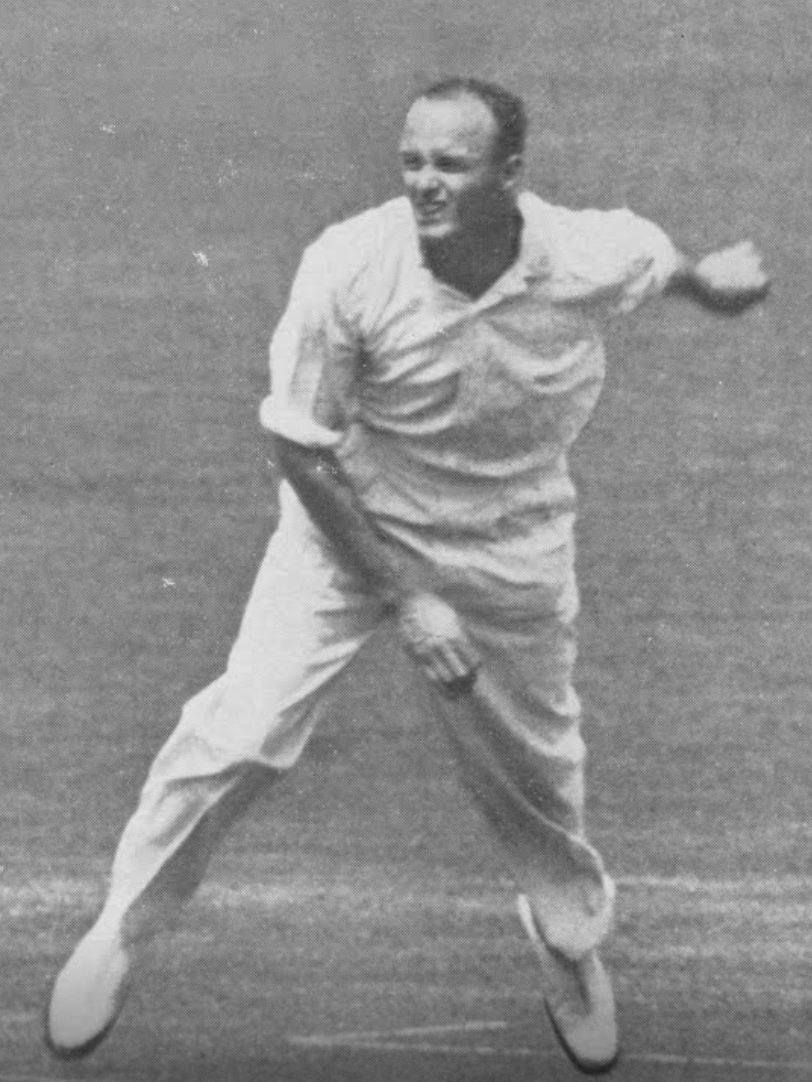 Tiger in action (Bradman Archives)
Though he made his First-Class debut for NSW in 1927/28, O'Reilly's pursuits as a teacher delayed his natural ascension to the Baggy Green. Required to teach rurally for a period upon his graduation, he was dispatched to three different bush towns. Quite possibly denying him an Ashes tour in 1930, O'Reilly returned to Sydney in 1931/32, whereupon he was promptly selected for Australia. Four wickets on debut against South Africa was a steady start – if overshadowed by Grimmett's 14 scalps and Bradman's 299 – but it would not be long until O'Reilly claimed the limelight all for himself.
Dominant in the infamous Bodyline series of 1932/33 – less than a year after his debut – O'Reilly claimed 27 wickets. Comfortably the most of any Australian, it was the beginning of a distinguished Ashes career. O'Reilly outdid himself in 1934 with 28 scalps and he ultimately claimed 102 English wickets over the course of his career. The extent of his brilliance was perhaps never clearer than the effect he had on English master batter, Walter Hammond. Dismissed by O'Reilly ten times, Hammond was continually left flummoxed by the leg-spinner; "O'Reilly was one whose bowling I could never get hold of properly," he said. "Time after time he got my wicket and I was left to puzzle what I'd done wrong."
His dominant time against the old enemy was no mere flash of brilliance, either, as O'Reilly enjoyed triumph consistently throughout his international career. His consistency an indication of his unrivalled skill, Mark Nicholas contends that "he had the greatest control, the greatest level of skill and the greatest effect." In addition, O'Reilly proved that, in the words of Gideon Haigh, "spin bowling is not a gentle art." Not only did he bowl rather quickly for a spinner, but his aggressive temperament made him particularly intimidating. David Frith suggests that he "breathed fire," and that his full arsenal of stock balls, googlies and top spinners, "always had verbal accompaniment."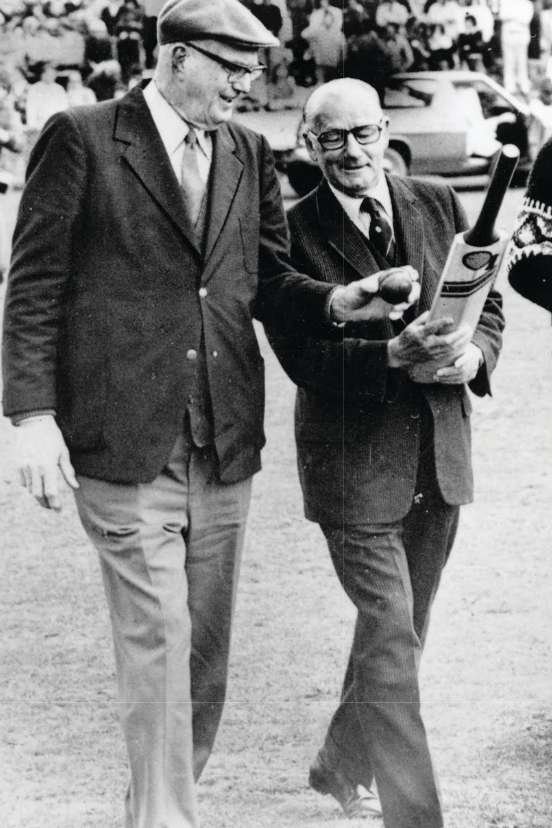 O'Reilly and Bradman in 1976 (Bradman Archives)
Anxious to continue teaching, and with a young daughter, O'Reilly retired in 1934. Thankfully Sydney Grammar offered him a job that allowed him to play on, meaning he played three more series – two against England and a particularly successful trip to South Africa. He also returned for a one-off Test as a 40-year-old against New Zealand where he confirmed his abiding greatness with eight wickets in a dominant victory.
Finally retiring from the field in 1946, O'Reilly began a distinguished career as a cricket writer for the Sydney Morning Herald. Widely respected, he was revered in press boxes as he was on the field; always writing from the heart, Haigh recalls that he was "never afraid to criticise selectors for playing it safe or ignoring a young player – most especially a young leg-spinner." Perhaps his campaign for the leg-spinner became his great legacy, as he began a great lineage of Australian tweakers; O'Reilly advised Richie Benaud who famously helped to mould Shane Warne.
A fiercely determined and wildly successful performer, Bill 'Tiger' O'Reilly remains – in the minds of many – the greatest bowler of all time. He had all the tricks a spinner could wish for, and Bradman said he was the best bowler he ever faced or saw.
How can anyone argue with that?
Join the cricket network to promote your business and expertise. Make it easy for people to search and find the people and services they need through people they know and trust.
Join the network
If you'd like to see more content from Bradman Museum, they'd be very grateful for your support and contribution. Bradman Museum will receive 80% of all funds contributed.