Dennis Lillee
Australia
Bowler
D.O.B: 18/07/1949
International Career: 1971 – 1984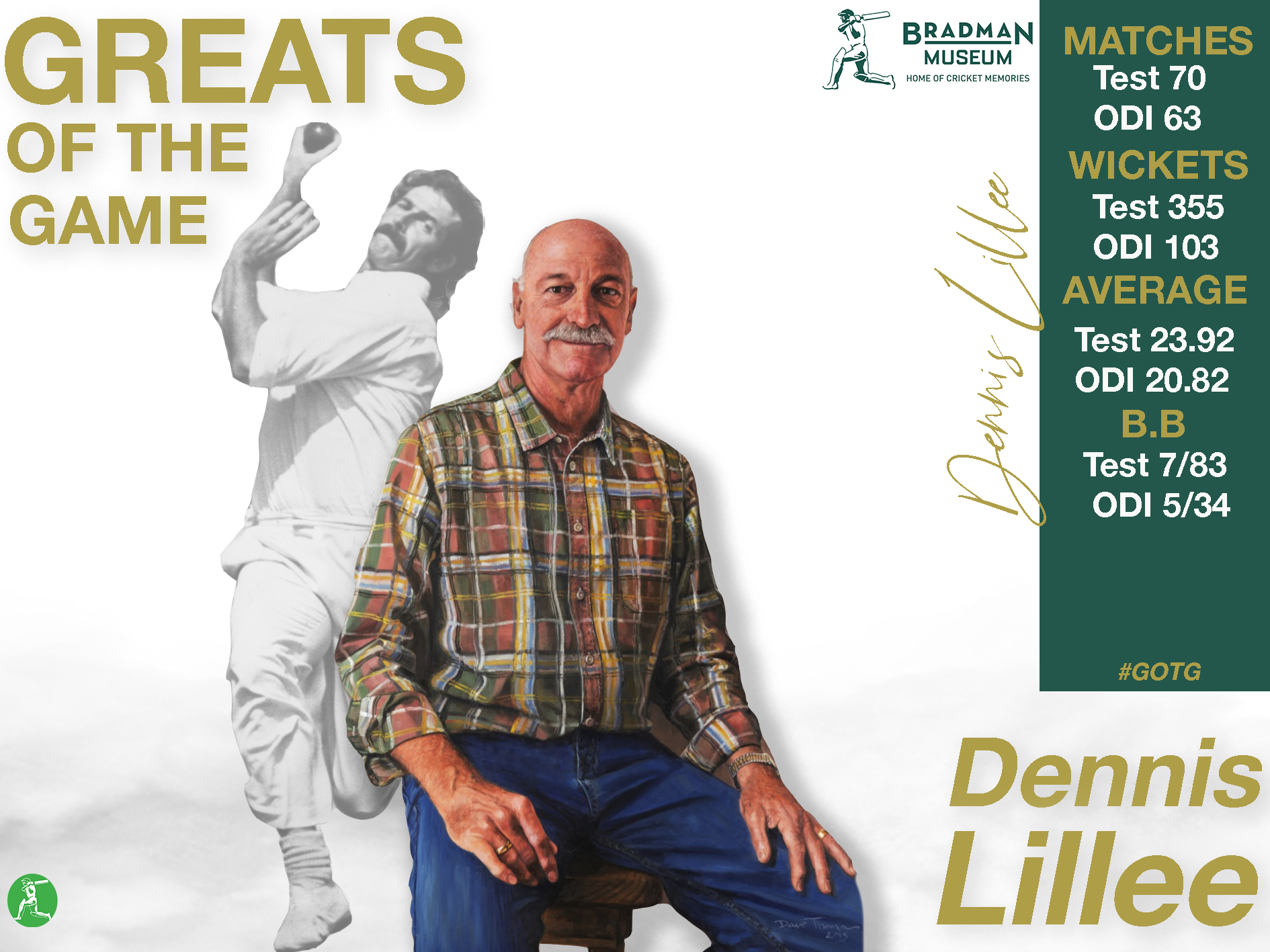 Fluent and devastating, Lillee is GOTG 18
"His big side-on action with the sweatband, the way he used to wipe his finger across his forehead to flick off the sweat… he epitomized the fast bowler, aggressive, in your face, never back down, bowl all day attitude. He was my hero and still is." – Glenn McGrath
A man who redefined the art of fast bowling, Dennis Lillee set new standards of fitness, competitiveness and courage as he established himself as the heart of Australian cricket for more than a decade.
Born in Subiaco, Lillee – as with many fast bowlers even today – began his association with the game as a raw talent. He represented Perth Cricket Club at the age of 15, where he was already unnervingly fast, but his talent – much like his stock ball – just needed a push in the right direction. Indeed, Richie Benaud – incidentally the man Lillee would overtake as Australia's leading Test wicket-taker – observed that, "in those early days he paid scant regard to the finer points of bowling, but concentrated on getting the ball from his end to the batsman as quickly as possible."
Still an attractive prospect for his native Western Australia, Lillee was selected for his First-Class debut in the 69/70 season against Queensland – where he promptly claimed the wicket of Australian Test opener, Sam Trimble. As he continued to find his feet at the highest level, 1971 proved to be a crucial year in his development. During the Australian winter, he played in England – in the Lancashire League – where he learnt a great deal. In his own words, Lillee reflects that the season, "forced (me) to become more accurate and learn a little bit about bowling, rather than just thumping it down there as fast as possible."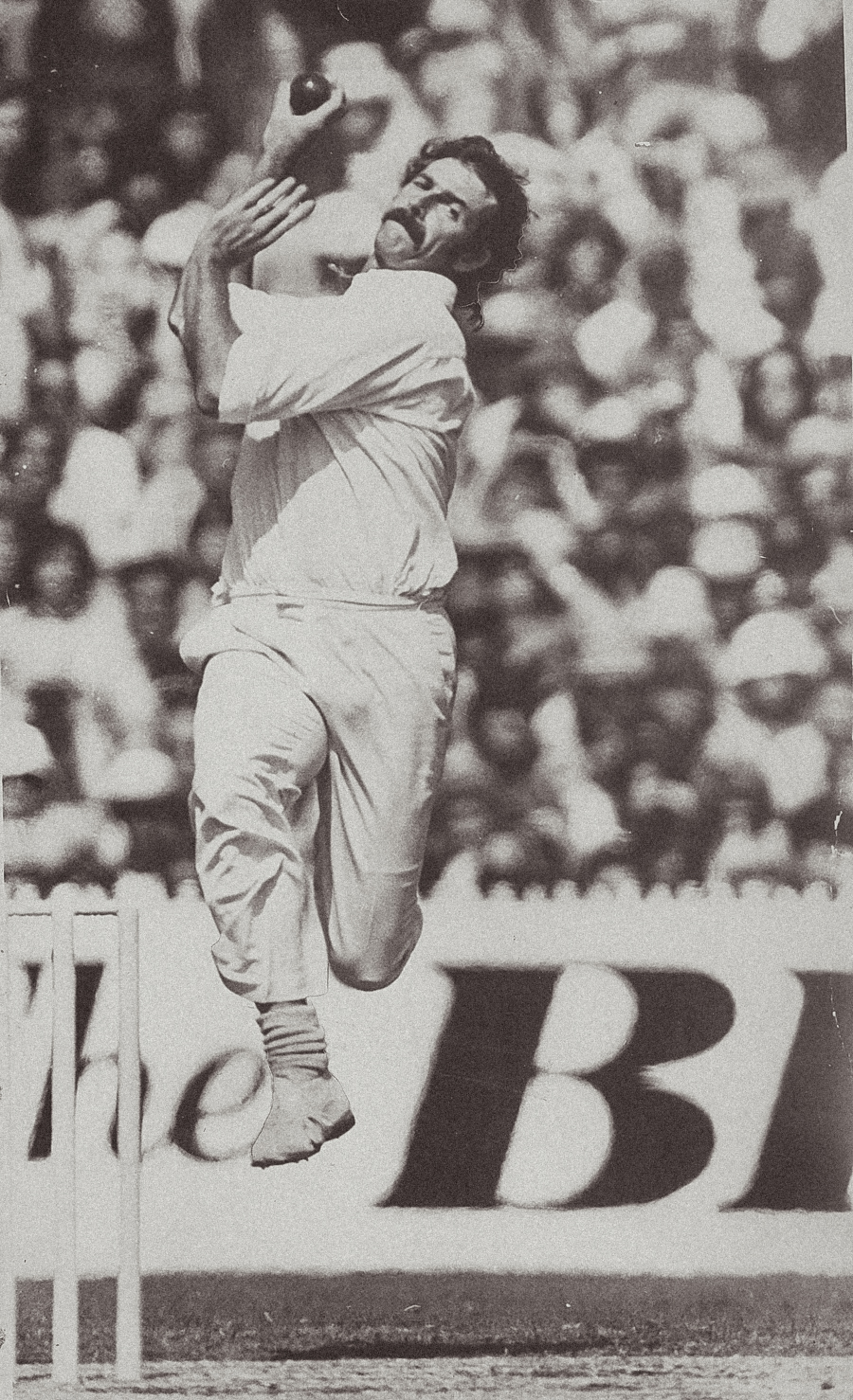 The most fluent bowling action of all time. (Bradman Archives)
Adding control and sideways movement to his already fearsome repertoire, Lillee returned to Australia and claimed 8/29 against the World XI in December. The performance – which heralded a new age in Australian fast bowling – also established Lillee's great resilience, which would typify the remainder of his career:
"I felt shocking when I got to the ground – some sort of virus was going around Perth at the time – and, after bowling a couple of overs… I felt terribly tired and asked Ian Chappell if I could possibly have a rest," he recalls.
"He talked me into having one more over and things suddenly began to happen."
From there, Lillee never looked back, as he continued to triumph against the odds. In 1972, he dominated Australia's Ashes tour with 31 wickets at less than 18 runs apiece; his impressive tally combining with his open collar, flowing hair, thick moustache, gold chain and poetic run-up in the best tradition of old time fast bowling. His command was quickly recognised as he was named a Wisden Cricketer of the Year.
Though stress fractures threatened to derail his flowering career, Lillee – through a dedicated fitness regime and characteristic resilience – returned to the field in the mid 1970's to terrorise the English and West Indies batting line-ups alongside Jeff Thomson. One of Australian cricket's most devastating combinations, the pair captivated audiences at the start of the television era – their style and grace at delivery – followed by devastation twenty-two yards away is indelibly imprinted on the minds of legions of cricket fans. Lillee also shared an iconic relationship with wicket-keeper Rod Marsh; "caught Marsh, bowled Lillee appearing a record 95 times in Test scorebooks.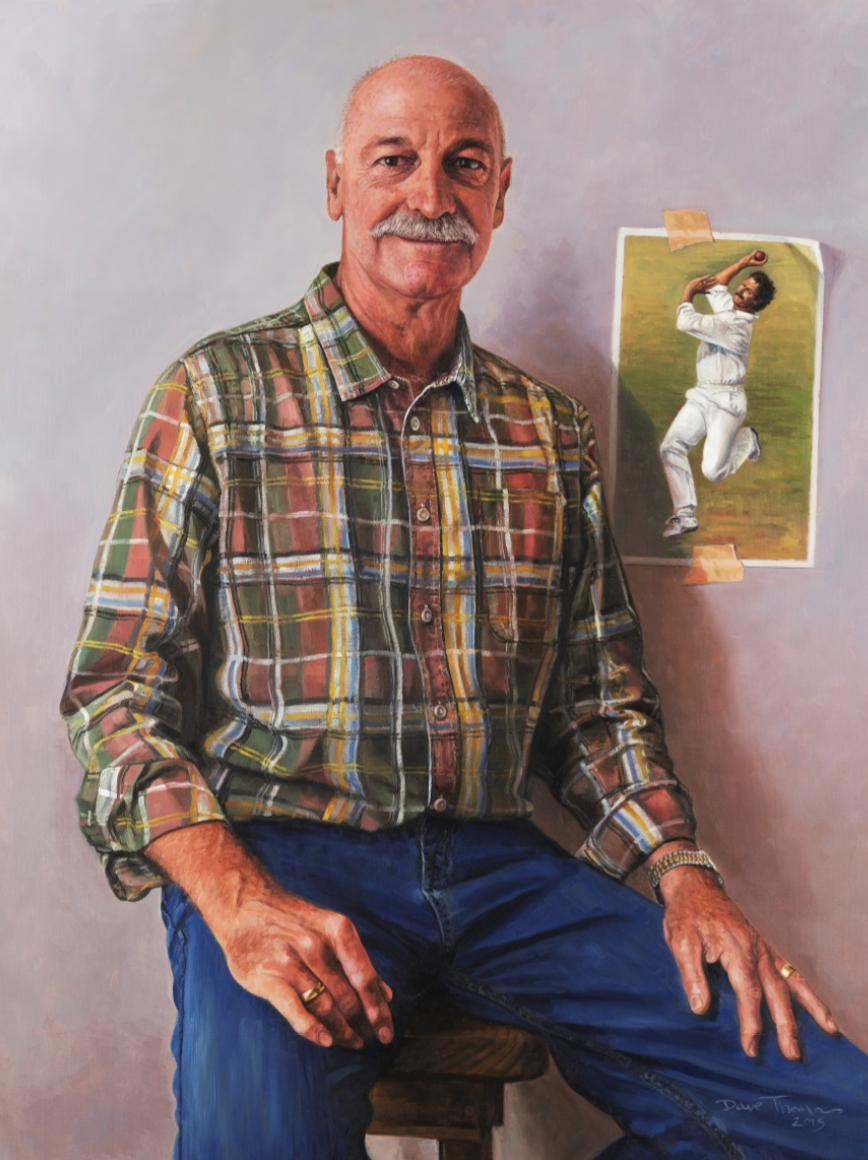 Lillee's portrait, by Dave Thomas, hangs in the Bradman Museum
A passionate advocate for players' rights, Lillee joined forces with Kerry Packer and became one of the most influential figures in the World Series Cricket Revolution in 1977. The most successful bowler in WSC, Lillee managed 67 wickets – and is eternally grateful to Packer for initiating cricket's greatest development:
"Every cricketer in the world today should remember what he did for them, something not done for 100 years," he said.
"It was the chance to be well paid for what they did. It would not have been possible without him."
Upon his return to the Test fold after WSC, Lillee – though he might have lost a yard of pace – came back arguably a better bowler. Even more capable of outsmarting batters, his best Test figures came in 1981 when he took 7/83 against the West Indies. It is testament to his competitive edge that Lillee continued to improve over the course of his career, injury notwithstanding. Simply categorising him as "one of the best bowlers of all time," David Gower contends that his real greatness lay in his continual development, "he learnt his trade, learnt his skills… and he could always work out the man at the other end."
The embodiment of an iconic era of Australian cricket, Lillee eventually retired in 1984 with 355 Test wickets from 70 matches. Arguably the most complete fast bowler the game has seen, Lillee wrote himself into cricketing folklore with a combination of skill, showmanship and lion-hearted persistence.
So, where once it echoed around stadiums as he ran in to bowl, today and forever, Dennis Lillee's name looms large over cricket the world over.
Join the cricket network to promote your business and expertise. Make it easy for people to search and find the people and services they need through people they know and trust.
Join the network