Sir Richard Hadlee
New Zealand
Bowling All-Rounder
D.O.B: 03/07/1951
International Career: 1973 – 1990
"He was the king of New Zealand cricket. Clearly our best player to date – and the record certainly proves that. It was more than just that, though, he took New Zealand cricket to the next level." – Stephen Fleming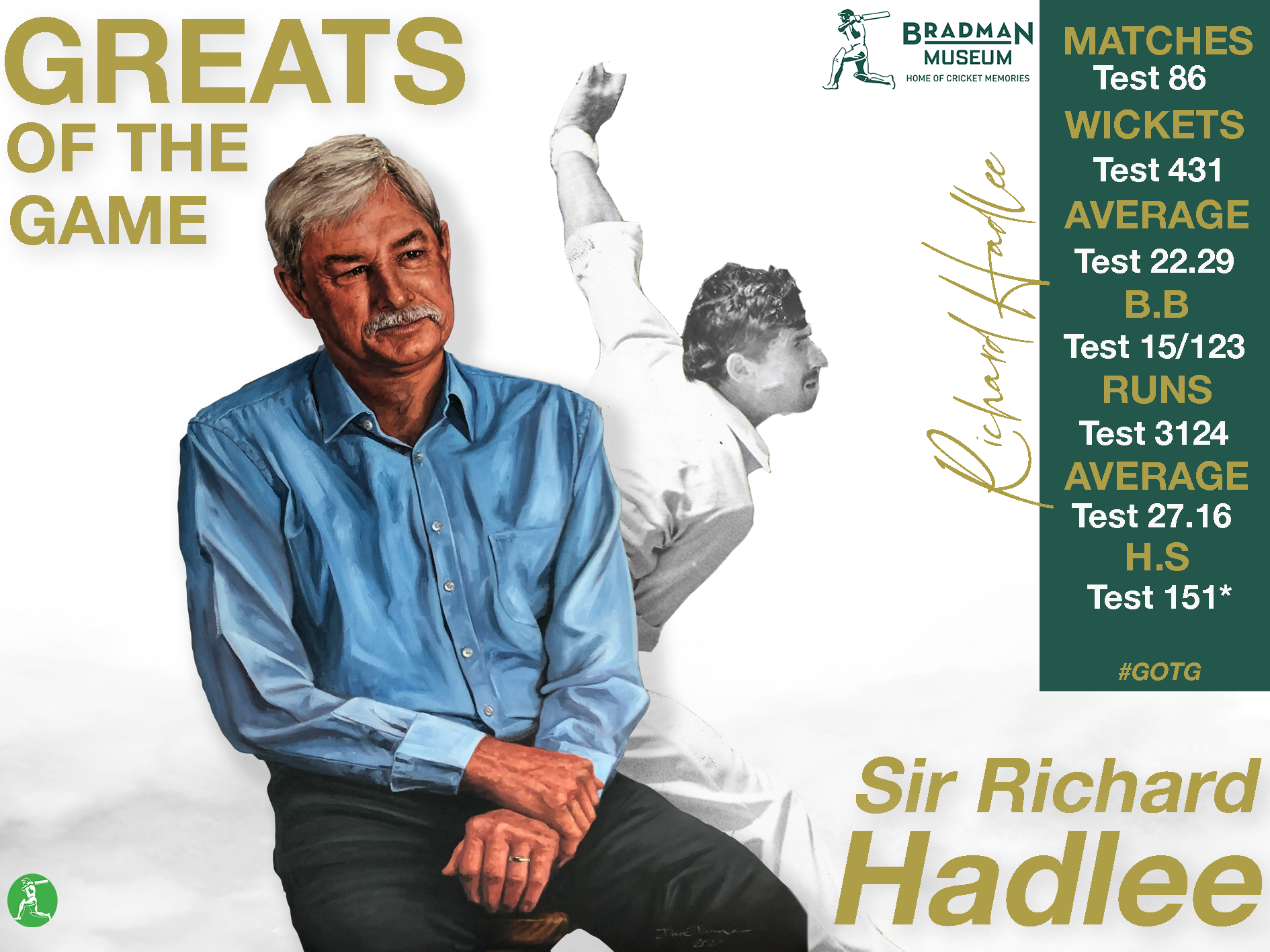 New Zealand's cricketing hero, Hadlee is GOTG #20
Sir Richard Hadlee bore the weight of New Zealand cricket on his shoulders for almost two decades. A challenge he relished, he not only rose to expectations, but continually exceeded them as he established himself as one of the game's great all-rounders – all the while elevating the standing of the Blackcaps.
Though he always had cricket in his blood – his father Walter had captained New Zealand in eight Test matches – all of Richard Hadlee's bountiful on-field success was the result of an acute self-awareness, a single-minded perfectionism and lion-hearted determination.
Hadlee made his First-Class debut for Canterbury in 1971/72; opening the bowling alongside his brother Dayle. His class – or at least express pace at this early stage – was apparent, and twenty-two-year-old Richard was quickly selected to make his Test debut the following summer against Pakistan. A relatively inconspicuous beginning, he claimed two wickets on debut, the young tearaway quick valuing speed ahead of guile and craft in the initial part of his Test career.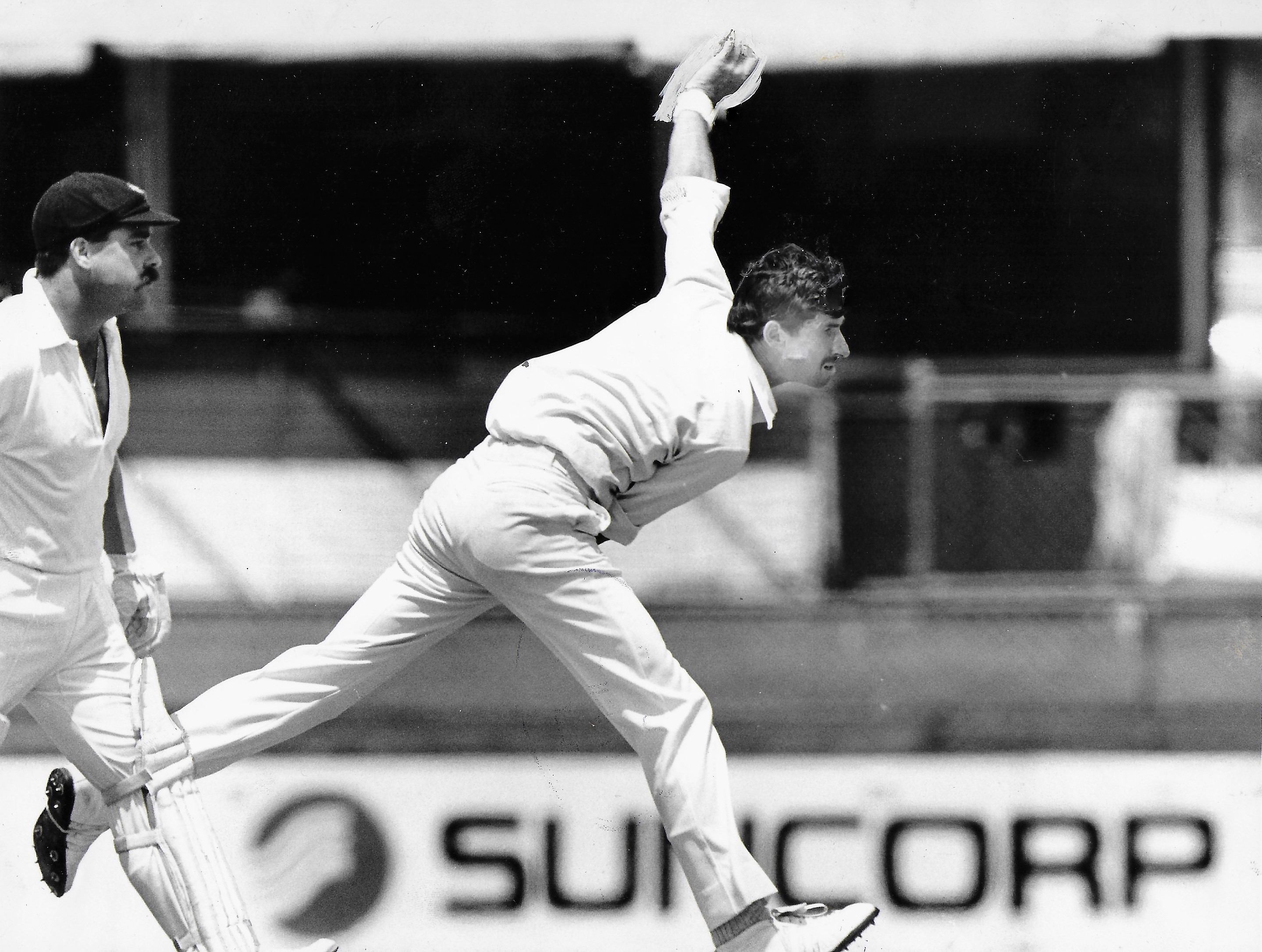 Hadlee was a class above with the ball in hand (Bradman Archives)
To that end, Hadlee himself reflects on a rawness that typified his early days, describing his first four years (where he claimed 55 wickets), as "erratic, inconsistent and without a great idea of how to get through three days, let alone four or five." He did quickly come of age, however – much like his bowling inspiration Dennis Lillee – maturing and, as Andrew Miller writes, "blending together all the attributes of a model fast bowler."
His lithe, whippy, side-on action was a pleasure to watch and as his career went on, it allowed him to maintain control and extract life from even the most unresponsive of surfaces. Thriving the world over – notably in the sub-continent – Hadlee did not need green wickets or overcast skies to succeed; Don Mosey observing that regardless of conditions, he "plotted the downfall of his opponents," concluding he was simply the most intelligent fast bowler the game had seen.
Hadlee bowled with unerring accuracy and his relentless ability to hit the seam meant that he was always challenging the world's best batters. Renowned for "demolition jobs," his ability to run right through an opposition batting line-up is unrivalled. The first came in February 1978, when he claimed 10 wickets, including 6/26 in the second innings against England. Not done there, he single-handedly rewrote the history of the Trans-Tasman rivalry with a 15-wicket haul against Australia in Brisbane 1985.
Arguably one of the best performances in the history of Test cricket, Hadlee is modest when reflecting on the match – one where he also made 54 runs.
"That was, I suppose, as near-perfect performance as one hopes to achieve but it was one in which the whole team shared," he said. "Brilliant catches were held, and the batting was consistent."
Imbued with an endearing Kiwi humility as the records continued to tumble, Hadlee became the first man to 400 Test wickets, and maintained an average of more than 5 wickets per Test for his 86-match career. Overwhelming achievements, they led to David Gower's simple assertion that Hadlee "was the most outstanding bowler of his generation."
If slightly underrated as a batter due simply to his magnificent skill with the ball, Hadlee was a genuine all-rounder who enjoys the company of Sir Ian Botham, Imran Khan and Kapil Dev as generational all-rounders with 3,000 runs and 300 wickets. A hard-hitter who often chose the aerial route, Hadlee managed two Test centuries and an average of just below 30 at the highest level. His all-round ability never more evident than in the 1984 County Championship, when he completed the famed "double" – 1,000 runs and 100 wickets in a season for Nottinghamshire.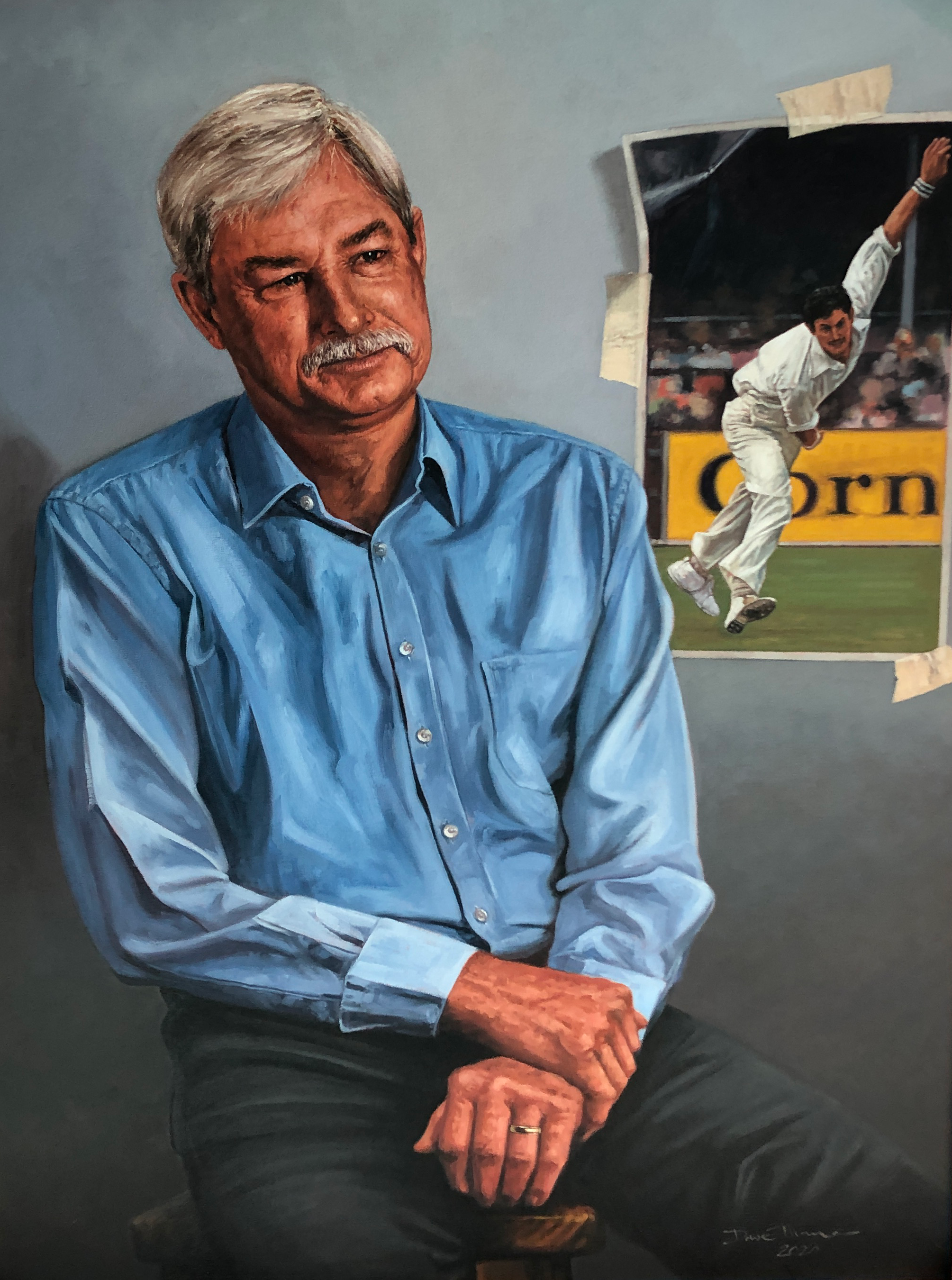 Sir Richard Hadlee's portrait by Dave Thomas. On display at the Bradman Museum.
A professional in every sense, Hadlee did carry the fortunes of the New Zealand side. Over the course of his career, the Kiwis played 14 Tests without their all-round champion, and did not win a single game. This tally a testament to his skill and tireless work ethic to be the best he could, Hadlee's influence was profound and he had what Don Mosey described as "the golden touch."
Hadlee retired still on top of his game; he claimed eight wickets in his last Test, including one from his final delivery. Describing himself as "very happy, relieved and proud," Hadlee had cemented his legacy as one of the greatest of all time. Duly awarded a knighthood for services to cricket shortly thereafter, Sir Richard Hadlee's legacy will forever be writ large over cricket in New Zealand and right around the world.
Join the cricket network to promote your business and expertise. Make it easy for people to search and find the people and services they need through people they know and trust.
Join the network
If you'd like to see more content from Bradman Museum, they'd be very grateful for your support and contribution. Bradman Museum will receive 80% of all funds contributed.