Australia
Batsman
D.O.B 27/08/1908
International Career: 1928 – 1948
"Bradman was a player who appears not once in a lifetime, but once in the lifetime of a game." – Dennis Compton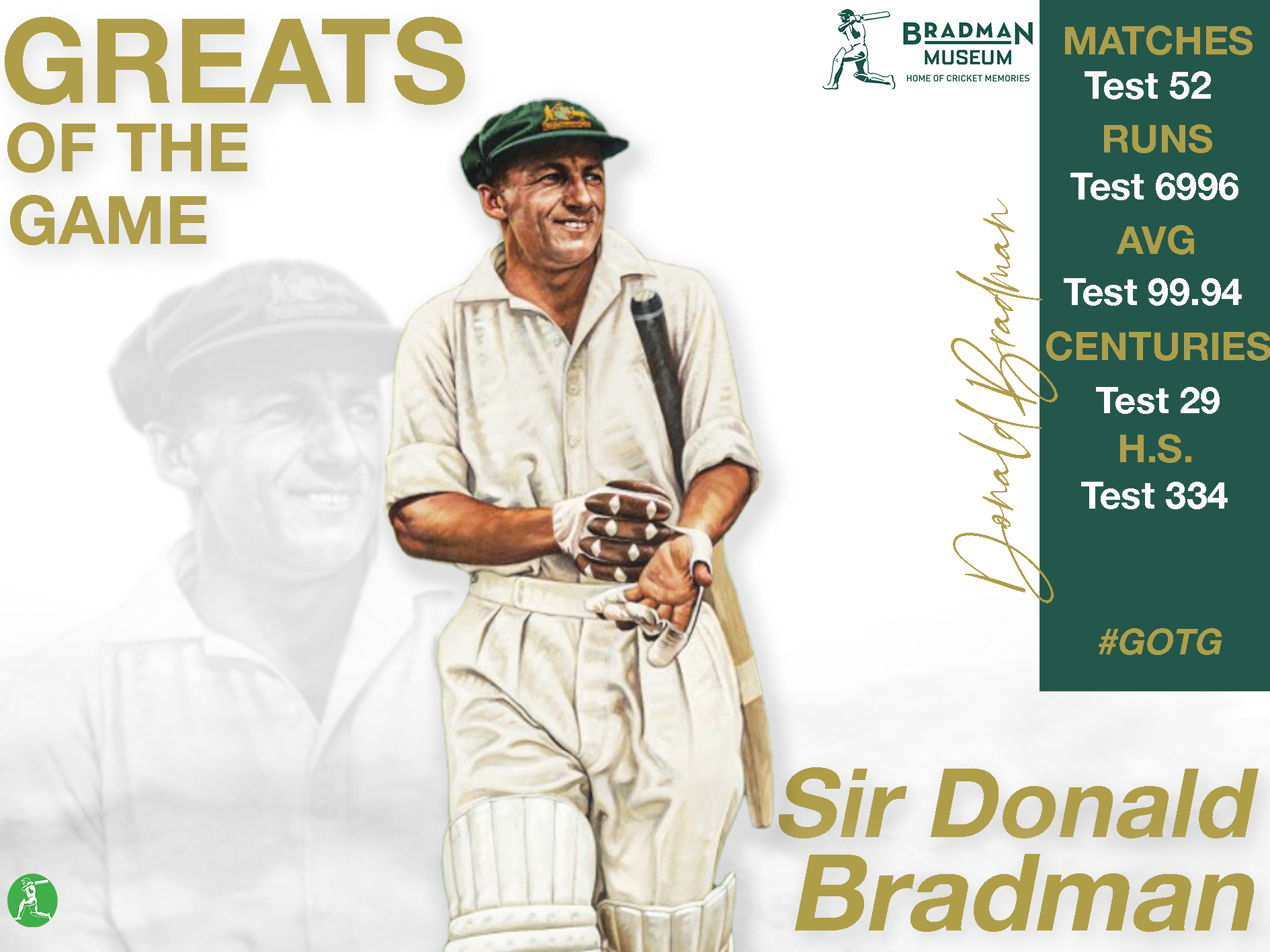 Quite simply the best the world has seen
The best player in the history of the game, Sir Donald Bradman will forever stand as a colossus over cricket. With a record that need not be looked up so much as looked up to – his greatness has not and will never fade. Statistically incomparable, he quickly became a figure of universal fascination during his career, ultimately becoming the first cricketer who truly transcended the game. Such was the regard for Bradman, he was able to progress from sporting icon to national hero as he embodied ideals of progress and possibility for a flowering Australia.
Born to a cricket loving family in Cootamundra, Bradman moved to Bowral in the Southern Highlands of New South Wales when he was just two and a half. A decisive move, perhaps for the future of cricket in Australia and around the world, the family settled into Shepherd Street, in the shadows of Bowral Oval. It was here that Bradman's father George, along with his maternal uncles played in the local competition, and a life-long affection for the game was fostered in The Don.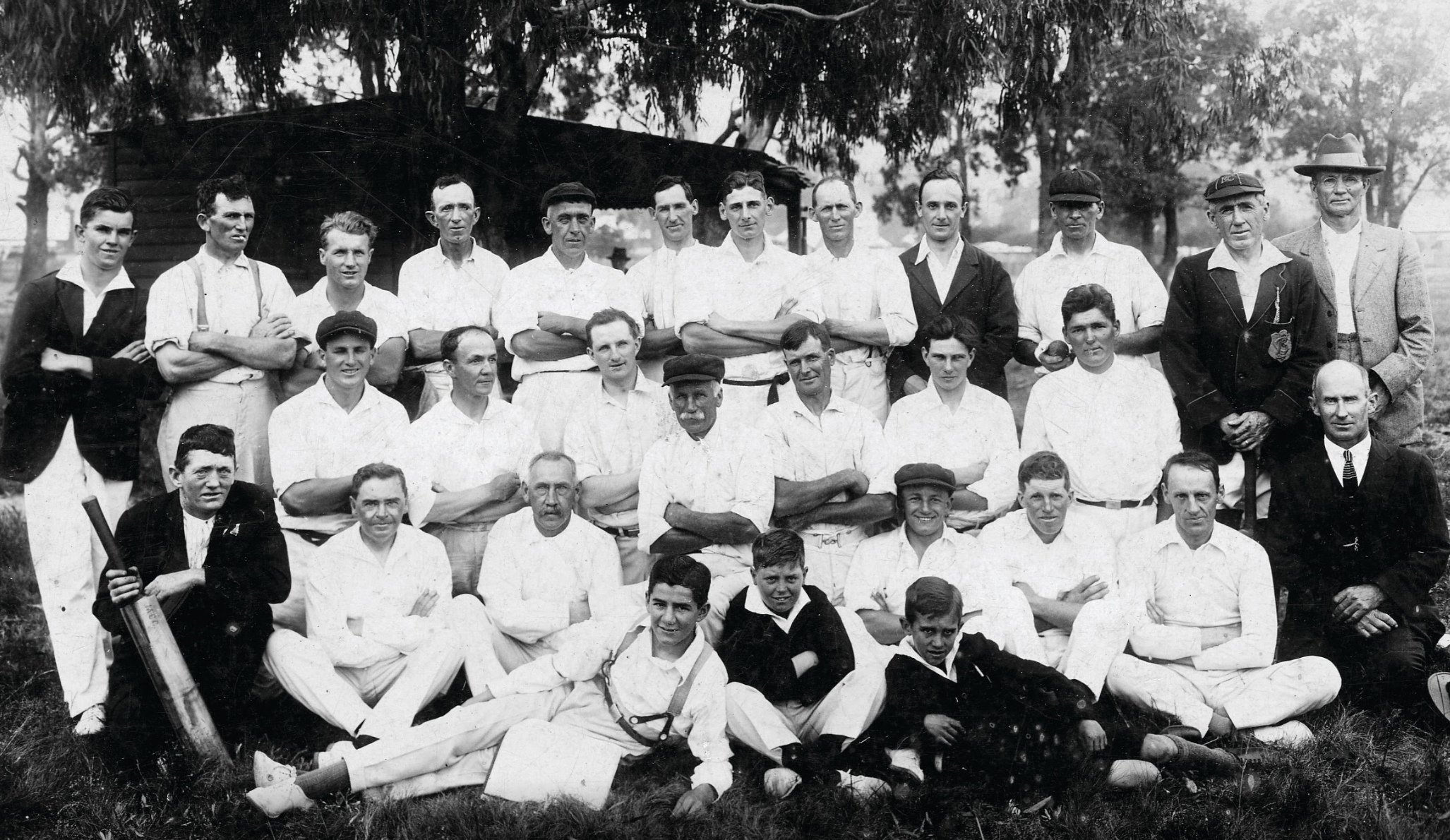 Mittagong V Bowral Town 1926. Don Bradman is seated in front row, his father George stands top right: Bradman Archives
Soon too old for his mother's gentle left-arm throw downs, but too young to represent the local side, Bradman famously honed his hand-eye co-ordination with stump and golf ball all summer long. Crucially, the solo hours spent by the water tank imbued Bradman with powers of concentration that would set him apart from all players across generations; Ian Chappell contends that "it was Bradman's mental strength, rather than any of his physical attributes that made him better than any other batsman."
By 1926, at the tender age of sixteen, Bradman entered the fray of senior cricket for Bowral Town Cricket Club. Recording his first century – suitably a double – 234, he followed it up with a district record of 300 a few months later. Thus commenced a deluge of runs, limited by neither location nor quality of opposition, that would not cease until his retirement from the game more than twenty years later.
At Test level, he dismissed bowlers' best efforts with ease – his rate of scoring bordering on extreme, especially for a man who recorded only 36 of his 6996 international runs by clearing the boundary rope. His attacking predisposition meant that he would always look to score, finding gaps at will. He famously quipped that he could "hit the ball wherever" he wished – a skill that allowed him to become the first (and only) player to record a Test triple century in a single day.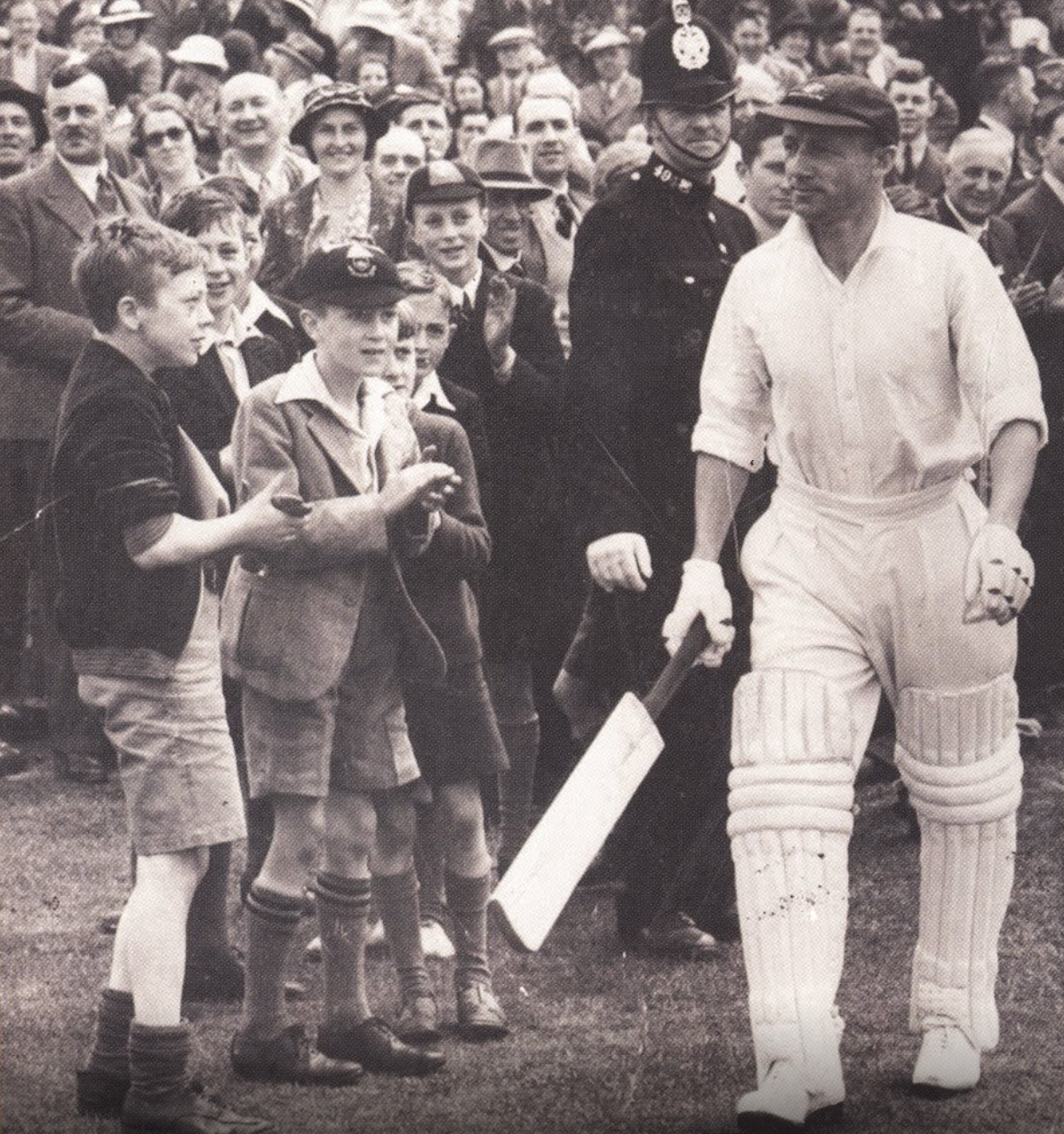 Bradman commanded respect wherever he went: Bradman Archives
As the runs piled up and the records continued to tumble thanks to his batting genius, Bradman's appeal came to transcend cricket. Indeed, considerations of his uniqueness are not limited to statistical brilliance, but the universal fascination that surrounded him. Playing at a time when Australia was crying out for a hero, Gideon Haigh suggests that there existed a closeness between The Don and the people he represented, "he filled that hollow (Australia) and made it echo," he wrote. "His was the contemporary Australian journey." Bradman gave Australians something to be proud of on the world stage and, in the words of novelist Thomas Keneally, "a great way out of cultural ignominy."
Not only for Australians, but fans around the world, Bradman came to represent something more than just cricket. To see Bradman was dignifying and empowering. To have seen "him bat" would become a priceless commodity for crowds of the time, leading John Arlott to proclaim that "more people are interested in Bradman and not in cricket, than are interested in both Bradman and cricket."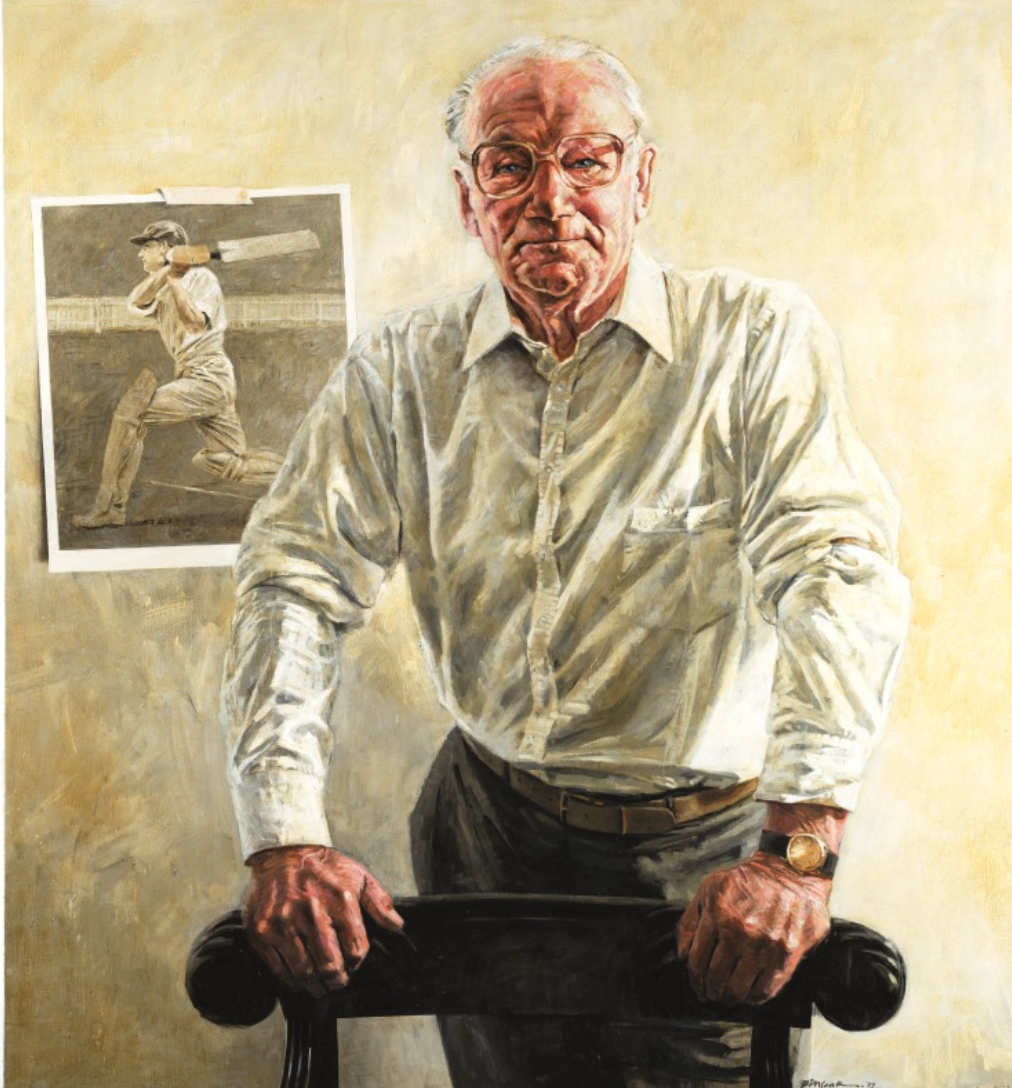 Bradman portrait by Bill Leak, 1989: Bradman Archives
Quite simply the best batsman the world has ever seen, Bradman always managed to recognise that he was part of something bigger than himself. Endlessly humble, he has famously quipped that players – of any generation – "are merely temporary trustees of a great game." This level of humility was reflected in his leadership style. Made captain of Australia in 1936/37, arguably his most famous exploit was the 1948 'Invincibles' tour to England. Leading a mix of both experienced and precociously talented young players, his first thought was for his hosts; "we want to exhibit bright and attractive cricket to a war-weary England," he said. Undefeated in the 32 matches across the tour, Bradman's side more than exceeded his edict – as the man himself retired with a fleeting moment of mortality; a duck in his final innings.
From the moment he retired, Bradman became a fervent and fearless advocate for the game he loved. Again, Haigh notes that he "stood aloof from modern celebrity culture – he retained a dignity and stature that most public figures sacrifice." This enduring character trait gave him a perspective that allowed him always to act in cricket's best interests. Involved in cricket administration for fifty consecutive years, twice the chairman of the Australian Cricket Board, a national selector, author and journalist, Bradman's status incredibly increased in his years beyond the boundary rope.
Suitably pronounced "the best known and most acclaimed Australian of our time" by Governor General Sir William Deane upon his death in 2001, Bradman is irrevocably the greatest ever. Through incredible feats on the field, he helped to build a national identity; one underscored by sporting prowess and possibility. More than that, however Bradman became cricket's hero, making it attractive to millions around the world and creating a legacy that will be writ large on the game for as long as it is played.
Sir Donald Bradman would have been 113 today.
BY THE NUMBERS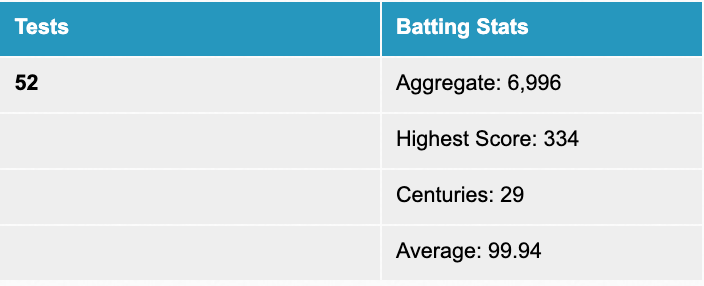 FOLLOW THE BIRTHDAY CELEBRATIONS ONLINE:
Join the cricket network to promote your business and expertise. Make it easy for people to search and find the people and services they need through people they know and trust.
Join the network
If you'd like to see more content from Bradman Museum, they'd be very grateful for your support and contribution. Bradman Museum will receive 80% of all funds contributed.