Originally published April 12 2022
One of the most significant singles in the game's history, Brian Lara swept Gareth Batty down to fine-leg for one on this day in 2004. Trotting down the wicket as he raised his bat and removed his helmet in exhausted exaltation, Lara reached Test cricket's first – and to this day only – quadruple century.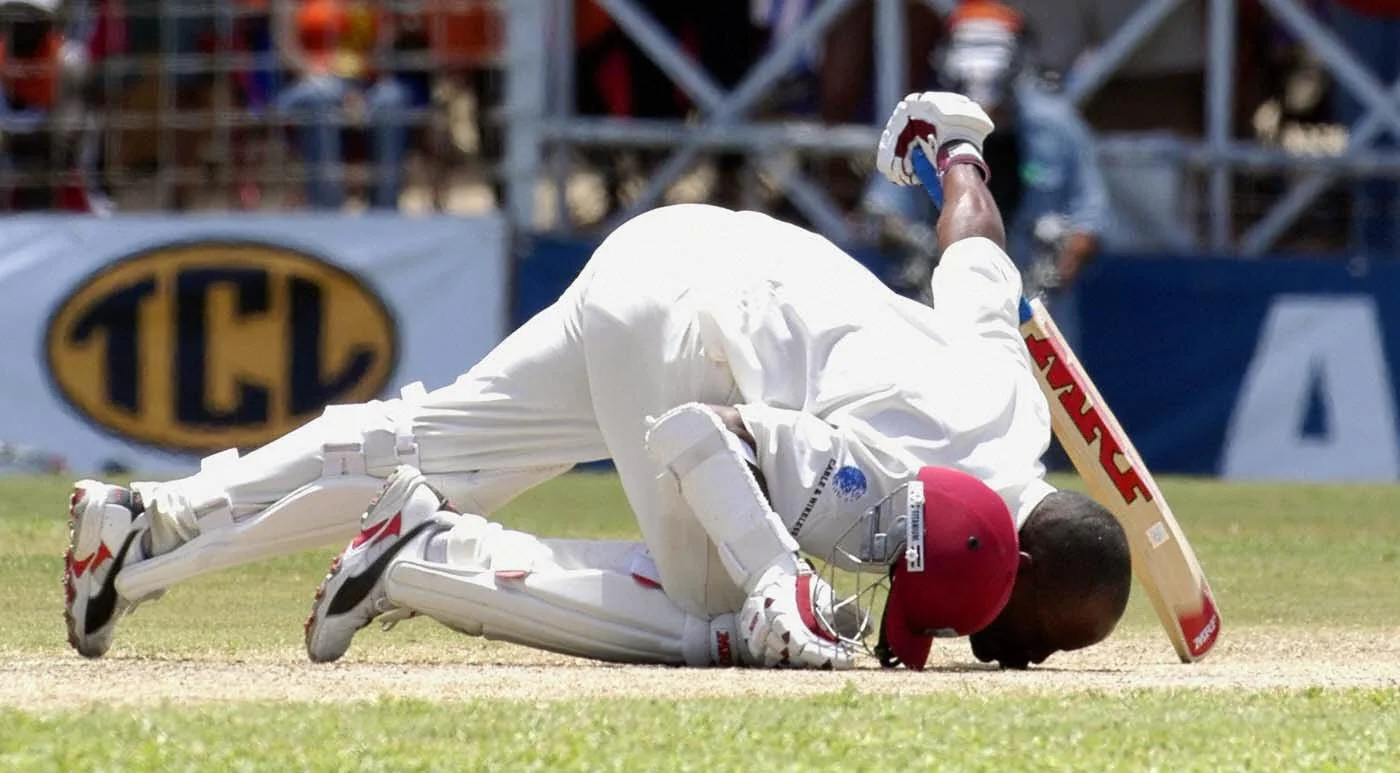 Brian Lara kisses the turf after reaching the milestone. (Getty images, via Wisden)
The highest score in the format's history, Lara's remarkable achievement at St. John's saw him become the first player to reclaim the record. Having batted England into submission at the same venue almost exactly ten years previously when he first claimed the record, Lara's mark of 375 stood for nearly a decade. Eclipsed by Australia's Matthew Hayden who plundered 380 against Zimbabwe in October 2003, the Trinidadian took just 185 days and 19 innings to put his name atop the tree once again.
Captain in 2004, Lara and his West Indies side were in the middle of a wretched run, as England had been dominant throughout the series. On fast and bouncy pitches, the intimidating trio of Harmison, Hoggard and Flintoff had held saw over the hosts.
Lara in particular, had struggled. Out of touch, he had batted as low as six in the series in a desperate search for form and runs. Having managed a high score of just 36 across the first three matches, Lara and his West Indies side were staring down the barrel of a whitewash series defeat at home.
Acutely aware of the pressure he was under, it is poignant to reflect on Lara's musing pre-game, the gravity of the upcoming match not lost on the skipper.
"The next five days are very important for me in terms of my future as captain," he said. "No captain, no team wants to go down for the first time in their history as losing all of their Test matches at home."
So, with the microscope firmly fixed on him when he arrived in Antigua, Lara set about silencing the doubters and re-establishing his majesty at the crease. Initially, a touch nervy, he survived a confident appeal for an edge behind when he was on zero. Darrell Hair kept his finger in his pocket – perhaps aware of what might be in-store – for the Australian umpire had also stood at St John's in Lara's last record-breaking knock.
Lara in full flow nine years earlier against Australia in 1995 (Bradman Museum collection, Gordon Brooks)
It was a measured, calculated and composed display of pure batting from then on. With an unrivalled ability to pierce gaps and manipulate the field, Lara batted for an astonishing twelve hours and 58 minutes. Making his runs in quick time too, Lara's first hundred runs came from just 131 balls – as he struck at 68.7 for the duration of his innings.
An effort that commanded respect from well beyond cricketing circles, the then Prime Minister of Trinidad and Tobago, Patrick Manning, heaped praise on his countryman.
"It is symbolic of what we are capable of achieving when we harness our strengths and persevere with grit and determination in pursuit of excellence," he said.
Lara's pursuit of excellence this day – or three (he declared the innings closed just after lunch on the third day) included 4 sixes and 43 fours. Having faced a whopping 582 deliveries and led the side to a staggering score of 5/751, Lara had once again written himself into the history books. On a broader scale, Vaneisa Baksh described the all-encompassing impact of Lara's remarkable personal achievement.
"On the way to his record-breaking 400, that power (he had) to move the masses came forth on Easter Monday, as he resumed on 313," she said. "It didn't matter that the series was already badly lost. Lara was taking the West Indians on a redemptive journey."
An innings that touched so many people, Lara's 400 remains the highest score in Test cricket. Though it didn't lead the West Indies to victory – the home side sorely missed a front-line spinner late in the piece, and it finished in a draw – it restored respectability to a struggling side, and re-affirmed Lara's position as one of the greatest batters of all time.
Join the cricket network to promote your business and expertise. Make it easy for people to search and find the people and services they need through people they know and trust.
Join the network