When Charles Bannerman got off the mark at the Melbourne Cricket Ground 145 years ago to the day, he wrote himself into cricketing history; for he had – unknowingly – just scored the first run in Test cricket.
The match between Australia and England was initially billed as All England v A Combined New South Wales and Victoria XI and only granted Test match status retrospectively. An indication of the rapid rise that cricket had enjoyed in Australia, it was an even contest throughout; the hosts on top even without their strike bowler, Fred Spofforth who sat out because he was displeased by the non-selection of Billy Murdoch.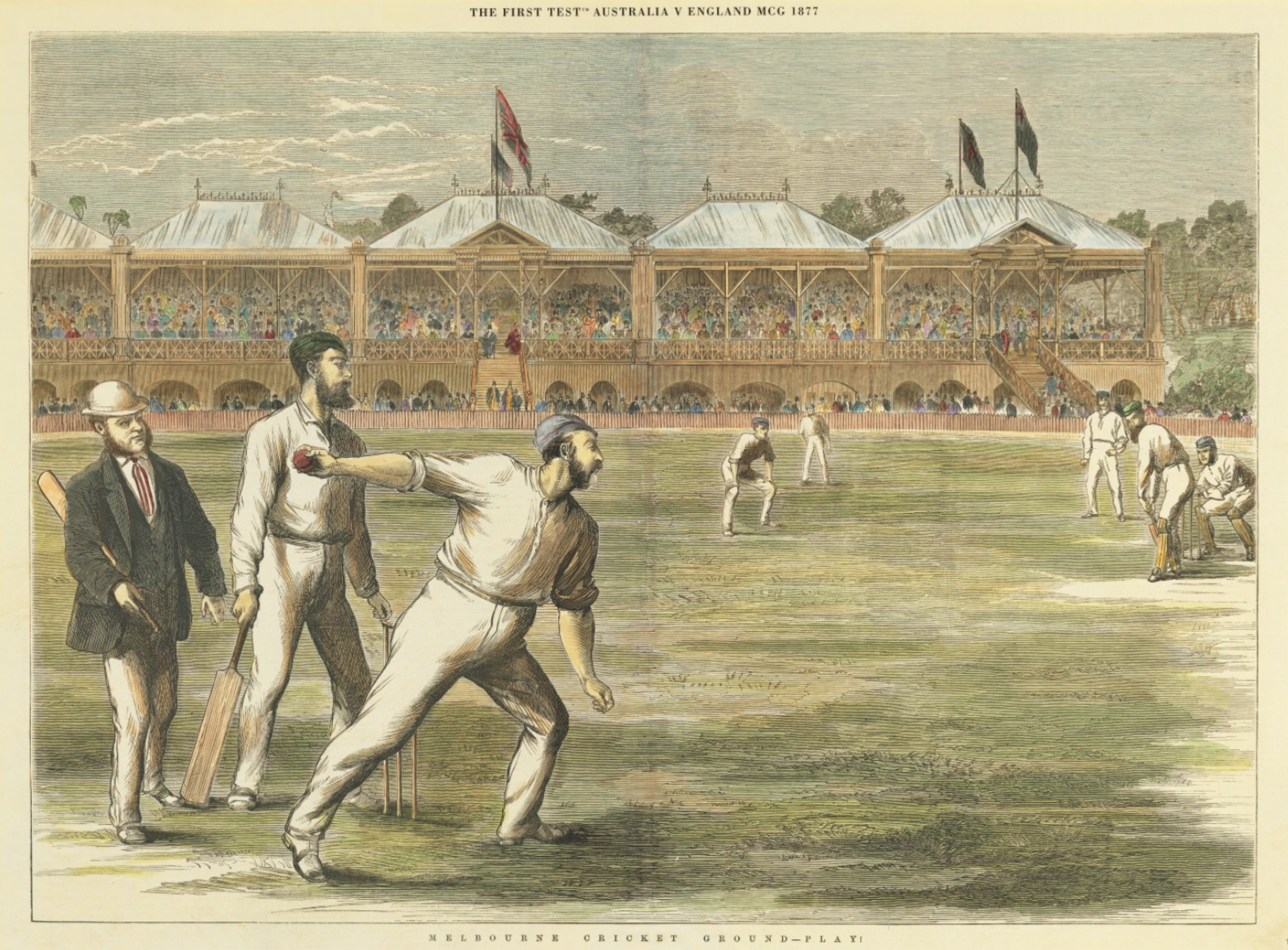 First Test; Australia V England at the MCG, 1877. (Bradman Archives)
For Bannerman, that first day of Test cricket would go on to become a particularly memorable one. After facing the first ball and scoring the first run, the New South Welshman became Test cricket's first centurion, as he recorded an indomitable 165. Walking off unbeaten on 126 no at the end of the first day, The Age was full of praise for his enterprising knock, describing his efforts as "the finest display of vigorous batting ever seen in Melbourne."
Australia posted a respectable 245 in the first innings, before bowling England out for 196. A meagre second innings score of 104 from the hosts (Bannerman was injured and managed only 4), meant that England required 154 to secure victory. Derailed by what Martin Williamson describes as "a large lunch and copious amounts of beer consumed during the break," England fell to 4/22 on the fourth day and on a deteriorating wicket, were soon bundled out for just 108.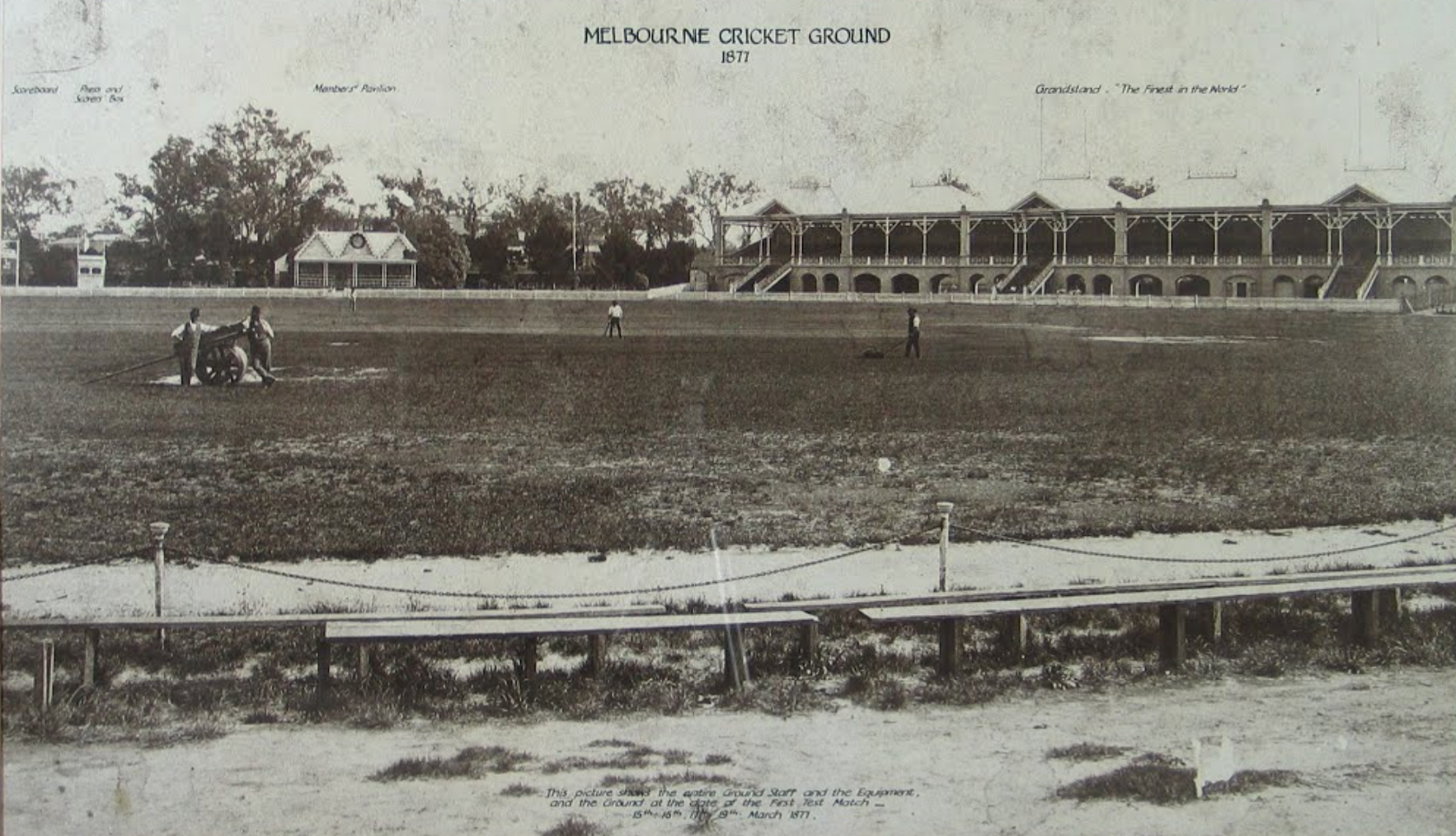 The Melbourne Cricket Ground in 1877. (Image via Melbourne Cricket Club)
An historic occasion as the Australians showed they could compete with and defeat their rivals, The Australian commended the Combined XI on their performance, reporting that they "worked together with the utmost harmony and goodwill."
Since that first match, Test cricket has flourished and endured. Between 13 Test playing nations in the men's format, there have been 2,456 Tests played, and a further 143 women's Tests. A unifying force, Test cricket continues to bring together people and cultures. Its capacity to do so currently on display in Pakistan, as Australia's tour after a prolonged absence is igniting a passionate country and inspiring another generation of cricket-lovers.
A 145-year history that has allowed for the growth of legends, inspired glittering careers and fostered competitive rivalries between nations, the world is – as Sir Donald Bradman proclaimed – richer for the flourishing of Test cricket.
***
As for Bannerman? The first Australian to score a century against an English XI would retire after a further two Test matches. His hundred at the Melbourne Cricket Ground the only one of his 44-match First-Class career.
Join the cricket network to promote your business and expertise. Make it easy for people to search and find the people and services they need through people they know and trust.
Join the network
If you'd like to see more content from Bradman Museum, they'd be very grateful for your support and contribution. Bradman Museum will receive 80% of all funds contributed.