Paul Bourke hailed from Dubbo and made his way to Sydney to make his first grade debut for St George at the age of 19.
He has made a tremendous contribution to the game on and off the field. As a left hand batsman he scored 5,791 runs at an average of 27.94 including 4 centuries and 29 half centuries. He coached NSW under age representative teams and was the cricket coach at Newington College for 40 years.
Paul also has the honour of being the first 1st grade captain at Campbelltown Cricket Club to hold a premiership trophy
A wonderful journey, let's find out more
Coutts Conveyancing are one of the proud sponsors of Campbelltown Camden Cricket Club.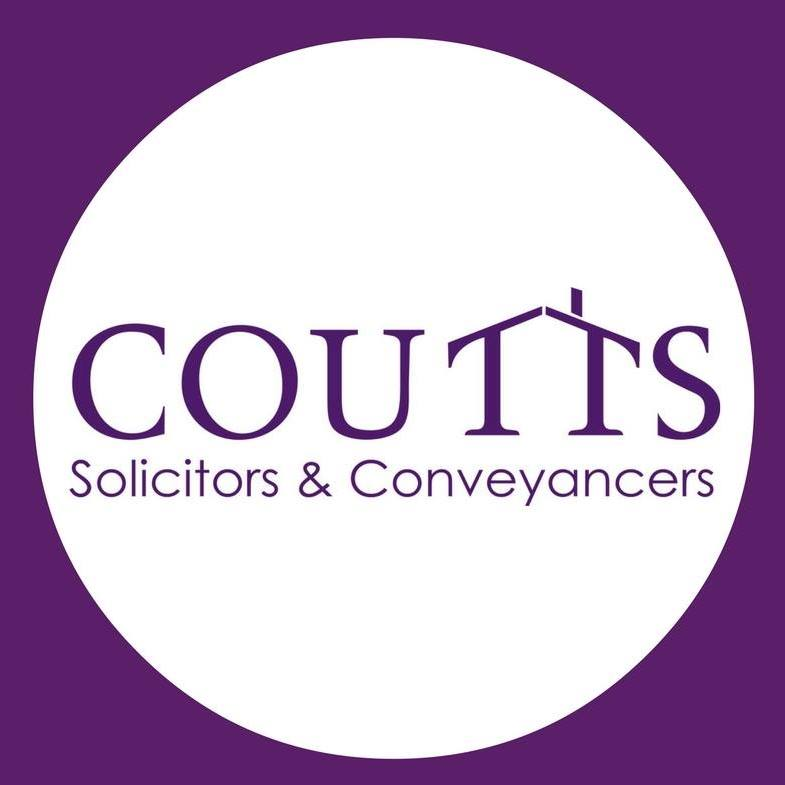 Welcome Paul, what year you were born?
Dubbo, 1955
Can you remember your first game of cricket?
I was 10 years old and filling in for my older brother's U/14 side. I fielded fine leg to fine leg and last to bat. I batted with one pad (front leg) and guess what? I was hit on the other leg, started hopping around like a kangaroo and ended up outside my batting crease. The keeper took off the bails and appealed. The umpire said "not out". When questioned he said that he had called "over" before the appeal. Lesson learnt. Always know the rules of the game you play. I never forgot that.
Tell us briefly about your cricketing journey?
Dubbo under age cricket then men's cricket aged 13. By 16 I was opening the batting in the Dubbo First XI men's team and was invited to the Country Coaching Class at the SCG for a week (slept in a room behind the Members Bar, coaches included Brian Taber, Richie Benaud, Doug Walters and Kerry O'Keefe). I captained the First XI that played a two day game against the Green Shield Representative Team on the SCG No 1.
At 17, Country Men's 2nd XI and named Dubbo Men's Cricketer of the Year. Next season, Country Firsts and NSW Schoolboys (equivalent of NSW U/19 today).
After my HSC I moved to Sydney and joined Saints in December 1973 and made my First Grade debut in March 1974 on the SCG No 1. Grade residential qualifications (I was studying at Macquarie University) meant a shift to Gordon in 1976/7 before coming back to Saints in 1979/80.
My best mate was involved in setting up the Campbelltown Club so I left Saints after our First Grade Premiership win in 1985 and played 3 seasons there.
I finished off at Sutherland with two really enjoyable seasons before retiring in 1990.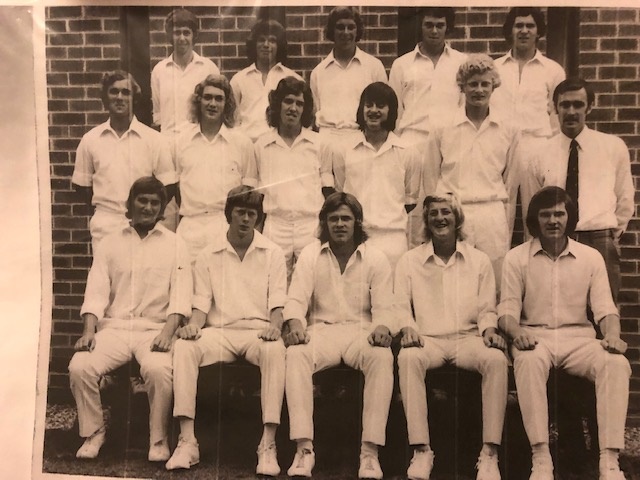 NSW Schoolboys 1973/4 Back Row middle Murray Bennett, far right Allan Border, far left Wayne Turnbull:
Middle Row far right Peter Taylor, Paul Bourke next to him:
Front Row middle Graeme Hughes Captain, Jon Jobson on his left and far left Andrew Hilditch
What other sports did you play?
Rugby League and some Rugby Union, touch football and athletics
Who is your favourite sports movie or documentary?
Invictus
What's the one thing about you most people don't know about?
A farming accident (aged 4) went very close to cutting off my left hand. We lived a fair way out of town so a rush to hospital and a skilled surgeon enabled to not only save my hand but also to have full use of it. A different result would have changed my life.
What's your highest score in senior cricket?
On debut for Campbelltown 186 not out (club record for 28 seasons). It was at Benson's Lane (now called Owen Earle).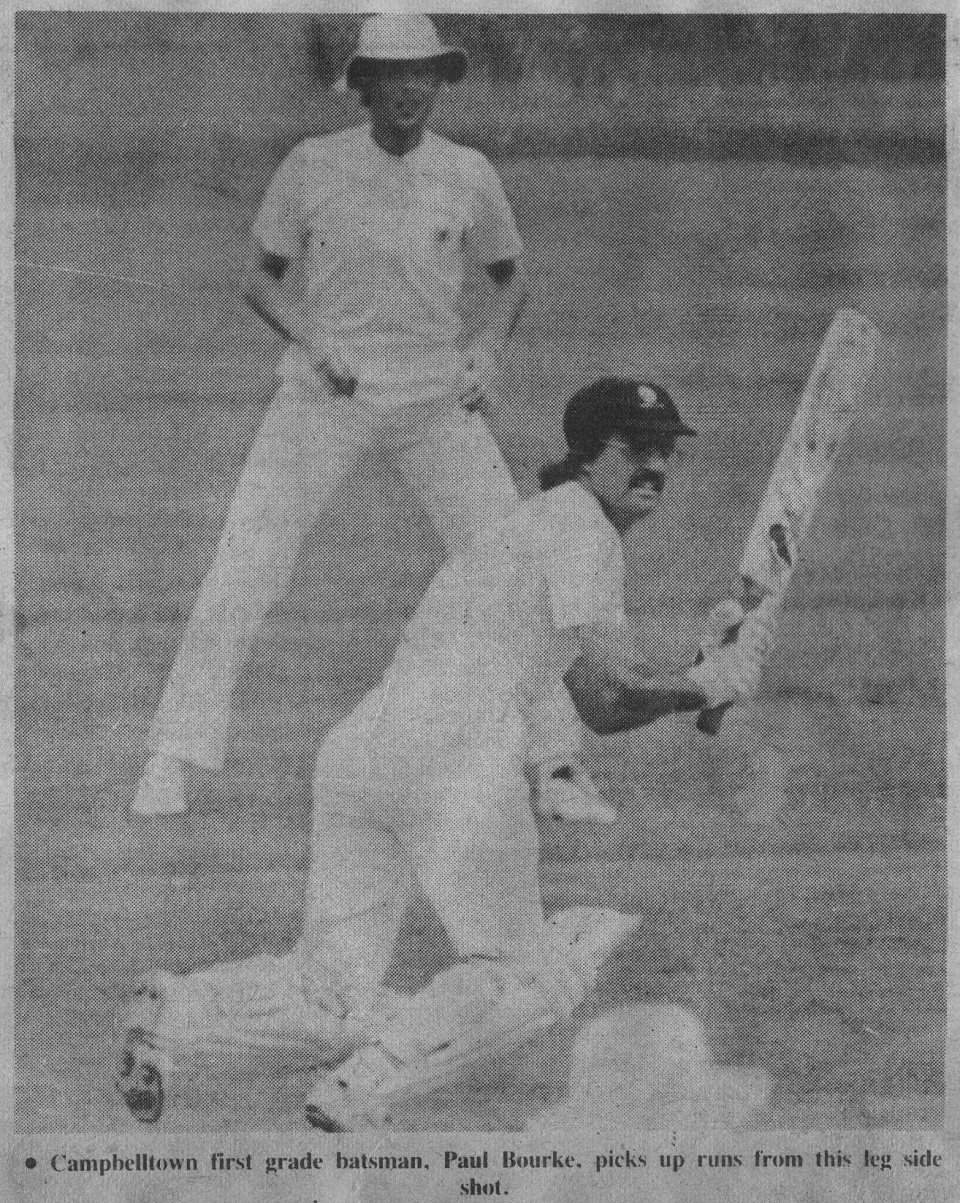 What has been your best bowling figures in senior cricket?
7/22 in Men's cricket in Dubbo.
Who have been the best three fast bowlers you have played against?
Len Pascoe (Bankstown): very aggressive and not afraid to use the short ball.
Andy Roberts (West Indies and Sutherland): hit the bat very hard and had the slow, then fast bouncer.
Geoff Lawson (UNSW): simply a class bowler who started as a tear away then became very skilful.
Who has been the best three spinners you have played against?
Tom Shiner (Campbelltown, leg spin): played with him many times but also against him. Great variety and many subtle changes to deceive the batsman.
Steve Whitfield (Northern Districts, left hand orthodox): quick through the air and difficult to attack.
Ro Shelton (North Sydney, leg spin): similar to Whitfield.
Who has been the best 2 batsman you've played against?
Brian Booth (St George): played with him many times (including being my first batting partner on debut) but also against him. A wonderful all round player who had a magnificent career, including 25 seasons in First Grade.
Allan Border (Mosman): batted with him on a number of occasions in representative games before he made his First Class debut. He was also an opponent in First Grade. The ability to adapt his game and to lift with promotion to higher standards of cricket were a feature of his great career. What a gifted and determined player he was!
Who played the best innings you've seen firsthand playing with or against?
Wayne Seabrook played many outstanding innings. His 126 in Parramatta's total of 202 against Campbelltown in 1986 was amazing. He faced a high quality attack in John Sullivan, Derek Pringle, Tom Shiner, Barry Thebridge and Mark England. He was so dominant that the next highest score was 16.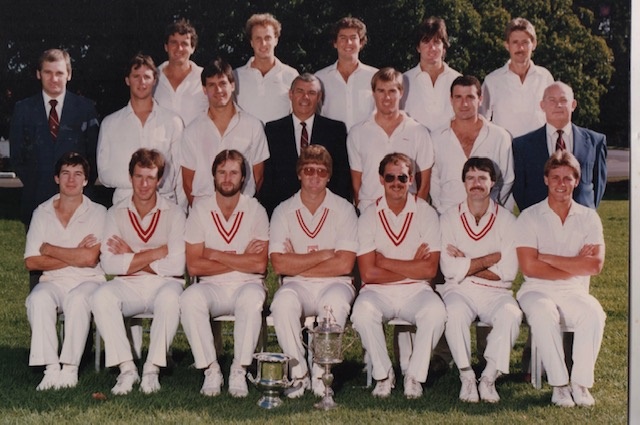 St George First Grade premiers 1984/84
Who has been the best wicket keeper you've seen firsthand playing with or against?
Steve Rixon. A wonderful keeper either standing back or over the stumps. A real competitor.
Who has been your funniest team mate?
Tom Shiner. He was so competitive. His words and actions were often simply hilarious
Who was your childhood hero?
Richie Benaud
Who are the three sports people in the world you'd most like to meet?
Usain Bolt, Justin Langer and Ian Botham
Who's your favourite cricket commentator?
Adam Gildchrist
Who are the two players you admired most in terms of skills and competitive spirit in the competitions you played?
Brian Booth and Steve Bernard.
What do you enjoy most about playing cricket?
The people you meet and the friendships that last a lifetime. There are many and they are to be treasured.
What has been your most memorable moment in cricket?
Captaining Campbelltown to its first ever premiership (Limited Overs Competition 1986/7) in their second year in grade. It was a very tense finish but we won by 3 wickets with 3 balls to spare. I can still vividly remember Barry Thebridge hitting the winning runs. We went on to defeat Newcastle to become NSW Champions but unfortunately fell 34 runs short in the two day First Grade Final a few weeks later.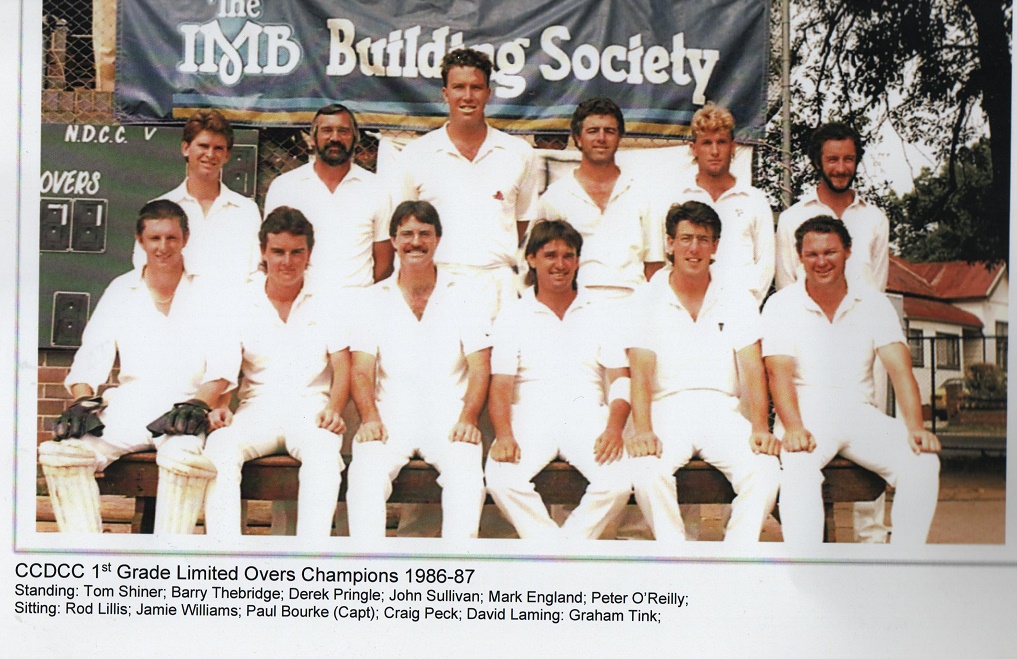 Tell us about the best win you've been involved with?
At St George it was the First Grade Premiership win against a strong Wests team. Batting first we were 6/119 by mid-afternoon, and on the ropes, before a great fightback by the lower order enabled a competitive total of 263 to be achieved. Wests had a very good batting line up headed by Dirk Wellham, who was averaging over a 100 for the season. However, a terrific bowling and fielding effort on Day 2 resulted in a win by 76 runs. We had been so close for a number of years and therefore this was a special win.
What are your hobbies?
Watching high quality sport, reading and writing history (particularly cricket), gardening, fitness and social activities.
What's the best advice you've received?
If something is not going well then look in the mirror. The solution starts with you.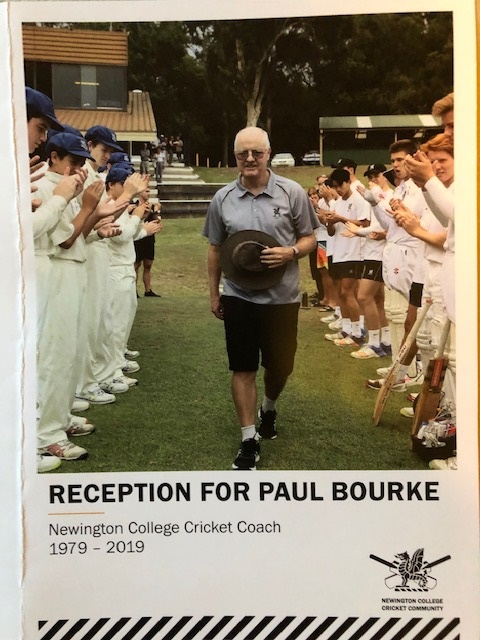 After 40 years Paul Bourke coaches his last game at Newington College in Sydney
Join the cricket network to promote your business and expertise. Make it easy for people to search and find the people and services they need through people they know and trust.
Join the network
If you'd like to see more content from Campbelltown Camden District Cricket Club, they'd be very grateful for your support and contribution. Campbelltown Camden District Cricket Club will receive 80% of all funds contributed.