Hamish Solomons is the very proud owner of Cap Number 355 for St George District Club. He's a Life Member of St George and it's where he scored 3,251 runs and took 334 wickets across the grades he played.
His remains very active in the game and is one of crickets most popular people. We're delighted he took the time to join us at Cricket Sydney.
Welcome Hamish,
Firstly, something personable, what's your nickname?
Hamo / Lowmans back in my playing and circuiting days
What year were you born?
1972
Where did you go to high school?
Mighty educational institution that is Kingsgrove High School which once won a Davidson Shield thanks to Murray Bennett and co.
Do you remember your first ever game of cricket?
I believe I was 5 or 6 and it was for Kogarah Boys in the St George U8's competition at Scarborough Park. Got retired on 5. I remember it pretty clearly which is surprising considering I can't remember my kid's names at times.
Where did you play your junior cricket?
St George as well as a few seasons in the Sutherland Shire.
Which clubs have you played for?
I was a bit of a journeyman, Kogarah Boys until we moved to Menai and I played with Illawong where my dad was president. Also had a season with Cronulla Seagulls and St Patricks Sutherland where I bowled to some quality wicket keepers as a legspinner.
How old were you when you first played grade cricket?
This might come as a surprise but I actually started out with Western Suburbs in Green Shield and 4th grade from the age of 14 / 15. When I turned 18 I'd had enough of cricket and took 3 years off. Then started back at age 21 with the Mighty Saints.
What age did you make your first grade debut?
I was a veteran at age 26 thanks to a club mate Dave Langford-Smith having a car accident the day before. My old man turned up to watch 1st Grade, saw me and asked what I was doing at the game….
What is your highest score in grade cricket?
It was my first season with St George in 93/94 in the round where everything was on fire (a bit like at the moment). I was told by the club coach that if I didn't convert the starts I was getting that I would get dropped. Batting at Cahill Park against UNSW I snicked one on zero and amazingly the keeper dropped it. I went on to get a 129, my first century at any level. Cricket is a funny game!!!
What is your best bowling figures in grade cricket?
Two worth mentioning. I rightly got dropped for missing a game and got a 7 for 20 odd at Tunks Park against Norths. I reckon a 6-9 off 10 in a one dayer against Mosman at Allan Border was the one that stands out a bit more because it was in the relevant grade.
What's been your most memorable moment in cricket?
Captaining the premiership season of 2005/06 where we witnessed firsthand the emergence of Trent Copeland the bowler who had been my wicket keeper the season before. I actually wrote a piece about Trent and had the pleasure of delivering the nomination for Trent to become a Life Member at St George, he has a great story, have a read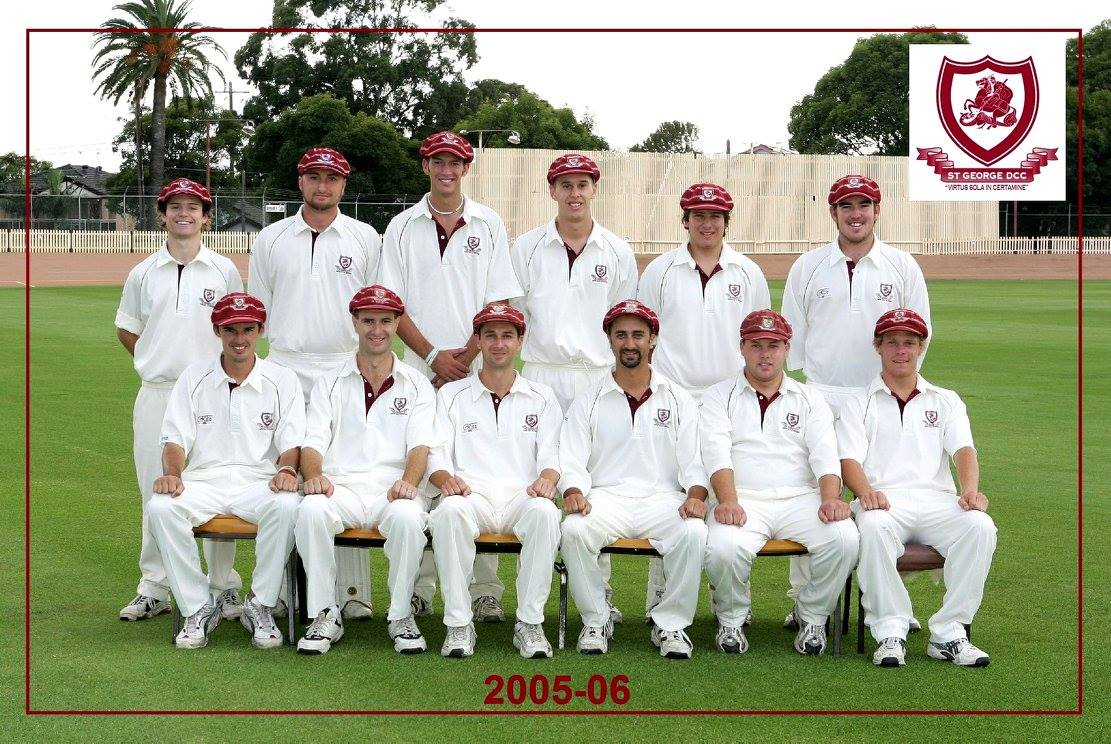 Who's been the biggest influence in your cricket career?
Many of my grade captains have combined to shape the way I look at the game in particular, Greg Matchett, Warwick Hayes, Paul Ryan and David Thompson.
From a coaching viewpoint definitely Barry Davison and of course the ol' boy Harry Solomons and even my mum Frankie who developed other more creative skills I use in the game.
Who was the funniest cricketing team mate?
Tim Marsh who single handedly won us a 3rd grade premiership with his banter and general humour.
Who was the most annoying team mate?
Anyone who was rubbish at shining the ball.
Who is your favourite all time cricketer?
Kumar Sangakarra pretty much ticks all the boxes followed by Doug Walters and Mark Waugh who ticked a few different boxes.
Hamish with Kumar Sangakarra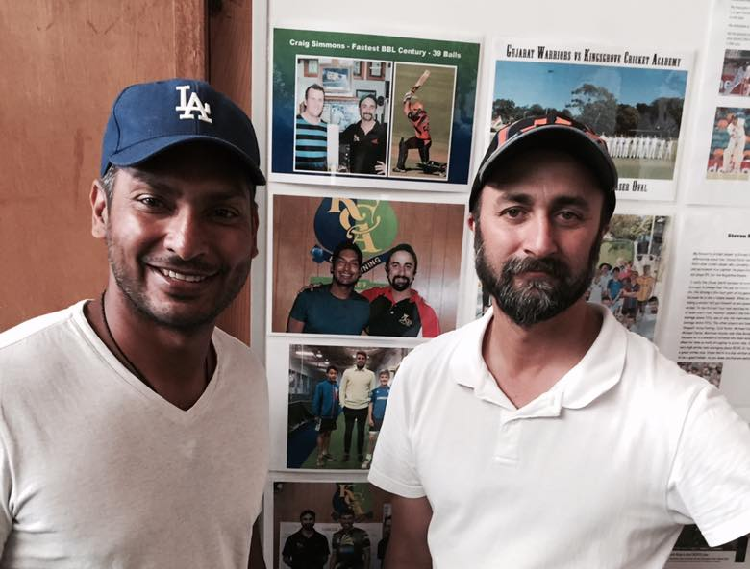 What was the best win you were involved in?
Probably an outright win at the Village Green where we lost first innings and it came down to the last over and I was a bit over my head batting against English Leg Spinner Ian Salisbury. I managed to get on to a slog sweep which got dropped and then to add insult to injury for the fielder, trickled in to the boundary to give us an unlikely victory.
If you're in the middle seat of the middle row of Qantas QF1flight to London which team mates would you choose to on your left and right?
Chadd Porter & Nathan Pilon because we'd all probably try and give Boony's record a crack.
Did you have any cricketing superstitions?
Don't field next to Graeme Rummans
Why is that?
We once had one of those once in a lifetime moments where we had an on field misunderstanding playing at Allan Border Oval and dropped a catch from an in form Warwick Adlam.
To add salt into our wounds a passerby at the ground yelled out ****heads or was it our captain?
Which ground in Sydney club cricket did you enjoy playing at the most?
Hurstville Oval hands down.
Just being in those sheds given the history of the club and the players before us. I loved bowling at Hurstville as I felt the ball moved around nicely.
The fact you could walk up to the canteen and rub shoulders with the likes of Warren Saunders and Brian Booth, enough said.
Very proud St George Cricket Club Life Members; Hamish, Brian Both, his dad Harry and Warren Saunders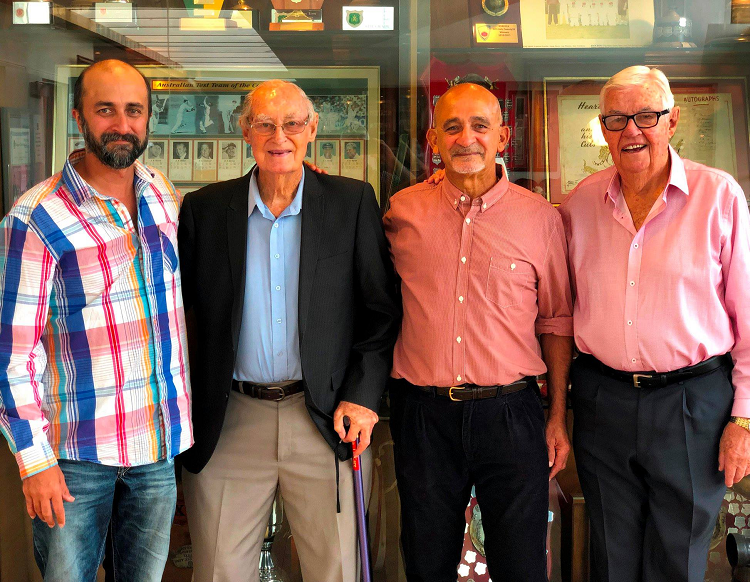 Who was the fastest bowler you ever faced?
Believe it or not it was some bloke I don't know of to this day but it was in Vancouver, Canada where I played a couple of off seasons in the mid 90's.
The MCC toured and they had this West Indian guy who had a huge run up.
When I checked the field I wondered why the keeper and the slips where on the boundary. I knicked the first ball and it almost went for six so I realized why they were so deep.
My next problem was I didn't pack a lid. The details are a bit sketchy because I really had a good time in Canada but not surprisingly I was run out soon after.
I once played Brett Lee but managed to plant myself up the other end.
What's the best advice you ever received?
No matter what, my grandfather always said "Better Than Yesterday" when someone would ask how he was, even when he was facing up to deaths door.
I try to apply that to the way I go about stuff as I get older and I think most cricketers should look to maintain this kind of attitude as they develop and progress.
Are you still involved in Cricket and if so, in what capacity?
With Harry Solomons as my father, there wasn't much chance of not being involved. I work full time in the game. I still play once a month. We call it Old Man's Cricket with the mighty St Joseph's "dads".
I'm on the management Committee at St George DCC and I do a Sports Radio Show on Sunday Mornings where I mainly talk about cricket. It would appear that I'm a cricket nuffy.
What advice would you offer a young 13 year old who has the ambition of playing test cricket?
Depends on specifically what kind of kid he is but I would tell most cricketers to spend less time studying MyCricket stats with your parents and more time getting mentally stronger and game aware. Watch more Test Cricket and learn from the best.
What are your hobbies?
I collect hobbies as a hobby. Fair dinkum, I'm such a nerd. Probably something to do with being an only child for such a long time. From playing (poorly) a few musical instruments to photography, Genealogy to footy cards I do all sorts of weird sh*t if time permits. At last count I had over 30 hobbies because making lists is another hobby of mine.
What is your occupation?
Essentially I'm a cricket coach who also manages a Cricket Training Facility.
I'm the Manager and head coach of the new state of the art Norm O'Neill Cricket Centre in Penshurst.
Before that I grew up and worked in the cricketing institution known as Kingsgrove Sports Centre / Cricket Academy. Some of you Grade Cricketer types might know it better as Queensgrove ….
Are there any lessons from your time in cricket that you take into work or life in general?
Put simply, just about everything. If St George DCC didn't become my home away from home, I could well have run off the rails. This magnificent game does not owe me a thing, I owe it everything.
Join the cricket network to promote your business and expertise. Make it easy for people to search and find the people and services they need through people they know and trust.
Join the network
If you'd like to see more content from Cricket Sydney, they'd be very grateful for your support and contribution. Cricket Sydney will receive 80% of all funds contributed.