Murray Bennett is Australia's Test Cricketer 327 and played 3 Tests and took 6 wickets as a left arm off spinner.
His first class career spanned from 1982/83 to 1987/1988 where he played 67 first class games and took 157 wickets at an average of 30.92. His best figures were 6 for 32 and he took 5 wickets in an innings on 5 occasions.
He scored 1,437 runs at an average of 23.95 and his highest score was 59 not out.
In Sydney Grade Cricket Murray played from 1973 to 1992 and took 485 wickets at an average of 17.62 and scored 3,973 runs at an average of 24.07.
Murray was a NSW State Selector for many years and a former President of his beloved St George Cricket Club. He's a Life Member of St George and was selected in the St George Team of the Century in 2011.
Welcome Murray,
Firstly what year were you born?
1956
Where did you go the high school?
Kingsgrove High
Do you remember your first ever game of cricket?
I would have been 7 and turned 8 a few weeks into the season. I don't remember the first game specifically, but I do know I scored 5 runs for the season including a boundary!! I believe at one stage I scored 6 ducks in a row (mind you Greg Chappell went one better) The story goes that my Father, who was working Saturdays at the time, dropped in one Saturday and saw me sitting digging in the dirt instead of fielding. I understand he was totally embarrassed and took it upon himself buy me a little wooden cricket set and to teach me to defend my wicket. In my 2nd season I defended like Geoff Boycott but couldn't score any runs. I don't remember bowling much at all at that time.
Where did you play your junior cricket?
I played all my junior cricket for Kingsgrove Methodists, who were affectionately known as Kingsgrove Meths!! (A whole different context today!!) Kingsgrove Meths were part of the St George Junior Association before it amalgamated with Georges River Penshurst.
Which clubs have you played for?
Juniors with Kingsgrove Meths, Mens cricket with Kogarah Boys Club, St George Grade Club and Ramsbottom in the Lancashire League in the UK.
How old were you when you first played grade cricket?
I was 15 when I first played 5th Grade for St George.
What age did you make your first grade debut?
4 weeks after my 17th birthday.
What was your best bowling figures in first grade?
I believe it was 7-27 against Gordon on a damp wicket at Chatswood. I took 7 wickets 3 times during my career in Sydney 1st grade and a couple in the Lancashire League.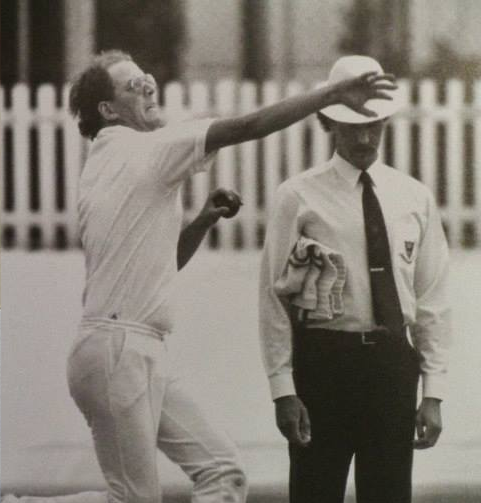 Murray Bennett bowling at Hurstville Oval
Who were the best three batsman you played against in Grade cricket during your career?
Bob Simpson – scored 150 against myself & Kerry O'Keeffe one day at Pratten Park and I felt quite useless in trying to hold him. He gave me some tips after the game. I was probably 18 at the time.
John Dyson was technically one of the best players I bowled to. He was very strong at hitting over the top when he took me on. He would never acknowledge that I dismissed him, which I did one glorious day at Hurstville Oval 😊
Peter Toohey was a wonderfully balanced player who was very difficult to bowl to as a result. He was a punishing player who could pull the ball as well as Doug Walters. He pulled a delivery from me in my first season in 1st Grade and I remember it knocked the palling off the fence. Remember the short leg fieldsman didn't wear helmets in those days!! Ouch!!
Who were the three bowlers you admired most in terms of skill and competitive spirit in Grade cricket during your career?
Steve Bernard – was a supremely skilled fast bowler who played the 2nd half of his career with us at the Dragons. He was sharp and had a leg cutter to die for, which meant fielding at slip was a pleasure. Appropriately the "Brute" was selected in the Saints Team of the century in 2011.
Mick Pawley was a magnificent left arm spinner for Manly & NSW, who I was able to observe and hopefully model myself on.
Graeme (Watta) Pitty was a superb Left Arm Fast bowler for Bankstown and Penrith, who I captained in several State Colts games. Watta should have played a lot of 1st Class cricket except for ongoing back injuries. Could swing it both ways at pace.
When did you make your first class debut for NSW and what can you remember about the game?
I debuted in the 1st game of the season in 1982 against Western Australia. We batted first and scored 500+. My first delivery in 1st Class cricket was from Denis Lillee. I felt as though I was watching the TV. I scored 36 no, but not before DK Lillee bounced me a few times and beat me with both an off-cutter and a leg-cutter!! Too good. WA got 490 in reply and I bowled 52 overs in taking 2-75. I couldn't walk at the end of the innings due to deep bruising in both feet. Greg Shipperd scored 160 in 10 hours of painfully slow cricket. My first 1st class wicket came from a magnificent legside stumping by Steve "Stumpa" Rixon to dismiss Test Player, Craig Sergeant.
Who were the best 3 batsman in first class cricket you came up?
Graham Yallop – I never enjoyed bowling to left handers and Yallop was one of the best. Very quick on his feet and hit the ball very hard. I did dismiss him a couple of times but not before he would carve a few boundaries. One day at the MCG, I bowled 4 identical good length deliveries in a row which Graham hit to 4 different parts of the ground. I did bowl him later that innings with one that turned through the "gate", but not before my confidence had taken a battering, literally.
Kim Hughes – again very quick to leave his crease and strong at hitting the ball back over your head. A hard man to hold when in full flight. Very confident and a lot of belief in his ability to get on top of you.
Javed Miandad – I never played Test cricket against Javed but played two 1st Class games against him for NSW V Pakistan and Australia V Glamorgan. In the Glamorgan game he got 200 and I remember him bringing up his 200 by hitting me for 6 over cover. Again very good on his feet and happy to hit the ball in the air.
You made your Test Debut for Australia against the West Indies in 1984. How did you find out about your selection, what was it like to walk out onto the MCG with the baggy green of and what can you remember most about your test debut?
I think I heard the team announced on the radio, but I'm not sure. I'd been 12th man for the previous 2 tests that season so it wasn't a complete shock. I was very nervous, but I knew the players well due to previous 12th man duties over the previous couple of seasons and had played some ODIs in India earlier in 1984. The MCG was fantastic and nerve raking at the same time. I took a catch in the gully to dismiss Gordon Greenidge early on, which settled the nerves significantly. The thing I remember most is having 5 catches dropped off my bowling and finishing the Test with no wickets. I thought I would finish my career after 1 Test. I also was proud to help Australia avoid the follow on by putting 35 on for the last wicket with Rodney Hogg. Hoggy was very nervous batting against the Windies!!
5 catches that must have been very frustrating. Who ended up being your first test wicket?
5 catches in all. I often say I had Viv Richards dropped, which is true, but he was 167 at the time. When Geoff Lawson dropped one hit straight to him at mid-off I knew it was not going to happen. "Henry" had a great pair of hands and was a very safe catcher. I had to wait until the Sydney Test to take my first wicket, which was Jeff Dujon caught at backward point by Andrew Hilditch. Prior to me getting Dujon, there was another dropped catch and a bat/pad decision turned down against Viv Richards, which replays showed had come off his glove. I was getting pretty desperate when finally Dujon decided to help me out.
In your 2nd Test at the SCG, you bowled "that ball" to dismiss Viv Richards. Can you share how it felt and what was going through your mind when you bowled the Master?
This was the 2nd innings and we were pressing for victory. Viv & Clive Lloyd had held us up for some time. Lloyd was very difficult to bowl to. Very strong and quite unorthodox. They had put on over 100 and were travelling quite comfortably and looking to take the initiative away from Dutchy Holland and myself. I bowled Viv a good arm ball about 4 overs before I dismissed him. He nearly chopped it into his stumps. Steve Rixon and I spoke at the end of the over and agreed I should hold it back for a few overs and then try and surprise him with one. The rest is history. I think the overwhelming feeling of exaltation was due to fact that the plan worked perfectly, the delivery was a ripper swinging in late, his wicket broke a partnership that was threatening to damage us, and a lot of the disappointments that had gone before.
Do you remember how far you'd have run before a team mate caught up with you?
I believe Carl Rackeman crashed tackled me in the covers (damned Queenslander) otherwise I would have gone all the way!!
Murray Bennett bowls Viv Richards for 58 in the 2nd innings of the 5th Test between Australia and West Indies in 1984/85

What's been your most memorable moment in cricket?
I guess I'd have to choose the 5th Test victory against the West Indies in 1985. They hadn't been beaten for something like 29 tests.
The Sheffield Shield wins were pretty special as well. 1982-83 after NSW hadn't won for 17 years. 1984-85 against Queensland was an absolute cliffhanger with all Australian players available and then to back up again against Queensland the next year was fantastic.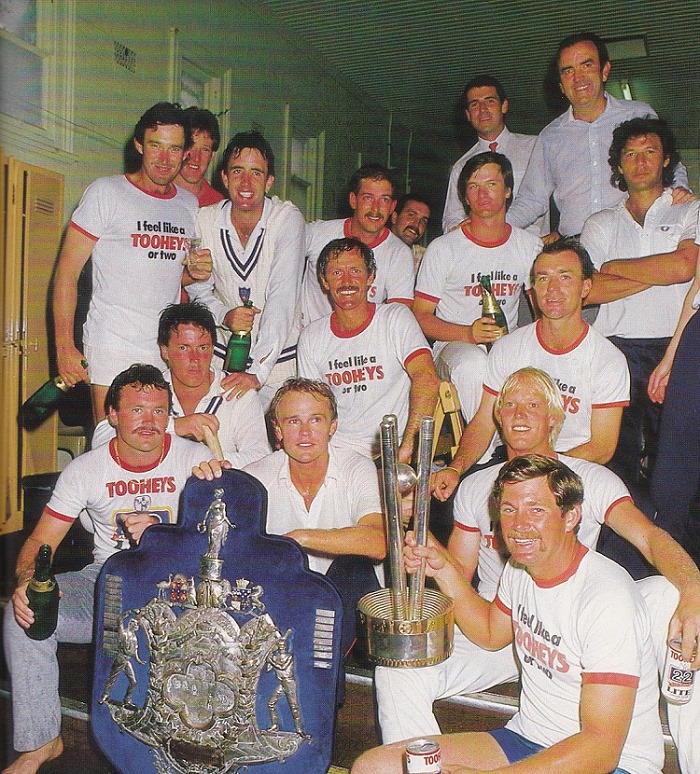 NSW team celebrating winning the Sheffield Shield final against Queensland in 1984/85
Who's been the biggest influence in your cricket career?
It would have to be my father. He spent hours bowling to me when I was young and set up the foundations of my game. He was knowledgeable about the game and extremely positive with not only myself but all other players in our teams. The players used to enjoy sitting down with Dad at the cricket due to his supportive attitude.
No doubt Warren Saunders has been an amazing mentor of mine both on and off the field. I learned a lot about Captaincy from talking to Warren. He was a Captain who was much loved by whoever played with or against him.
Who was the funniest cricketing team mate?
For St George, I reckon Johnny Bain was one of the best entertainers on and off the field. "Snowy" came to us from the Petersham Club, which was a pretty tough grounding for a young player in those days.
At Australian level, Greg "Fat Cat" Ritchie is one of the naturally funniest men I've ever met. His fake commentary of special sporting events in collusion with Wayne "Flipper" Phillips from South Australian were special.
Who was your most annoying team mate?
Mark O'Neill was a fantastic batsman and a great guy, but to room with he was the worst. After about 2 season's non-stop I had to say to the Captain, Dirk Welham, I've done my bit it's time to move "Sparky" on!!
Who is your favourite all time cricketer?
Doug Walters, hands down. The first time I played with Doug was in a City V Country game at the SCG. I was probably about 19 and Doug was returning from injury, I was star struck. I don't remember much about the game, but I did play cards with Doug!!!
What was the best win you were involved in?
Have to be the 5th Test win against the mighty West Indies in 1985.
What did you enjoy most about playing Premier/Grade Cricket in Sydney?
Everything St George, from the history, to the senior mentors at the Club, to the pride the playing group had in the cap. It has been an institution and something I'm very proud to be part of.
Also the camaraderie of playing against opposing players year in and year out and getting together with them after the game to reminisce and enjoy each other's company. I still come across many of these players today and it's like nothing's ever changed.
Was there a particular team you really looked forward to playing and why?
Randwick, Northern Districts, Western Suburbs and in later years Bankstown, were always strong and a good test of where we stood in regards to being one of the top teams.
If you're in the middle seat of the middle row of Qantas QF1flight to London which team mates would you choose to on your left and right?
Greg Matthews on one side. Mo is a great friend of mine and he is so entertaining to talk to. Very knowledgeable on all things cricket as well always bringing a smile to your face. Hopefully he would sleep at some stage.
David Boon on the other. "Babs" was a great friend of mine and also entertaining to chat to. I certainly wouldn't go with him on the cans of beer however and would insist he has the aisle seat for the frequent trips to the loo.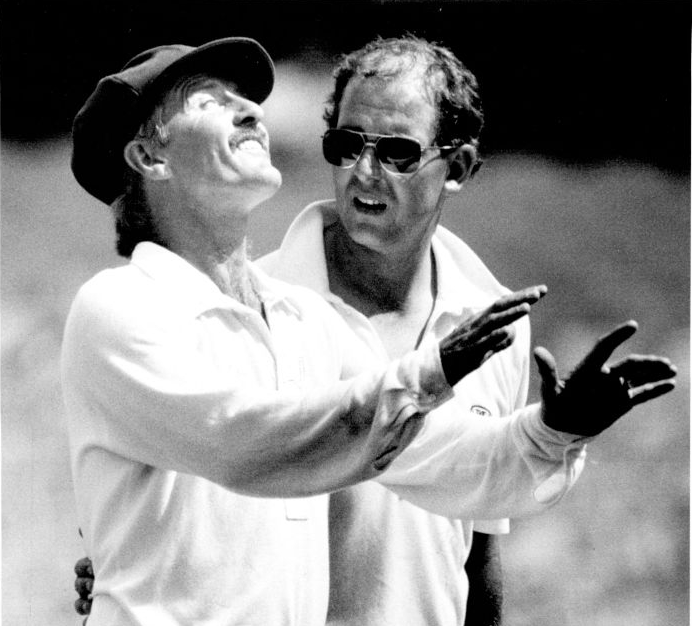 Murray with his spin twin from the 5th Test win against the West Indies Bob Holland
Did you have any cricketing superstitions?
Not really. I always put my left pad on first, but it just seemed the right thing to do.
Which ground in Sydney club cricket did you enjoy playing at the most?
Obviously, Hurstville Oval due to my 19 years in 1st Grade there. It was always in good condition and a pleasure to play with its amphitheater quality for the spectators to watch. The crowd also feels very close to the action. I scored a couple of centuries at Pratten Park so it was always a place I felt comfortable playing at. I also remember a 1st ball duck bounced out by Murray Radcliffe!!
What's the best advice you ever received?
Warren Saunders on Captaincy. At the start of the season advise the team if they have a problem regarding anything to do with them or the team to come directly to the Captain. Don't complain to a 3rd party because they can't do anything about it.
Are you still involved in Cricket and if so, in what capacity?
I'm on the Management Committee at St George. I'm in charge of Playing Performance, which basically involves working with the coaching staff and Captains. I also do a few ad hoc coaching sessions at St George and occasionally 1 on 1 when asked.
Do you like the modern game and what can the game do to make it better?
I think the modern game is fantastic. The fielding is of a very high quality due to the excellent training drills these days and the athleticism of all players including fast bowlers. I think the big bash and 20/20 cricket in general, is providing amazing opportunities for young players to get exposure at the top level and play in front of large crowds. The game favours the batsman too much however and I feel in Australia particularly, the wickets are too bland and have lost their individual character of yesteryear. Spinners are disappearing from our game due to non-responsive wickets and the ease with which batsmen can hit sixers due to small grounds and large bats. I would like to see wickets prepared in a way to assist the bowlers more. A good example is the recent Ashes series in England where the ball dominated and the series was enthralling.
What advice would you offer a young 18 year old who has the ambition of playing test cricket?
Understand that you have to love the game first and spend some time knowing where the game has come from historically. Read about players and events from the past. Then it is a lot of hard work. Be able to identify where your game needs improvement and work very hard to improve those areas. Above all, be patient, it will take time and there will be disappointments and setbacks along the way. I have seen too many players over the years with tremendous ability, but fall away after the first time they are dropped from a team or have a string of poor performances.
What are your hobbies?
Golf, watching St George cricket teams, and spending time with my family and 3 grandchildren. Jane and I have a place up the coast near Forster and we love spending time there.
What is your occupation?
I'm a Partner in the Warren Saunders Insurance Broking business. I am currently working 2-3 days per week advising clients, some of who I have been dealing with for over 30 years.
Are there any lessons from your time in cricket that you take into work or life in general?
From time to time you have to raise something negative about the performance of someone working under your direction. My suggestion is to start the discussion with something positive they are doing to put the negative aspect into perspective.
Don't be too hard on yourself. I was my harshest critic and at times that held me back from performing at my best.

St George District Cricket Club Team of the Century
Arthur Morris, Les Favell, Don Bradman, Norm O'Neill, Brian Booth, Alan Fairfax, Nathan Pilon (WK), Ray Lindwall, Murray Bennett, Kerry O'Keeffe, Bill O'Reilly, Steve Bernard.
Join the cricket network to promote your business and expertise. Make it easy for people to search and find the people and services they need through people they know and trust.
Join the network
If you'd like to see more content from Cricket Sydney, they'd be very grateful for your support and contribution. Cricket Sydney will receive 80% of all funds contributed.