When you consider Phil Wells scored 10,025 runs at an average of 42.12 and was a member of 5 premiership winning teams you'd have to say he was mightily unlucky not to have played first class cricket for NSW.
Phil scored 21 hundreds and 55 half centuries in 294 innings from 2005 to 2019
Let's find out more about the little run machine
Welcome Phil
Firstly, what year were you born and where?
1987 in Nowra
Where did you go the high school?
Nowra Anglican College
Do you remember your first ever game of cricket?
I don't really remember but I think I was about 8 - no recollection on how I went.
Where did you play your junior cricket?
North Nowra Cambewarra CC
Which clubs have you played for?
St George, Bankstown, Campbelltown
How old were you when you came to Sydney and why did you pick St George?
I was 16 and it was St George clubs history and tradition that was the main drawing point. It was also on the south side of Sydney which made it easier for travel.
What age did you make your first grade debut?
17
What is your highest score in first grade?
190 not out for Bankstown against St George at Bankstown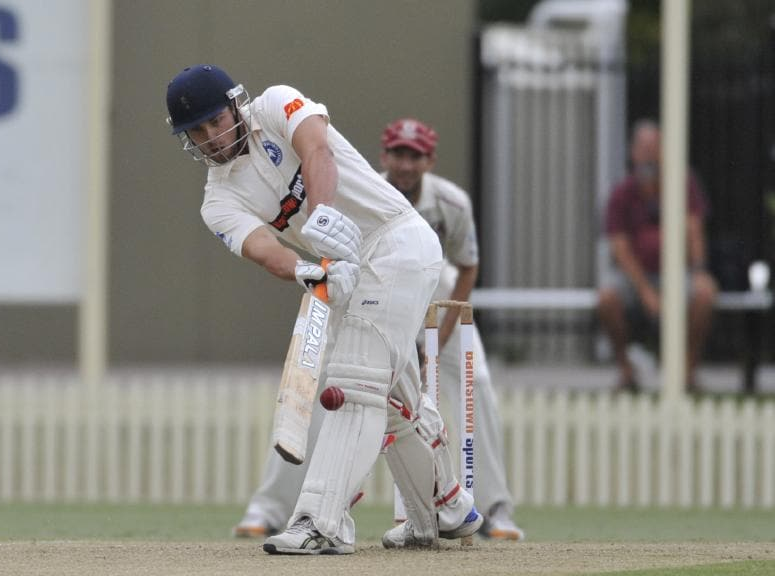 Phil takes down his St George old team mates on his way to 190 not out
How many First Grade Premiership have you won?
I was very fortunate to play in 5 premiership winning team – 3 for St George in 2007/08, 2008/09, 2009/10 and 2 for Bansktown 2014/15 (one day competition) and 2015/16.
Who's been the biggest influence in your cricket career?
Mum and Dad
Who was the funniest cricketing team mate?
Daryl Tuffey
Who is your favourite all time cricketer?
Ken Hall
What was the best win you were involved in?
The 2007/08 Grand Final win for St George against Gordon at Bankstown Oval
Did you have any cricketing superstitions?
I always had to put the left pad on first
Which ground in Sydney club cricket did you enjoy playing at the most?
Both Hurstville and Bankstown Ovals – I can't spilt them
Who are the three fastest bowlers you've played against in NSW Premier Cricket?
Burt Cockley, Mitchell Claydon, Mark Cameron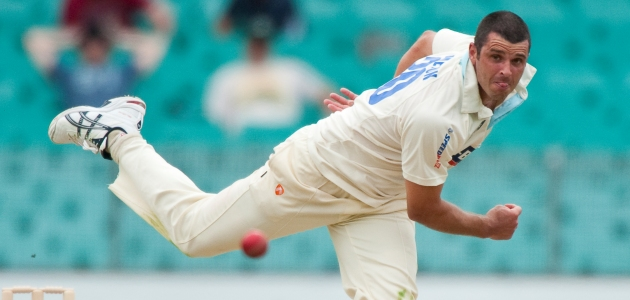 Mark Cameron playing for NSW
Who are the 3 best spinners you've played against in NSW Premier Cricket?
Greg Matthews, Anthony Kershler, Stuart MacGill
Who are the 3 players in NSW Premier Cricket you've admired most and if you could add a couple of words as to why?
Graeme Rummans always looked in control and understood his game better than anyone I've seen.
Warwick Hayes had immense respect for the game and showed it through hard work and proved you can get results at any age.
Ken Hall played before my time but through all the stories and being involved at Bankstown I admire him greatly. His love for the game is like no one else's.
What do you enjoy most about playing Premier Cricket?
The camaraderie. There are so many bad days in cricket but when you have a good day its great there are 10 other mates there supporting you.
You've had a very successful career in NSW Premier Cricket did you ever think about going interstate?
No, not really. I just wanted to do my best in Sydney and see what happened from there.
You made your First Grade debut back in 2005. Has First Grade cricket changed much from then to now and if so, how?
Yes it has changed. There's a lot more players playing First Grade at a younger age
If you had the opportunity to change one thing to improve NSW Premier Cricket what would they be?
Less Sundays
What's the best advice you ever received?
Watch the ball and always find a way to have fun
What are your hobbies?
Golf, Movies, mowing my lawn
What is your occupation?
I run my own business and a floor layer
Join the cricket network to promote your business and expertise. Make it easy for people to search and find the people and services they need through people they know and trust.
Join the network
If you'd like to see more content from Cricket Sydney, they'd be very grateful for your support and contribution. Cricket Sydney will receive 80% of all funds contributed.