760 is the number of wickets Steve Wark has taken in NSW Premier Cricket and as you'll soon come to understand, its 760 so far. He might be turning 50 this year but you get the feeling there are more overs to be bowled, wickets to be taken and runs to be scored.
It is very worthy to note, Steve is just 6 wickets of 3rd placed Bill O'Reilly on the St George Cricket Club all-time wicket takers list for the Saints
Steve has won multiple premierships across the grades as a player and captain. He's a competitor, resilient, a very popular team mate, respected by his opponents and a proud Life Member of St George District Cricket Club.
Let's find out more about Steve Wark's journey in the game.
Welcome Steve,
Firstly, what year were you born?
1970
Where did you go the high school?
James Ruse Agricultural High School – I was a classmate of Adrian Tucker and a good few years before Greg Mail
Do you remember your first ever game of cricket?
1978 is testing the memory a little. Playing in an older age, I know that I didn't experience much success.
Where did you play your junior cricket?
Epping YMCA
Which clubs have you played for?
I played all my junior cricket at Epping YMCA, my senior cricket with Thornleigh Waratahs CC before moving to St George DCC in 93. 95 and 97 I played Scottish League cricket with Dundee HSFP. With the exception of 1 season with Gordon in 98 -99, I've been at St George ever since.
How old were you when you first played grade cricket?
I was relatively old to move to Grade cricket, joining St George in season 1993 -94 as a 23 year old opening batsman. I debuted in 4th Grade with Peter Jackson as Captain. A young guy called Hamish Solomon also joined the club in the same team.
What age did you make your first grade debut?
I made a most underwhelming 1st Grade debut in 94-95, now as a bowler. I was padded up, nervously ready to bat, when rain arrived and play was abandoned. A two day loss by NSW in a Shield Game saw our rep players available for Day 2 and my services no longer required that week or again that season. For some time I thought my 1st Grade career would be one game without batting, bowling or fielding.
Luckily, I had a wonderfully memorable last 1st Grade game. I returned to Australia from an overseas holiday on a Friday morning in Oct 2011 mid way through round 1. Day 1 rain meant that I could be picked in 5th Grade the next day. A Friday evening injury left 1st Grade needing a player at very short notice, with yours truly promoted 5 grades in one evening despite not having played 1st Grade for 8 years and having not bowled a ball for 6 months. I finished with 3/35, one O'Reilly Medal point and never played above 3rd Grade that season!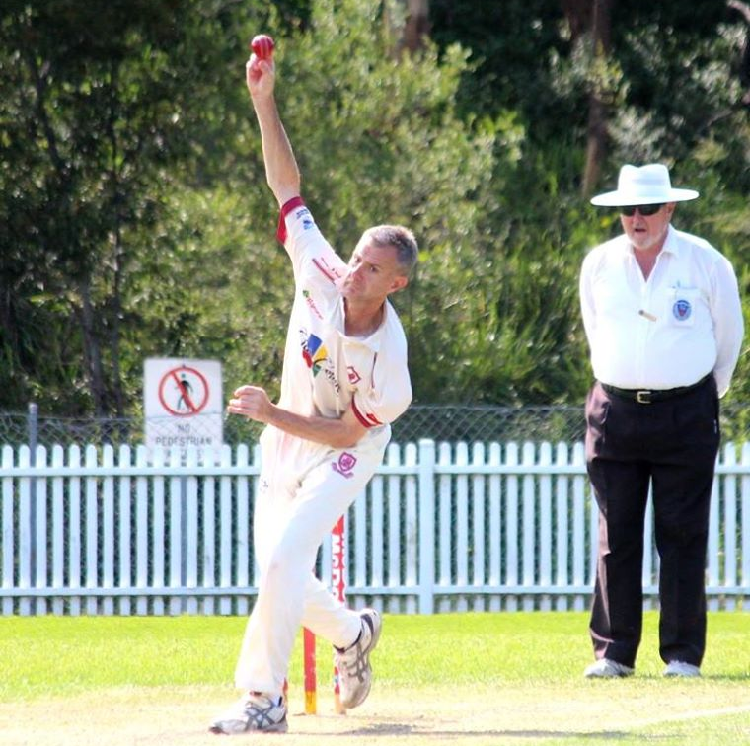 What is your highest score in grade cricket?
A 2nd Grade 138 vs Parramatta at Old Kings is my grade best. I went in 2nd ball of the innings Game 1 of the season as night watchman. Ended up scoring 3 Grade centuries – all vs Parramatta and a highest 1st Grade score of 41* - also against Parramatta.
What is your best bowling figures in grade cricket?
1st Grade 7-111 vs Mosman at Mosman Oval (also ran out Brett Lee with a direct hit.) All grades – 2nd Grade 7/48 vs Fairfield at Rosedale.
What the most memorable performance you've seen in 1st Grade?
While there's plenty of competition for this, I can't go past Brad 'Buzzard' McNamara in the One-Day final vs Manly in 1999/2000. We batted first and scored a well under par 146 on a good wicket against a formidable Manly side that included Clemow, Phelps, Moss and Bradstreet. To make matters worse, the entire competition was played using Platypus cricket balls which were famous for travelling dead straight no matter how skilled the bowler. Despite the odds, Buzzard ripped out the heart of the Manly order claiming 3/21 off his 10 overs. While it doesn't look brilliant on paper, it was a great example of how the best competitors shine in the biggest moments.
There are also many memories left by formidable opponents including scores of 150 + from Mark Higgs at Waitara, Scott Thompson at Bankstown and Corey Richards at Hurstville. However, the biggest scar was inflicted by Michael Slater who scored 215* before they called mercy just after tea. This one especially hurt as he was dropped at slip on the very first ball I bowled him when on 11.
What's been your proudest moment in cricket?
I'm enormously proud to be Life Member 50 of St George DCC. It is remarkable to reflect on being included on a prestigious list of Life Members that includes legends of the game such as Bill O'Reilly, Ray Lindwall, Norm O'Neill, Arthur Morris, Brian Booth and Don Bradman. However, what is most meaningful, is to be mentioned alongside so many contemporary servants of cricket and St George, whom I know, respect and consider friends.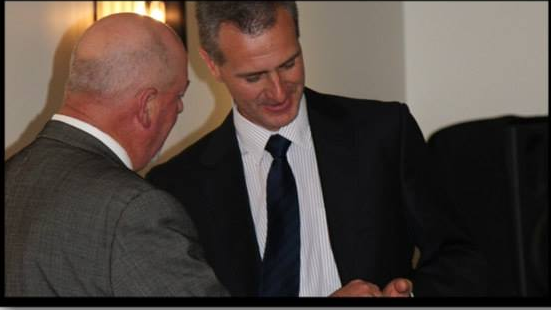 St George Club legend Murray Bennett presents Steve with his St George DCC Life Membership Medalion
Who's been the biggest influence in your cricket career?
The first answer would be my Dad, who introduced me to a game that was fun, character building and a great way to meet and make friends. Dad was a 1st Grade umpire of 20 years who loved the game and the relationships he built through it. Poor health saw him stop umpiring before I began Grade Cricket, but it was often moving to have those who knew him in cricket circles share the respect they had for his gentle and humble nature.
Having a brother who loves the game has also had an enormous influence of my cricket. Perhaps his biggest influence was by setting a field in the back yard with a gap at mid-on - I've barely played an off side shot since.
Who was the funniest cricketing team mate?
Hundreds of contenders here but the big hitting Pat Rosser is hard to go past. A brilliant character who was always mucking around and never let himself lose perspective that the game was to be enjoyed and not taken too seriously.
Is there a particular moment or game that you will never forget?
In the last game of 2002/03 St George 2nds played Wests at Pratten Park. Playing his first ever game in Sydney was a 16 year old Phillip Hughes. Chasing a score over 200, Hughes looked scratchy early but soon settled in as he steered Wests towards a commanding position. He reached his century and bought his team to the brink of victory with the scores tied after the 49th over. Expecting every ball to be the last, I bowled 5 consecutive dots, leaving Hughes still needing 1 run to win with 1 ball to bowl. Half expecting this young, country kid to choke, I ran in hoping to claim an unlikely tie, only for him to hit me for an enormous 6 onto the hill at Pratten Park. Everybody there that day knew that great things were ahead for such a prodigious talent that was lost to the game far too early.
Who were the three players you admired most in grade cricket in terms of skills and competitive spirit?
As already mentioned, Buzzard McNamara was the epitome of a tenacious, talented and competitive cricketer. Buzzard dominated the opposition physically, technically and mentally. Equally impressive was his ability to remain popular among all he played with or against.
No player won more games on the back of their own performance than Graeme Rummans. Rummo was always perfectly in control of his game and mental attitude. While a genius with the bat in any circumstance, Rummo was peerless in tough spots or when chasing totals batting second. Rummo was also a fabulous leader, whose humility meant that he always had his team 100% behind him.
Nobody I played with pushed their body harder than Scott Thompson. Thommo was selfless in the way he pushed his body well beyond the limits that were good for him. While devastating with the bat, he was truly relentless with the ball, offering 100% in every delivery, be it 11.00am or after 6.00pm. He single handedly kept 'Thermoskin' in business, with a support for every failing body part.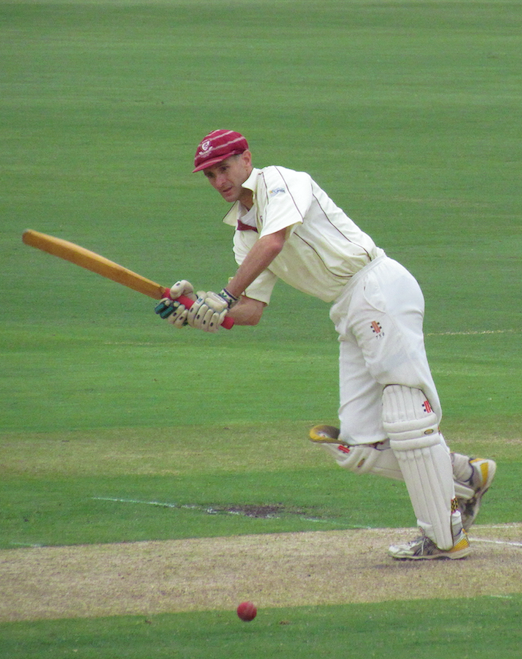 What do you enjoy most about playing Premier/Grade Cricket in Sydney?
I have often reflected on why playing sport on a Saturday, be it cricket in summer or soccer in winter, has been the highlight of my week for over 4 decades. Even at my age, I can get really grumpy if rain weather washes out play. While I enjoy competition, and staying physically active, I think that team sports truly connect you to a community of people with similar interests and values. It is almost certainly this social connection that I most fear losing when I have to stop playing team sports. Cricket in particular, given the nature of the game, is a wonderful opportunity to make and maintain wonderful friendships. Playing at a club so steeped in tradition like St George, further enhances the satisfaction of belonging to, and being valued by, a community - a feeling that is far more satisfying than simply striving for personal accomplishment.
You are still playing after so many years, what keeps you going?
This is mainly summed up by my answer above. I guess it's true to say I'm scared that, if I were to stop playing, the source of so much of my enjoyment will disappear.
Who is your favorite all time cricketer?
Despite watching heaps of cricket growing up, I never had a genuine, long term, cricketing idol – there wasn't always a lot to celebrate in Australian cricket in the 80s. Rather, I have fabulous memories of great players in their prime; Viv, Clive Lloyd and Border in the 80s, Steve Waugh in England in 89, Ponting, Lara and Hayden. More recently I've loved watching Smith and Labushagne dominate England. As a bowler without much pace, I appreciate bowlers who can swing the ball, in particular I've loved watching Terry Alderman, Damien Fleming and Jimmy Anderson.
But, at the top of the list has to be Warnie on the 5th Day and Gilchrist batting 7 at 5 - 250.
What was the best win you were involved in?
The 2nd Grade final win of 2002 - 03 narrowly pips the 1st Grade One-Day win of 99 - 2000 mentioned earlier. We had a wonderfully balanced side that was fabulously led by David Thompson and included a teenage Moises Henriques. In a 3 day final our 1st innings 158 was overtaken by Mosman near tea on Day 2. This left us needing to manufacture an outright win with just over a day to play and a deficit of 39. After finally dismissing Mosman, and batting again, we set them task of scoring 212 in the 4th innings or simply lasting the day. A never to be forgotten win was sealed when Ed Zelma (6-56) captured the last wicket with mere overs to spare.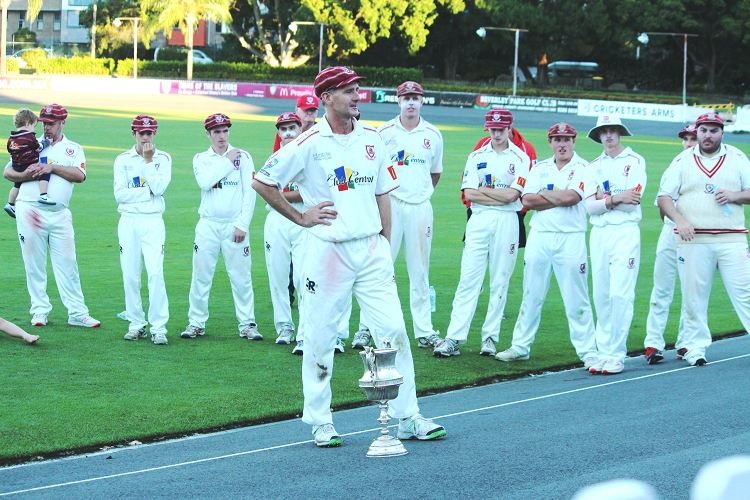 Steve Wark - St George 4th Premiership winning captain 2018/19
If you're in the middle seat of the middle row of Qantas QF 1 flight to London, which team mates would you choose to be `on your left and right?
My first choice is a player I only ever played 1 game with, a village friendly against the tiny village of Rossie Priory while playing League Cricket in Scotland. 2 wickets in 2 balls saw them on a hat trick in their second over, only to choke horribly, bowling a wide on the crucial ball. More wides in the next over saw the end of the spell and they never played again, but if I was travelling to the UK and didn't take my wife and favourite team mate, albeit for only 1 game, I'd be in big trouble.
40 years in the game makes this choice the hardest to answer, I have spent so many thousands of hours in the company of so many wonderful people. So my 2nd answer, while safe, will surprise nobody who has met him. The great Graham 'Spider' McLaren is my choice and undoubtedly the first choice of all who know him. Spider is an icon of Scottish cricket and a team mate of mine in my 2 seasons with Dundee HSFP. A generous friend to all and a brilliant raconteur, he will no doubt have charmed his way into 1st class well before our arrival.
Did you have any cricketing superstitions?
At this age you can't have superstitions, they would have all been disproven by now.
Which ground in Sydney club cricket did you enjoy playing at the most?
I suspect my St George Life Membership would be revoked if I didn't name the wonderful Hurstville Oval as my all-time favorite cricket ground. The combination of its rich history, excellent facilities and pristine playing surface are the envy of so many clubs. It has also been the backdrop to so many of my fondest memories. Creditable mentions to Bankstown Oval and North Sydney Oval.
Who was the fastest bowler you ever faced?
There are a few that come in equal second – Scott Thompson (Bankstown) in one of my first 1st Grade innings. A wicket fell on the final ball of the 80th over leaving me as a nervous non-striker when Scott Thompson planted the 2nd new ball on the badge of Nathan Catalano's helmet.
Anthony Stuart (Easts), again with the 2nd new ball, when I understandably upset him by repeatedly trying to play him through mid-wicket and having his leg cutter miss off stump.
Wayne Holdsworth – 1st Grade final, Bankstown needing 1 wicket to win in fading light, again with the 2nd new ball.
But these are all some distance behind Shoaib Akhtar on a green top at Hurstville. I still remember 'Moose' Hayward's sincere best wishes from a very deep 1st slip. I'd ducked, let go or played and missed at the first 5 balls and decided that I wanted to be able to say I'd hit at least one ball from the world's fastest bowler. Fortunately he pitched the 6th ball up and I defended it quietly. Shoaib muttered under his breath, what I assumed was a compliment on my sound defensive technique. Wandering down the pitch at the end of the over, I asked my great mate Jimmy Turner what he'd said. With a look of terror, Jimmy stammered that Shoaib had said "that was the last one you'll be playing on the front foot you @#$%". Being the great mate he was, Jimmy nicked a Warwick Adlam outswinger 2 balls later, leaving me a very grateful 0* .
Who was the best spinner you played against?
Freddy Freedman probably turned it more than any others I faced but, luck must have been on my side, he didn't dismiss me. I had precious little idea against Adrian Tucker one day at Waverly but survived through to the 2nd new ball. Anthony Kershler didn't turn the ball a lot but his accuracy and persistence meant you were always under pressure. But, the best series of 4 or 5 balls was from Greg Davidson for Parramatta, at Chatswood, where I nicked his arm ball to slip having been expertly set up by 3 or 4 offies.
What's the best advice you ever received and what advice would you offer a young 18 year old who has the ambition of playing test cricket?
'Know your game'. My answer to these questions is the same, and unashamedly stolen from Graham Rummans. While recognizing that young players should be identifying and addressing weaknesses, players must know what their strengths are, and to play to them. Rummo personified this. He was a brilliant one-day batsman but recognized that he wasn't the type that could successfully bludgeon the attack from first ball. Rather, he invested time in getting set and looked to score off every ball. A great example of fabulous advice and excellent leadership by example.
Are you still involved in Cricket and if so, in what capacity?
I'm still loving playing at St George, currently as 4th Grade Capt. I'm incredibly thankful for the enormous number of friends I have made through the game, be the club mates, team mates, parents of team mates, opposition players and umpires. I still value the privilege of adding to my group of friends every season.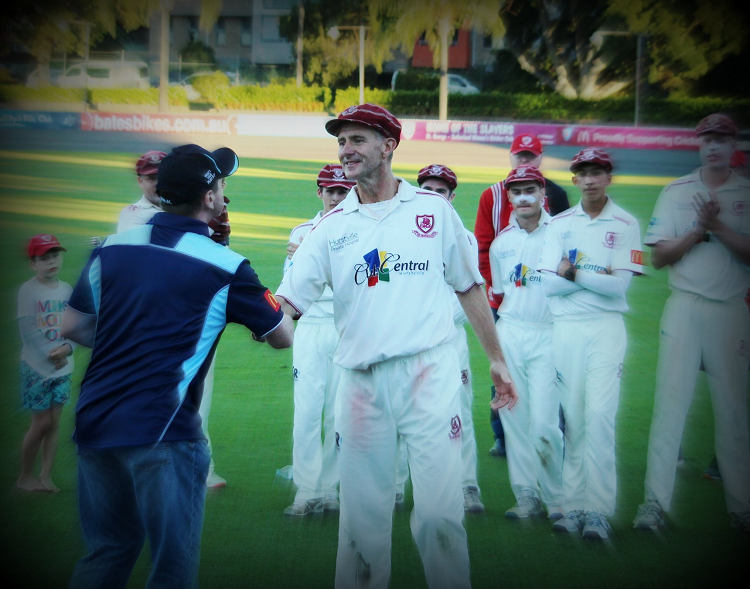 Steve Wark who took out the 4th Grade Captain of the Year in 2019/20. This is the 2nd time he has been captain of the year. He previously won 3rd Grade Captain back in 2011-12.
What are your hobbies?
I walk miles with my wife of 26 years, Lindy, and love spending time with my teenagers Tom and James. I still play over 35 soccer in the winter months and golf when I can. My guilty pleasure is time spent throwing darts.
What is your occupation?
I'm Deputy Principal at Merrylands High School
Are there any lessons from your time in cricket that you take into work or life in general?
My life is unbelievably richer for having participated in team sports. Amongst the many gifts of sport, cricket continues to keep me fit and healthy while letting me experience the joys of success and the ability to cope with failure. I have made thousands of friends and learned to share space and time with a vast variety of people, many of whom I might not ordinarily choose as friends. I have learnt the importance of being reliable, the skills to communicate and, through the generosity of my club, developed my skills in leading others.
I feel for the many young people I work with that don't participate in team sports and aren't exposed to these opportunities. While it's a choice for many, circumstances in a low SES, high immigration and high refugee population often provide a barrier to young people enjoying the same experiences I had. While I endeavor to lead a school that meets the many complicated needs of young people, I will always encourage them to play team sport to access the opportunities that undoubtedly make life richer.
Join the cricket network to promote your business and expertise. Make it easy for people to search and find the people and services they need through people they know and trust.
Join the network
If you'd like to see more content from Cricket Sydney, they'd be very grateful for your support and contribution. Cricket Sydney will receive 80% of all funds contributed.