Luke Walker joins CV 200 Club - by Simon Draycott, November 2014
With Luke Walker approaching the 200 game milestone in both Premier Cricket and the AFL, he took time to look back in this interview for the FPCC website.
While most people prepared for the 2014 AFL grand final at the local bottle shop, goal umpire Luke Walker was going through his usual routine in anticipation for his 5th consecutive grand final.
"You try to keep the day as normal as possible; you try to get to the game at the same time, wake up at the same time andgo through your normal routine."
"It's fantastic being involved in the day. It's the culmination of a long week. You find out Monday that you've got the game, we train on the MCG on the Thursday and the grand final parade on Friday is exciting."
Walker's umpiring career started in 1998 in the Mornington Peninsula Football League when a mate from school suggested he could earn a bit of pocket money and not have to run the kilometres the field and boundary umpires did. His talents were quickly recognised and he was promoted to the Victorian Football League and then the AFL in 2004. His hard work paying off when selected for his first AFL grand final in 2010.
"Getting the first AFL grand final was a reward for the work over a number of years and from then on it's more a reward for the work you've done throughout the season."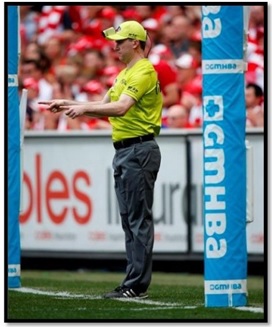 "It's an accomplishment for me to say I represent my group and my peers; that's what gives me a drive to succeed."
Walker's first grand final as an umpire turned out to be just the second drawn grand final in the history of the sport.
"It was a bit of a strange feeling. We weren't sure how everyone was going to react. The crowd went silent and the players dropped to the ground basically through exhaustion, however once the siren went we had to carry out our duties and make sure everything was correct."
"Once we left the ground that night we knew we still had a job to do the following week."
The replay the next week provided one of the great grand final highlights in recent memory. Collingwood's Heath Shaw snuck up on St Kilda's Nick Riewoldt saving a certain goal in what has been dubbed the 'smother of the century'.
Walker was lucky enough to be just meters away when the incident happened
"I think that's it", he says when asked about the most memorable moment in the 199 matches he's umpired so far.
"Going into the grand final I hoped I'd have a great goal kicked at my end or a great mark or something like that so you can show the kids and the grandkids that you were there for that moment."
"I feel lucky to not only be doing the grand final but also be there for that point in time and make the right call."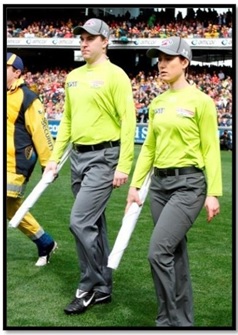 One of the major talking points throughout the 2014 season was the goal review system. Many commentators including the ABC's Gerard Whateley were critical, imploring the AFL to improve the technology or scrap the system all together. Walker however thinks the system is a good thing.
"It's another tool to help us get the score right."
"I'm happy with how it is at the moment but if it's refined and made better then all good. Obviously the technology isn't perfect at the moment but it's there to help us make the right call."
Walker's achievements as an umpire speak for themselves. 199 matches, six grand finals, the most final appearances for a goal umpire (30), All-Australian, International rules series and AFLUA life membership.
"The records are good to have against your name; over the course of time they're all going to be broken."
"Hopefully you'll be remembered not as a record holder but more as a hard worker and someone who prepared well."
I spoke to Walker about his umpiring in the social rooms of Frankston Peninsula Cricket Club. Behind us on the wall is the honour board, littered with the name L. Walker for many feats including club champion, club captain, batting awards and life member.
Cricket and Frankston Peninsula Cricket Club has always been a big part of Walker's life. He followed his dad and three older brothers to the club as he looked up to them when he was younger.
"The cricket club is like a second home. I've had family play here so I grew up through the club. I don't really think about playing anywhere else or when I'm going to come back it's just an automatic thing that I keep coming back."
The 2010/11 season was one of heartbreak for Walker, as the 1st XI lost a thrilling
Final to a strong Dandenong side consisting of test players Peter Siddle, James Pattinson and Darren Pattinson.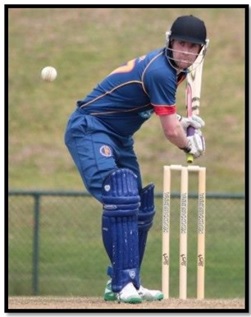 "I still look back I think once a week and think what could've been in that final. So close yet so far away."
"We faced 3 bowlers who had played test cricket; you think how lucky you were to test your skills against those guys on that particular occasion."
Although in the latter stages of his cricket career, Walker isn't done just yet.
"When I can no longer hold a spot in the 1st XI I'll look to take up a lesser role in the club like captaining a lower XI or coaching."
"I feel a responsibility to impart knowledge, it's something I think I can offer the young guys. Although I don't proclaim to know everything, there are a few things I know and can pass onto the young boys."
Walker is yet to put a retirement date on both endeavours.
"Cricket is a year by year case. The footy isn't asphysically taxing on the body but I've always lived an hour away from training, so at some point with a young family the travel will take its toll."
"Hopefully I can pull up stumps when I'm still performing to the level required rather than being pushed out the door."
Join the cricket network to promote your business and expertise. Make it easy for people to search and find the people and services they need through people they know and trust.
Join the network
If you'd like to see more content from Frankston Peninsula Cricket Club, they'd be very grateful for your support and contribution. Frankston Peninsula Cricket Club will receive 80% of all funds contributed.