Brett James is the proud owner of NSW Over 50s Blues cricket player number 37.
After playing grade cricket for Sutherland in his early years Brett has been playing masters (40s) and classic cricket (50s) for NSW Cricketers Club.
Playing for Sutherland Brett was the clubs third grade leading wicket taker in 1995/96 with 19 wickets and again in 1997/98 with 32 wickets.
Let's find out more about Brett's journey in the game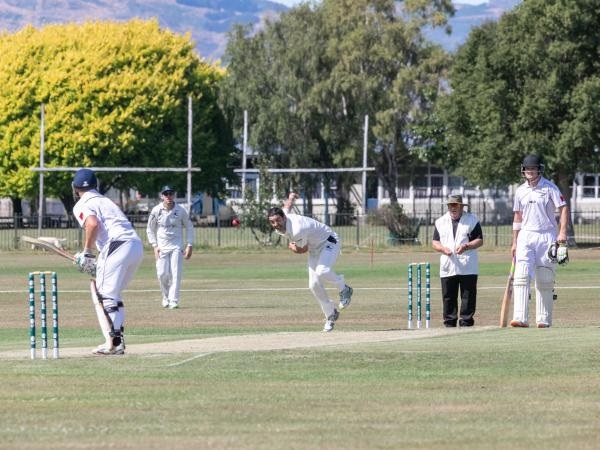 What year you were born?
1972 which was the year of the infamous Munich Olympics and Watergate but on a positive note the average price of a house in Sydney was $27,000!
Can you remember your first game of cricket?
Excluding all the back yard games I had with my neighbours my first competitive game was quite memorable - U/10B's Scylla Bay Oval, Como for De La Salle Caringbah Cricket Club and I scored 52 retired. I'm not sure what I did with the ball but I do know I never scored a 50 ever again in junior cricket - closest I got was 49 not out a year or so later - talk about over promising and under delivering.
Tell us briefly about your cricketing journey?
I've played cricket since I could walk. My next door neighbours were from India and had a massive love of cricket and all we did every summer was play cricket day in, day out. After much pestering my mum allowed me to play 'proper' cricket when I was 9, so off I went - my brother and sisters have never forgiven me for making them follow me around for 7 summers straight over the xmas break because from u/10's through to u/16's I played representative cricket for Sutherland, so every boxing day and new year's day were taken up with games of cricket.
My grade cricket career could be best described as 'underwhelming'. The same season I started playing for Sutherland I also joined the Australian Federal Police and for the next 9 years the two were in constant conflict and work always, quite rightly, won out. I was lucky to play a season in Canberra as an 18 year old and got as far as second grade and then I was in and out of Sutherland District Cricket Club for the next 8 years where I got as far as second grade. Played a fair bit of third grade, but more importantly made a lot of lifelong friends. In 1995 I played a season in the UK with Hythe Cricket Club in the East Kent League which is not just a cricketing highlight but a lifetime highlight for me.
I ended up playing my last ever grade game for Sutherland in 2001 just after my first daughter was born. I can actually remember the exact moment I gave it away, Tonkin Oval, 30 odd degrees, dropped catch on the boundary, time to go home! I never looked back.
If I was to describe my senior cricketing career in a sentence it would be 'my results reflected my dedication or lack thereof, but I had a lot of fun along the way'.
Since 2014 I have dabbled in a bit of work related cricket, last man stands and filling in now an again for a few mates local teams but three years ago I found out about Masters and Classics Cricket. I signed up with Cricketers Club of NSW and have loved every minute of it - the guys are fantastic, the cricket is good and I have found a hobby that will take me into retirement. Unless it continues to rain every Wednesday, Thursday, Friday, Saturday and Sunday or a pandemic hits again!
Last season I turned 50 and had my first taste of regional Veterans Cricket tournaments with the Lake Macquarie Dinosaurs which has been fantastic. I didn't foresee turning 50 as something worth doing but so far it has been great!

Hythe Cricket Club
In which grade and at what age did you make your debut in senior cricket and can you remember how you performed in debut?
I am not big on stats but it took me a few games to get my first run in fifth grade. I am pretty sure it was 1990/91, I got a few wickets (3 maybe more). Mind you it was at Sutherland Oval which was a bowler's paradise!
If you can share with our audience, how would you describe yourself as a cricketer?
Left arm medium bowler who likes to think he can bat. I think I'm actually a better batsman at 50 than I was in my 20's which says a lot about how terrible I was back then. I love fielding mainly because it is good practice for bending over and touching your toes which is important at our age.
What were your strengths as a player?
I get a kick out of my teammates' successes and love being in the middle of the action whether batting, bowling or fielding and I know my game much better now than I did when I was 20.
What was your highest score in senior cricket?
I got a couple of centuries for Hythe Cricket Club in 1995 which was a very nice surprise. It's funny but in the UK I was considered a batting all-rounder which either says the bowlers were rubbish or playing cricket nearly every day of the week for 6 months helps your batting. My highest score in Australia is 70 odd a few times so I would love to get a hundred in Oz one day.
What were your best bowling figures in senior cricket?
I got 9 for in the U/16's - does that count?? I've never forgiven Marty Carroll for taking the 10th wicket ;-) I'm not sure what my best figures are at senior level.
Who played the best innings you've seen firsthand playing with or against?
I've seen so many great innings but the most memorable was Shane Duff's century in second grade (I'm fairly certain it was his first century in grade cricket) at Glenn McGrath Oval. I was lucky to be at the other end holding proceedings up so he could get to his milestone. We have been good mates since we were 12 and it was brilliant being able to share that moment with him - apparently a lot of PDA was on display in the middle of the pitch after he hit the century mark.
Shane Duff
Was there any bowler or batsman in particular who for whatever reason always seemed to cause you a few problems?
Steve Wark, Matty Lewis and my son were causing me plenty of problems in the nets today!
Can you recall a time when you thought, wow, this is a step or two up from what you were used?
I struggled with self-belief and dedication right through my grade career which is why I never broke through in second grade. Each time I played at that level I doubted my ability….massive mistake! If my 50 year old self could have a chat with my 20 year old self I would tell him to enjoy every moment as a chance to compete and test yourself then the rest kind of follows. Playing veterans has given me an opportunity to play with a wiser, older mindset where I am super keen to play against great cricketers and test myself. So far the experience has not disappointed.
Who was the best wicket keeper you've seen firsthand playing with or against?
Shane Duff definitely - from U/12's right through representative and grade cricket he was an awesome keeper and super competitive. I loved playing with him whenever I got the chance. After riding 1000's of kilometres with him on a bike and enjoying his razor sharp wit I would have loved to have played with Evan Atkins and have had him behind the stumps when I was bowling. And I can't forget my old mate at Hythe, Chris Dumcombe, the tallest wicketkeeper on the planet, every game with him was a brilliant experience.
I'm also looking forward to bowling with Todd O'Keefe behind the stumps this coming July, I've heard great things about him.
Who are the two players you admired most in terms of skills and competitive spirit in the competitions you played?
I used to marvel at Justin 'Jake' Kenny in the nets when he was in his prime. I loved bowling to him even though he would be smashing me everywhere. So much time, so little fuss and always hit the middle.
In regards to competitive spirit I really enjoy playing with the Lake Macquarie Dinosaurs at the regional over 50's events. It's an interesting collection of cricketers who all enjoy one another's company and successes.
Recently at the Hunter Valley tournament we were bowled out two days in a row for 60 odd but we nearly won both games - we bowled and fielded like spritely 30 year olds to keep in the game. It's a great team atmosphere to be part of and a super competitive bunch of old fellas! I'm glad they said yes when I asked to be picked up by them.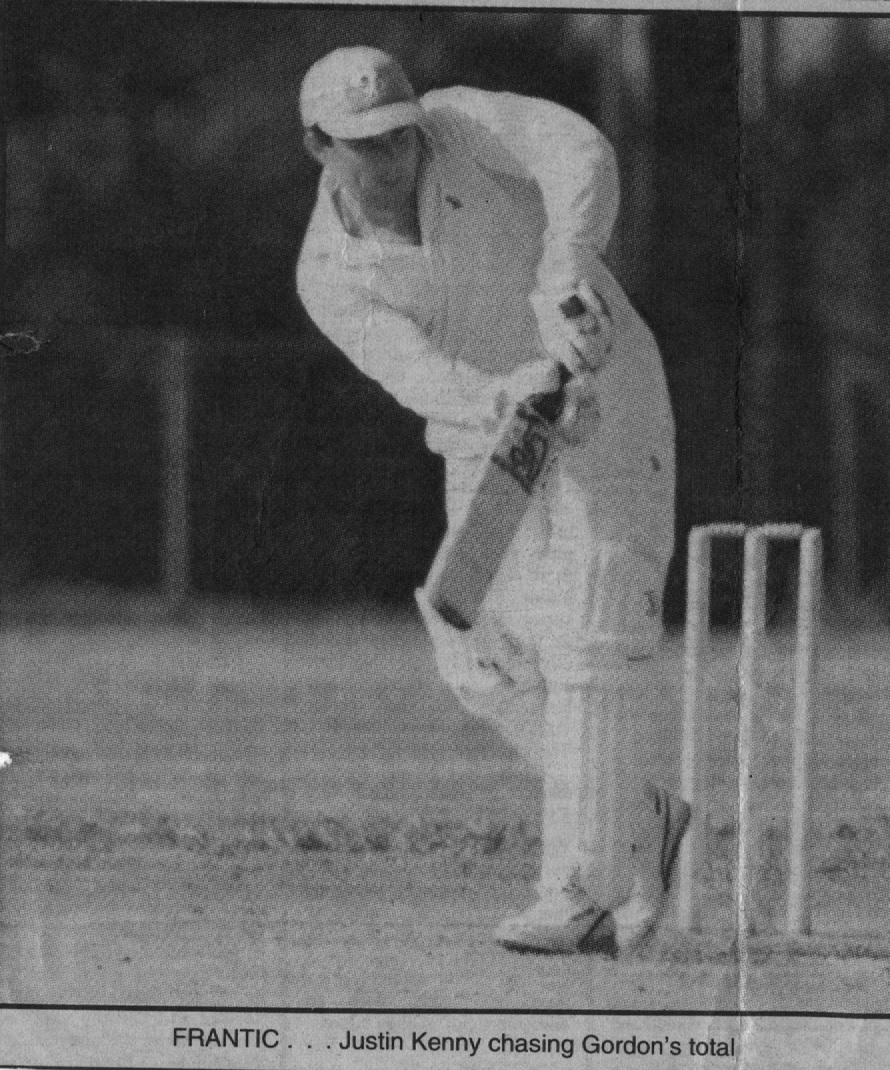 Justin Kenny
Who has been your funniest team mate?
James 'Sully' Sullivan, an antipodean mainstay at Hythe Cricket Club was always entertaining whether on or off the field - he just wanted cricket to be fun and made sure it always was. Mind you he didn't see the funny side when I ran him out in a crucial midweek league game.
These days I can't go past Tommy Robertson from the Cricketers Club and Dinosaurs. He is my travel partner to the over 50's tournaments and is the most inappropriate individual I've ever met. He has a terrible taste in music and does not stop insulting me. I would be more than happy to accept his behaviour if he would just score some runs for the Dinosaurs!
Who's your favourite cricket commentator?
It's gotta be Richie Benaud doesn't it?
I actually didn't mind Rob Keys by the end of the Australian/Pakistan Series but I don't think we will be hearing his voice in the commentary box for a while with his new role.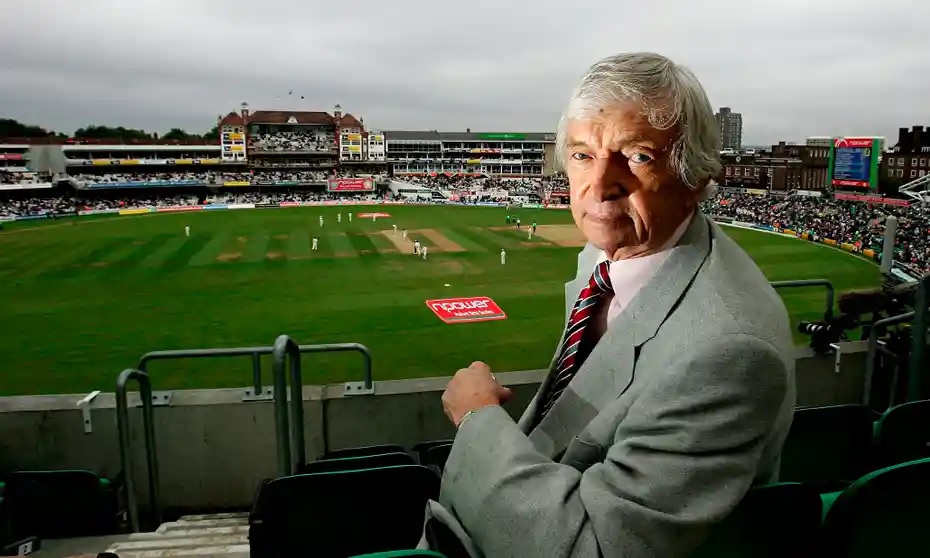 Richie Benaud
What was your favourite ground to play at?
Cricket has taken me around the world and I've played across Australia, England, the Netherlands, Wales and New Zealand. In retirement I hope to play at many more locations!
Abbergevenney Oval In Wales was spectacular. I have fond memories of Hythe Cricket Ground but without doubt the most scenic and best oval I've played at is Queenstown Cricket Ground in New Zealand, playing with the AFP against the New Zealand Police Cricket Team.
The ground sits at the foot of the Remarkables, and you look down the pitch straight up at the mountains - absolutely spectacular.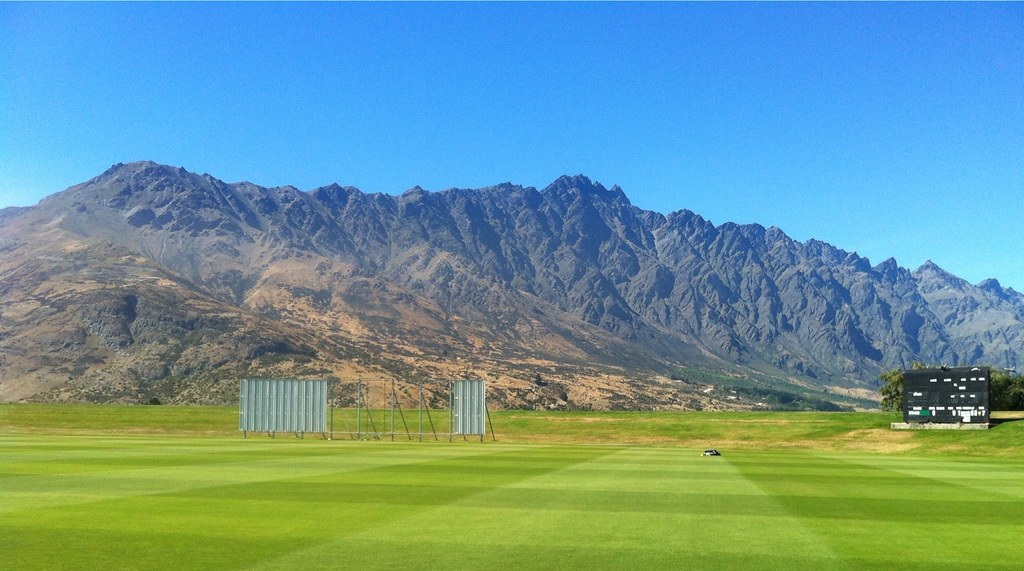 Queenstown Cricket Ground
What there a particular team you especially looked forward to playing against?
I played my first ever representative game in the U/10's against St George Cricket Club and always had a soft spot for the local derby. I also enjoyed playing Parramatta in third grade when Garry 'Jesse' James was their captain. Unfortunately they rolled us in the one grade semi-final I played. Many years later Jesse and I still play against one another in police cricket and we are club mates at CCNSW.
What's been your most memorable moment in cricket?
It's yet to come for me. A big reason for me keeping fit and continuing to play cricket is to eventually play with my son. He is 15 now, still loves the game and we are about 1 year away from playing together. We have trained together for the past few years and I am pumped to play a game with him.
What's the best win you've been involved with?
It is without doubt the first ever AFP win at the Australian New Zealand Police Cricket Championships against Western Australia Police Cricket in 2018.
This tournament gets some class cricketers and we are but a bunch of journey men.
We were very late comers to the tournament, entering our first one in 2016 where we got absolutely smashed - picture a team getting belted for 450+ off 45 overs three games in row, trust me it was diabolical.
Come Sydney 2018 and we were 0 wins from 9 games, playing Western Australia, as was typical we were 7 for 50 odd chasing 220 when myself and my best buddy Johnny Thornell came together and put on a partnership to chase down the runs to win our first ever game.
It was a great game of cricket made even greater by the night out we had with our Western Australian colleagues, ending up in ChinaTown celebrating our first and only win to date!
You're now playing over 50s cricket, what's the best part of playing veterans cricket and what advice would you offer anyone over 50 who is thinking about playing again?
Discovering over 50's cricket has made turning 50 fun! I was actually keen to turn 50 so I could get a guernsey at the over 50's regional tournaments!
I've made a bunch of new friends and now have a reason to keep fit and healthy. I love playing with the Cricketers Club in the opens, masters and classics and have now played 2 regional tournaments in Armidale and the Hunter Valley and they have been well organised, a great social setting where you test yourself against quality cricketers.
I've got a stressful job and even though I'm 50 I still have a competitive streak in me so it's been good for my mental health to compete with good people, playing a game we all love.
Getting picked for NSW has been a bonus which I am really looking forward to and there are some amazing opportunities in veterans cricket around the world like the English Over 50's county competition which looks awesome and gets me thinking about 1 more season over there before I get too old and slow!
Who would have ever thought veterans cricket would be a thing 20 or even 10 years ago. If you are keen give it a go there are teams popping up everywhere.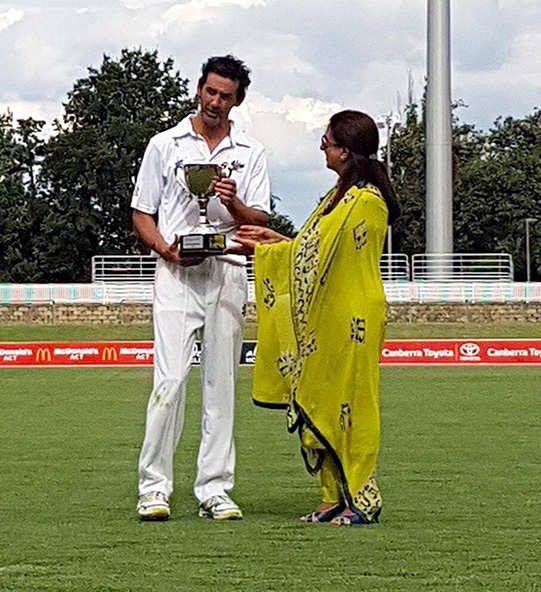 Pakistan's High Commissioner Naela Chohan presents AFP Captain Brett James with the inaugural Police Community Cup at Manuka Oval in Canberra to support the Fayyaz Sumbal Foundation.
What's the best advice you've received?
As a 12 year old the great Bobby Duff once said to me 'your inswinger should be your shock ball not your stock ball' - I didn't work out what he meant until I was 48 years old! I think I owe him a few dollars for that piece of wisdom.
What's your occupation?
I've been with the AFP since I was 18 - I've loved every minute of it and highly recommend it to anyone keen to have a career solving complex and unique challenges. If the AFP interests you, we are currently recruiting! Check out www.afp.gov.au/careers
Are you still involved in cricket and if so, in what capacity?
I hope to coach my son's team next season but that's about it at the moment. But I do take my hat off to every volunteer out there as they are the lifeblood of our game.
The service that good people like Tommy Iceton and Matt Duff at Sutherland, Greg Brooks and Mike Weaver at the Cricketers Club and the organising committees for the veterans cricket scene, give to the game is irreplaceable and in my view quite incredible. I am super grateful they are around and so passionate.
If you were running a state cricket association what would your 2 priorities to ensure cricket in the state remained strong and successful on and off the field?
Keep investing in diversity, the rise of women's cricket has been exciting to watch and veteran's cricket is booming - 2 massive markets that hardly existed 20 years ago. I am sure there are more to come.
Continue to invest in Test cricket - it's the most unique game in the world and needs to be maintained.
Join the cricket network to promote your business and expertise. Make it easy for people to search and find the people and services they need through people they know and trust.
Join the network