I first met Scott Thompson on 15th November 1992 when opening the batting for Western Suburbs in a limited overs game against Bankstown at Pratten Park
Robbie Luc took the first over and Thommo the second. Blond hair, athletic and I soon found out he was damn sharp and didn't mind bowling short.
After a few pulls and hook shots he kept coming and it was my first experience of Thommo, the competitor.
He batted 5 on the day and whilst his innings was brief, I remember thinking a 20 year old who can bowl as quick as Thommo and play some of the shots he did, was a special talent.
We had a number of great battles over a number of seasons. I also had the good fortune to play NSW 2nd XI with Thommo.
In season 1999-2000 my good fortune was elevated when Thommo decided to leave Bankstown and join St George. I'd been at St George since 1994/95 and when Thommo joined the Dragons I was the lucky first grade captain.
When Thommo joined St George he'd already played first class cricket for NSW and won 4 premierships with Bankstown.
Fast bowler, dynamic batsman, athlete, competitive, professional and a winner. Thommo influence over young cricketers and people such as Graeme Rummans, Nathan Pilon, Brett Van Diensen, Nathan Catalano, James Turner, Chadd Porter, Peter Wooden, Brendan Hill, Paul Pratt, Jon Shaw, Hamish Solomons and many others can never be understated. The boys absolutely loved him, so did I.
In Thommo's first season with St George, we won the 1999/2000 Limited Overs competition. We unfortunately lost the Belvedere Cup Final against Bankstown in the same however we went one better the following season when we defeated Waverley (Eastern Suburbs) to be the 2000/01 Premiers.
Thommo's character on and off the field was admired by all and it's no surprise he's doing wonderful things professionally and globally with Toyota.
I'm incredibly grateful to have played cricket with Scott Thompson. I'm even more grateful to be a mate.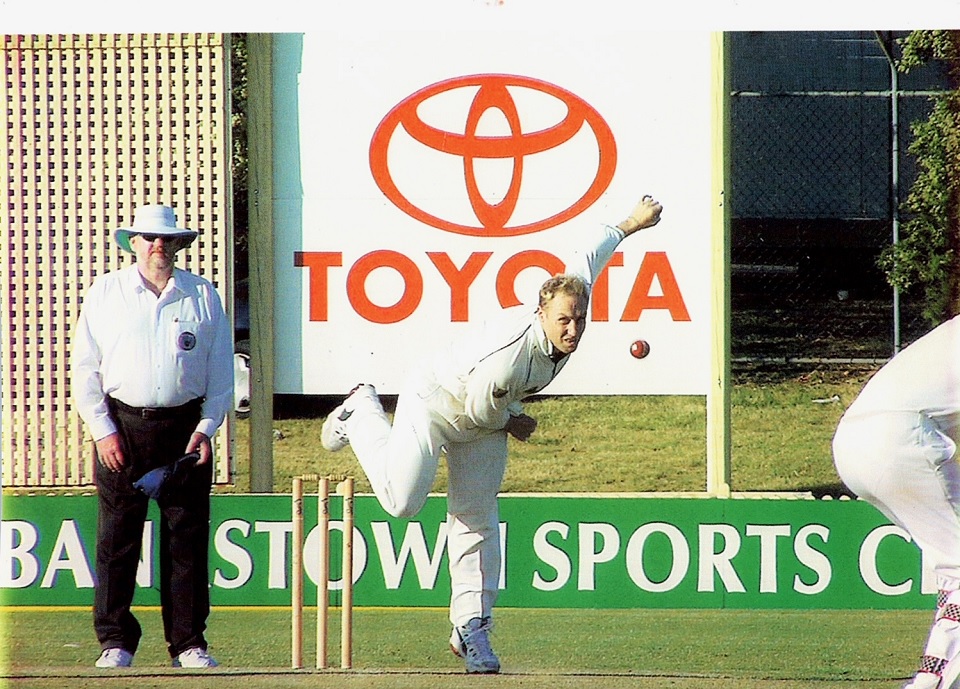 The irony of this photo. Scott Thompson bowling at Bankstown Oval with the Toyota signage in the background
Scott Thompson made his first class debut for NSW during the 1994/95 season. He played 17 first class games scoring 386 runs and taking 42 wickets.
In 23 Limited Overs games for NSW Scott scored 267 runs and took 21 wickets.
Scott made his first grade debut for Bankstown in 1990 and over the next 19 seasons he took 676 wickets at an average of 21.57. His best figures was 8 for 29 and he took 5 wickets in an innings on 25 occasions.
With the bat Scott Thompson scored 8,957 runs at an average of 31.20. His highest score was 161 not out and he hit 11 centuries and 55 half centuries.
Scott Thompson is the proud owner of Bankstown District Cricket Club player number 175 and St George District Cricket Club player number 360. He captained both Bankstown and St George first grade teams and is a Life Member of Bankstown District Cricket Club
As a team mate and leader he had a major influence within the following premierships.
Bankstown District Cricket Club
First Grade Premiers – 1993/94, 1994/95, 2006/07
Limited Overs Premiers – 1995/96, 1997/97, 2006/07
St George District Cricket Club
First Grade Premiers – 2000/01
Limited Overs Premiers - 1999/2000
Eight time premiership winner and the 2006/07 is obviously a very special memory and crowning glory for Scott Thompson. It was the season he captained Bankstown to both the Belvedere Cup Premiership and Limited Over competition.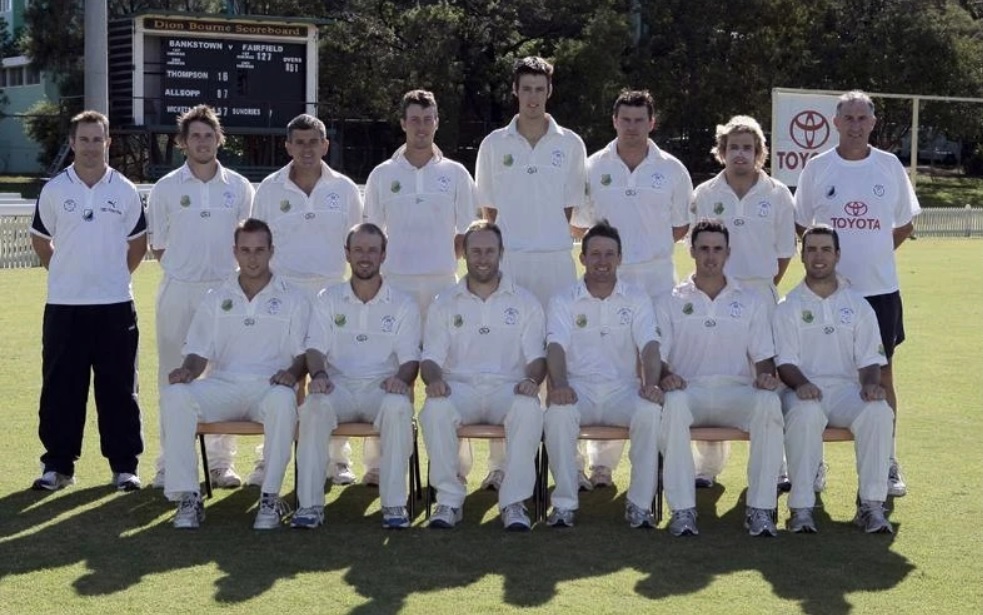 Bankstown 2006/07 First Grade Premiership winning team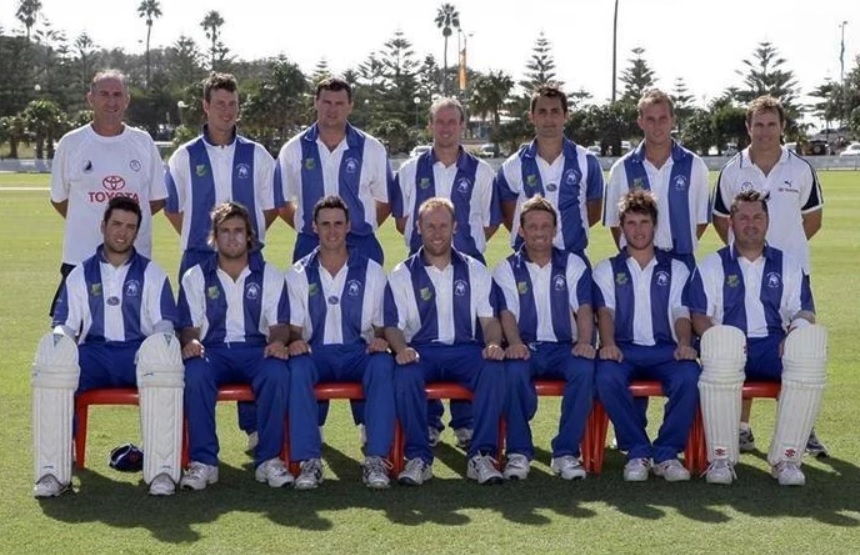 Bankstown 2006/07 Limited Overs First Grade Premiership winning team
The admiration for Thommo is wide and fitting to his character, contribution and camaraderie. Let's here from a few of Thommo's peers.
Dean Magee
On the field, Scott led front the front and was an exceptional leader of men by his own stand out performances and dragging lesser players like myself along to enjoy the ride.
He would regularly take a game that seemed lost, only to bowl an amazing spell or take 20 off an over with the bat to get us up and going again and come out winners by days end.
A one day grand final against Randwick was a perfect example. It wasn't Scott's day with bat or ball, which was a rarity, but he still found a way to win us the game.
Simon Katich was doing what Katich does and he was dominating with the bat and seemed to hit a four or six whenever he felt like it. It was until he hit a ball near Scott and he reached out one handed with those small little fingers of his and held onto one of the best catches I have ever seen to turn the game back in our favour and we ended up winning by a few runs.
Off the field he also leads the way as a great man and continues to be an inspiration to many people.
He has completed 11 or 12 full triathlons and also the Hawaiian ironman, he has raised two beautiful girls with his wife Kelly, runs a company and somehow still has time for regular zoom catch ups no matter where he is in the world or what he is going through.
Fierce competitor, but an even better person.
Shane Lee
An all-rounder and then some!
Scott Thompson on the paddock was a fierce competitor. On his day, he could destroy any opposition with bat or ball. I never witnessed Thommo giving less than 100%. He drove his Lexus in 5th gear from ball one and never took a backward step. He always played for the team and not himself.
A fast bowler that put his body through hell. Charging in no matter how sore he may feel. As a result, Thommo was the most highly strapped cricketer I ever met. A toe cap on his right bowling foot, both ankles in braces, thermo skins as pants and a back brace that completed the wetsuit look underneath his cricket creams that reeked of deep heat.
It is also off the field where Thommo also excelled. A great team man, smart, considered and personable has lead him into a very successful business career with Toyota. Not to mention, an all-round good bloke that loved a beer with his mates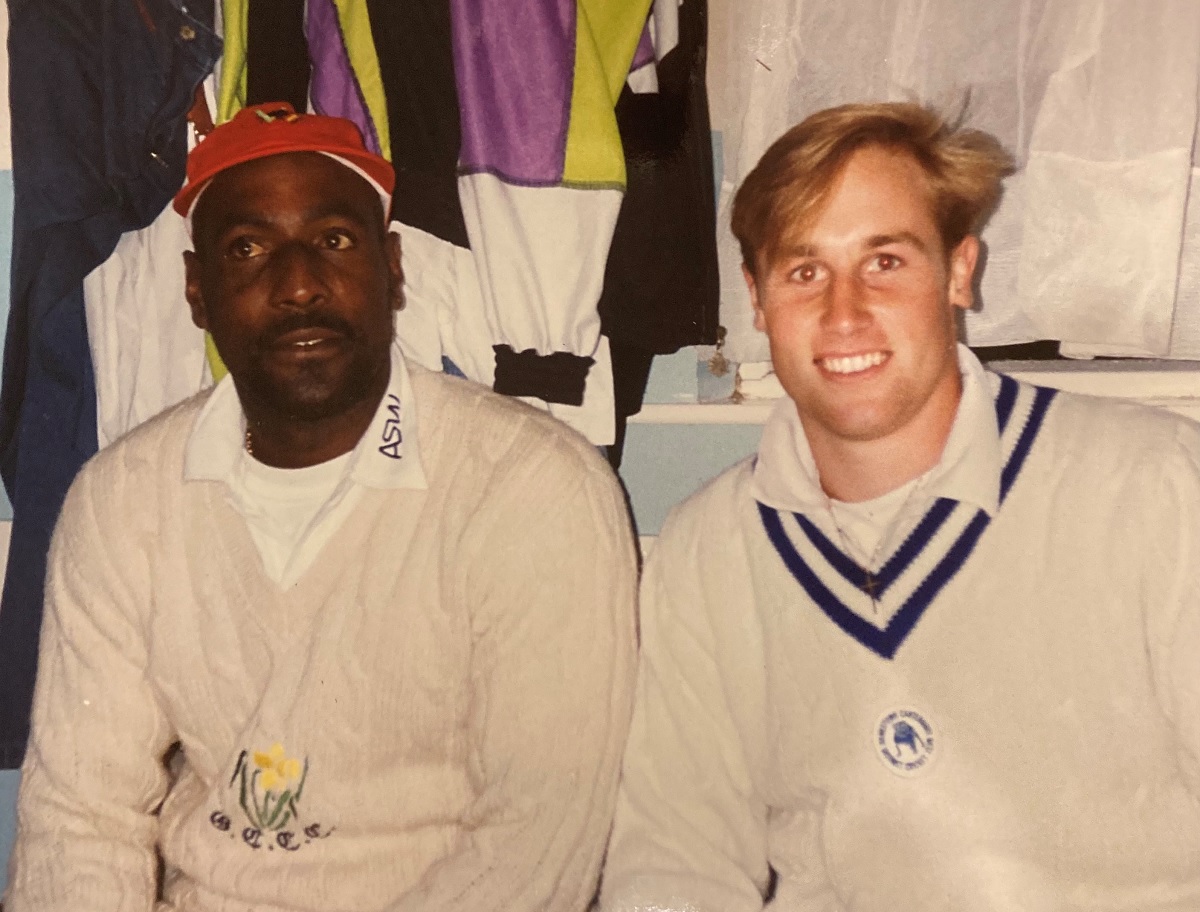 Scott Thompson with Viv Richards

Steve Rixon
Scotty was a genuine all-rounder with the ability to bowl with "Serious Wheels" for long periods of time. He was also an aggressive middle order bat with the ability to take the game away from opposition teams. To complete the package, a quality fielder with a strong throwing arm.
"Self-confessed", could have done better at first class level especially in the shorter version of the game.
Great competitor and a pleasure to coach
Steve Small
From a very young age Scott Thompson looked destined to be a top class all-rounder. He was always looking to improve his game.
He was such an impact player with bat and ball and a class fielder with his outstanding athleticism. He could change a game!
Scott had a tremendous work ethic which was rewarded with his NSW Baggy Blue Cap in 1994/5.
All his Club and Teammates were delighted his hard work paid off. As Captain you had to literally remove the ball from him to give him a break, such was his competitive spirit.
Scott's batting was as aggressive as any in that era and great to watch. I'm sure he would be a hit in the modern game today!
Bankstown-Canterbury won back to back premierships in 1993/4 and 1994/5 thanks to the efforts of Scott Thompson. A great team man.
I'm not surprised Scott has also risen to the CEO ranks in Corporate Australia, a further testimony to his work ethic.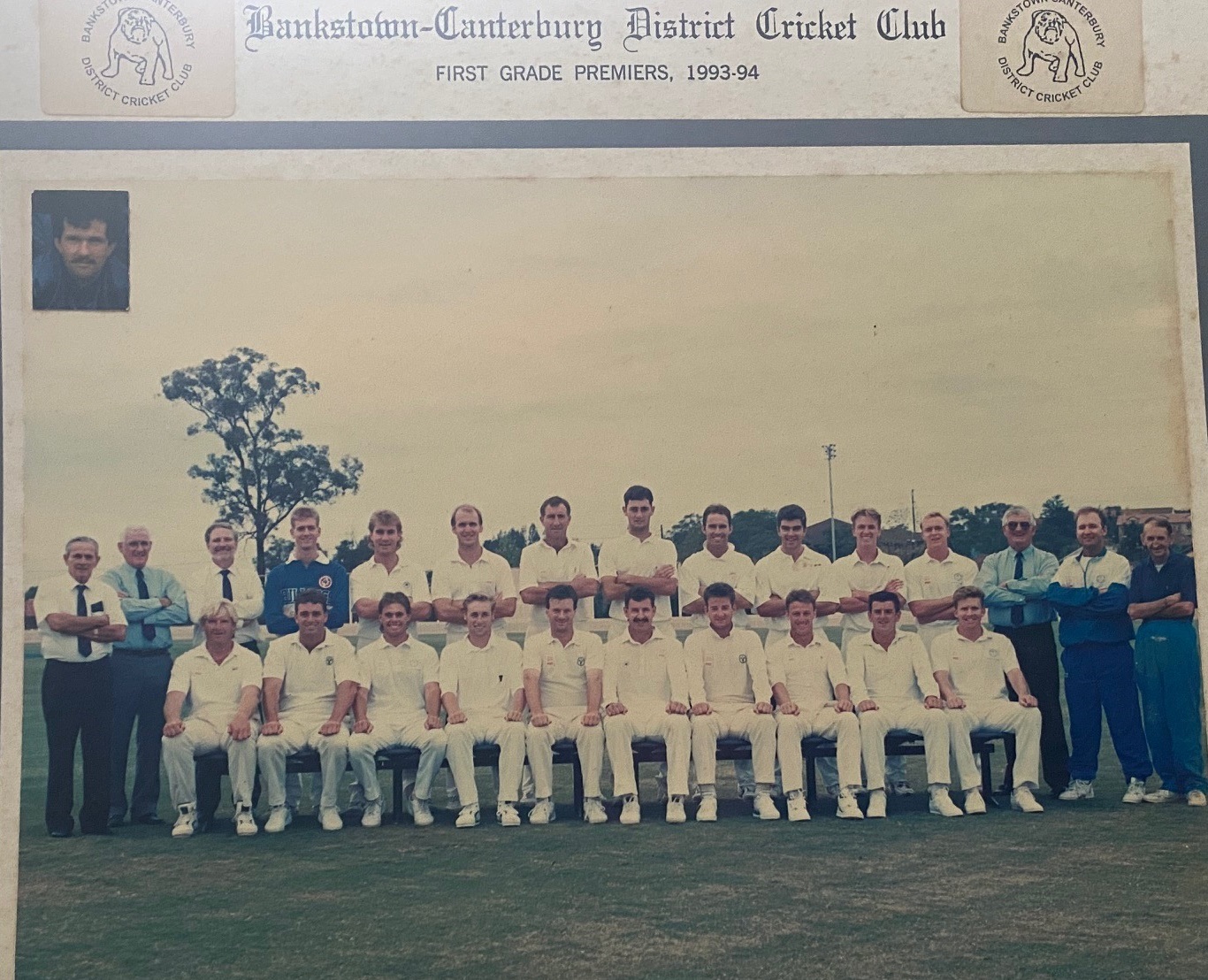 Bankstown 1993/94 First Grade Premiership winning team
Kevin Roberts
In the 1990s, Thommo was one of very few cricketers who had the physique of a true athlete. He could have taken the easier road and joined a group like 'Manpower' alongside Jamie Durie. Instead, Thommo pushed his body to the limit as a dynamic all-rounder.
You could just about hear the Voltarens rattling in his stomach as he unleashed thunderbolts that probably got close to 150kmh at his quickest.
He was also one of the cleanest strikers of a cricket ball that you could hope to see. When batting with Thommo, you'd be happy with yourself for turning over the strike from a good length ball, only to see him despatch a similar ball over the fence a moment later.
Thommo was known as a match-winner with bat and ball, and the many Iron Man Triathlons he's completed since retiring from cricket are proof of his underrated physical toughness and mental strength. It was fitting that he played a few years for St George, because his blood-stained cricket socks regularly looked like the red and white of the Dragons by the end of a day's play.
The players of today have T20 skills that most of us could only dream about, but if Thommo was born 20 years later, I firmly believe he would have been a real force in the IPL. More importantly, he's a bloody good person who I respect greatly and really enjoy catching up with in our adopted home of Melbourne.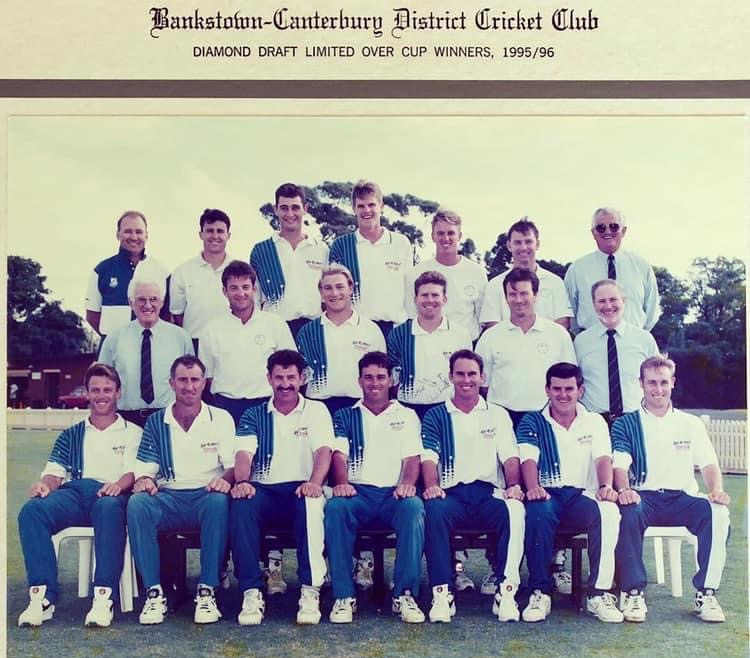 Bankstown 1995/96 First Grade Limited Overs Premiers
Graeme Rummans
Couldn't believe our luck when Thommo joined St George. No one tried harder and played through pain like Thommo. Would be a multi-million dollar player these days.
Nathan Pilon
Thommo came over to the Dragons and what a player he was. Bowled quick and could swing it both ways with his amazing wrist. Also Thommo was also very destructive with the Slazenger in hand. A match winner and probably the best dressed players I know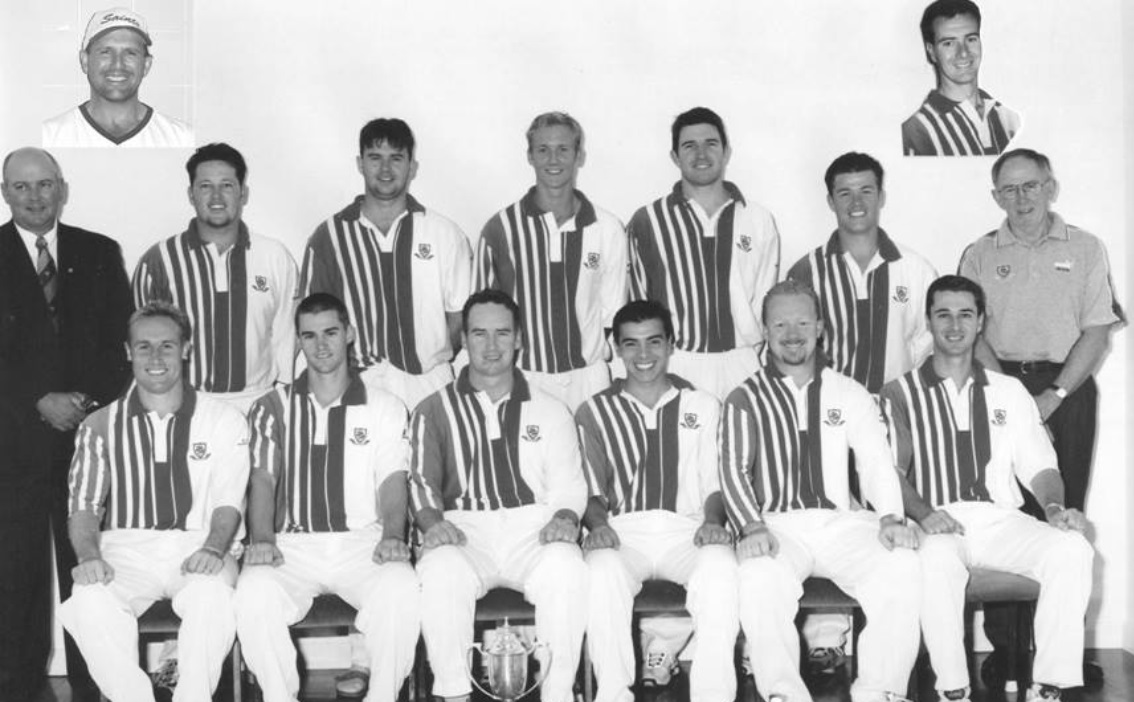 St George 1999/2000 First Grade Limited Overs Premiers
Adrian Tucker
Scott Thompson was, along with Grant Lambert, the dominant all-rounder of my generation in Sydney Grade Cricket.
He was an outstanding cricketer both statistically and aesthetically. I have many memories of him – games where he dominated with bat or ball or both, but two occasions stand out.
In the 2000-2001 Grand Final my team Easts were up against St George. I had muddled my way to about 15 with the bat and I was wondering why St George master tactician Paul Ryan hadn't bought his number one quick on (as I could barely see it at that stage of my career). At that moment I heard Stu MacGill pipe up – "Ryany…just get Thommo on and tell him to bounce the f*ck out of Tuck…"
Second was a 2nd XI game against the Vics in Melbourne. It was a great game of cricket that came down to the wire. When I got to the crease we were 8 down and needing 86 to win in quick time. Thommo smashed them to the tune of 84 not out and we won the game. I'd love a copy of the poem Cheeqs recited on the plane on the way home. Gold.
Thommo was a pleasure to play with, and against.
Well played Thommo, "where would you rather be?" 😉
Join the cricket network to promote your business and expertise. Make it easy for people to search and find the people and services they need through people they know and trust.
Join the network