"Why would you go to St George, you'll never play higher than 5th grade there?"
That was the question and statement from a Petersham Cricket Club official to Steve Green back in 1996.
Greeny was 19 years of age and had played 2 seasons of 5th grade Petersham although he did play the last game of the 1995/96 season in 3rd grade.
At the end of 1995/96 season Greeny's desire to improve led him to sign up for 8 coaching lessons at Kingsgrove Sports Centre where he was to meet NSW all-rounder Brad McNamara and St George Club Coach Wayne Turnbull.
It was during the coaching sessions where Coach Turnbull thought there was a bit more to Greeny's bowling than playing 5th grade and invited him to attend the fitness and training sessions a number of the St George players were having with Kevin Chevell out at Penrith.
As the pre-season training schedules were being planned for the 1996/97, Petersham like all Premier Clubs did and do, made contact with their players to check if they were ready for the pre-season.
It was during the call to Greeny when he informed the caller he was transferring to St George the above statement was made.
Fast forward from the start of the 1996/97 season to the First Grade Grand Final of 2012/13 between St George and Sutherland, Steve Green retires from cricket having played 202 First grade games for St George and along the way takes 383 wickets at an average of 19.3 including 17 x 5 wicket hauls and becomes a 4 time premiership-winning player for St George.
He's a life member and it's safe to say Greeny had one of the most celebrated careers at the St George Cricket Club.
This is a story and a wonderful example of persistence, dedication and skill.
There were no youth pathways for Greeny. He worked hard and conquered all doubters. I was one.
In the two seasons before playing 5th grade for Petersham and at the age of 16 Greeny was playing park cricket on synthetic wickets with his dad, Ken. Greeny's dad had only started playing cricket when Steve started in the Under 10's.
Ken Green had been a Rugby League player for Bondi United and Bondi Sharks in Sydney's Eastern Suburbs competition, a tough local competition and when he turned his hand to cricket was a solid opening batsman.
Despite his stellar grade career one of Greeny's fondest moments in cricket was winning the 2nd-grade competition in park cricket with his dad.
"It was awesome, "he says proudly.
After playing 1st Grade in the park the following season, they played their last game together and along with Steve's Mum Val, Ken turned their focus to travelling around Sydney watching Greeny.
On joining St George, Greeny was picked to start the season in 4th grade but when a 3rd-grade bowler pulled out before the season started with glandular fever; he was called into the 3rd-grade team to make his debut for the dragons against Western Suburbs.
His first wicket was Troy Stanley caught by Hamish Solomons at 2nd slip.
For the remainder of the season, he moved between 3rds, 4ths and had the occasional game in 2nds. His last game of the season was the 3rd grade grand final against Eastern Suburbs which they unfortunately lost.
First season with the Dragons and not one 5th grade game, and there was to be only one where he played as a batsman and scored 56 while recovering from a back injury.
Greeny started the 1997/98 season in 2nd grade and when former NSW fast bowler Neil Jones left to work overseas in the first week of December 1997, Steve Green made his first-grade debut against Parramatta at Hurstville Oval.
His first wicket read, "Tim McMahon caught and bowled Green". With a smile, he mentions the previous ball had sailed over the scoreboard for 6.
Dennis Lillee was one of Greeny's heroes growing up. He says he was too young to understand Lillee's greatness whilst he was still playing but through watching highlights of his bowling he'd come to admire his competitiveness and how he "busted his arse" for his team. DK had made an impression.
For the next couple of seasons, Greeny was in and out of First Grade. He was unable to nail down a regular spot as fast bowlers would join the club, be picked in First grade and he'd be the fall guy and then rebound they'd be out of form, injured or left the club.
I know this as I was captain for 4 of the 7 years he was in and out of Firsts. I was a bit hesitant to ask the obvious question.
"You probably didn't think I was quick enough," he says. He was right, I was wrong.
He finally cemented his first-grade position in season 05/06 at the age of 28 and for the next 8 seasons, he was one of the highest wicket-takers and dominant bowlers in Sydney grade cricket. His best season saw him capture 66 wickets and he surpassed 50 wickets in a season 4 times.
For those that know Hurstville Oval, you'd be aware of bowling up the hill. Incredibly Greeny says, "I reckon I only bowled 40 overs coming from the top end. In the early days, I had to run up the slope to get a bowl, so I guess I got used to it".
I asked Greeny what pace he thought he bowled. "Probably about high 120's, maybe 130's."
Greeny and a young Trent Copeland were taking wickets for fun at St George and when I was asked if I wanted to play in a St George past and present team against a similar Balmain team at the SCG in 2007, I was keen to see the two in action first hand.
After quite a few years I apprehensively took the gloves. I wasn't too concerned about standing back as both had the built their reputations of continually hitting the top of off stump.
Trent bowled the first over, line and length with a little movement.
Greeny's turn. I was standing the same distance from the stumps to where'd I remembered from my playing days, and about the same distance as I did for Trent.
His first ball nipped off the deck and carried through chest height and was still rising when it hit the gloves. The 2nd ball did the same so I and the slips cordon took 3 steps back.
For 2 and half seasons Green had been a permanent and successful first-grade bowler and his confidence shined through. His wrist action had improved dramatically and I could see why he'd been taking so many wickets. Cheeky bugger winked at me after a couple of overs. I understood why.
Greeny was 30 at the time and had learned his trade, Trent was only 21 and starting his career.
He learned his trade not just from bowling in games or in the nets. Greeny kept a diary so he could track his progress and performance after each days play, especially in his early years.
He'd write about the conditions of the day, the wicket, how he dismissed batters and during flat spots, he'd trace back through the diary and ask "why was I taking wickets back then and not now?"
All four of his first-grade premierships are memorable.
The first one against Gordon because it was his first, first-grade premiership.
"I always wanted to win a comp and for my First-grade comp win to be in 1st Grade was unbelievable."
"The 2nd was against Sydney University and we went back to back and I won the John Benaud medal for player of the final."
"The 3rd was against Sutherland and it was 3 in a row and I helped out in the 2nd dig taking 4 quick ones and we only needed 60 to win outright."
"The 4th was a couple of seasons after and also against Sutherland. The boys knew it was going to be my last game. I was batting with Kevy Pillay our captain and we were 9 down and about 50 odd behind them in the last session on day 2. Unfortunately, there was a mix-up and Kev was run out 47 runs behind them and I was shattered."
"We then need to bowl them out quickly so we could give ourselves enough time to score the runs to win on day 3. We picked up two early wickets but then Nic Maddinson skied one towards me at fine leg and I just couldn't get there. At the end of day 2, they were 85 in front with 2 wickets down and pretty cockahoop in the sheds.
"I was guttered, in my head, I thought I'd cost us and I didn't want it to end like that. I only slept for about 2 hours that night. Next morning Copes bowled Maddinson first ball of the day, we bowled them out for 88 and only need 140 to win. We passed them one wicket down. It was a very emotional weekend. "
Greeny is an Eastern Suburbs Roosters tragic. He started following the Roosters from the moment he picked up a footy. As a Hurlstone Park junior growing up it was a tough gig. The local Canterbury Bulldogs had won multiple competitions and the Roosters, well their trophy cabinet had been bare since 1975. "It was tough going to school on a Monday morning in winter"
As he does, Greeny stuck solid. His loyalty shines through as he attends every game the Roosters play in Sydney. He's such a devoted Roosters fan he played his entire First Grade career wearing Roosters footy socks.
For his last game, the Grand Final against Sutherland in 2012/13 he played the game wearing the Roosters official blue, red and white game day socks. His wife and father in law had arranged 3 pairs through the footy club.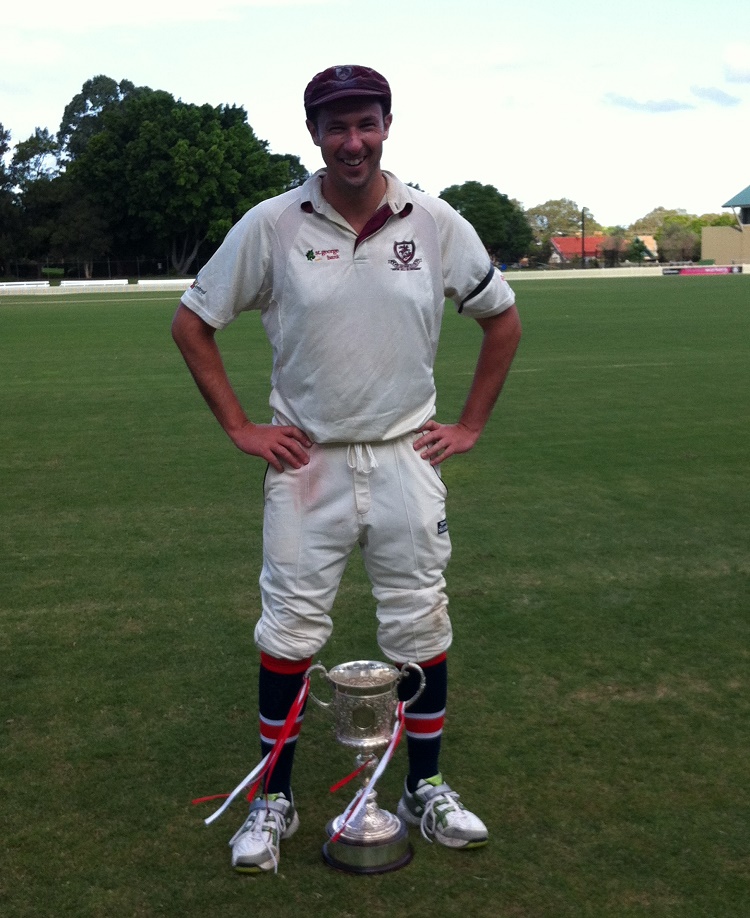 His favourite Roosters over the years include Hugh McGahan, Jeff Orford, Luke Ricketson, Brad Fittler, Craig Fitzgibbon and nowadays he's a massive fan of Mitch Aubusson.
Greeny likes Aubusson because "he gives his all every week and does his job while the big guns get the wraps"
Greeny never played 2nd XI cricket for NSW. He could've and should have. I guess he was too old for the pathways he didn't need coming through grades.
He's now in his 5th year on the coaching panel at Easts Cricket Club.
"I really enjoy passing on the knowledge and sharing my experiences. I've been dropped from 5th Grade, won first-grade competitions and everything in between so I know the ups and downs. I want to be able to help others."
I ask him who the Petersham official was. He just smiles, "he knows".
"Oh, can you make sure you include my highest score of 51 in 1st Grade. I had 190 innings for Saints in all grades and was not out in 103, so many hundreds nipped in the bud, "he laughs.
Well played Greeny. Persistent and skillful.
Join the cricket network to promote your business and expertise. Make it easy for people to search and find the people and services they need through people they know and trust.
Join the network
If you'd like to see more content from Paul Ryan, they'd be very grateful for your support and contribution. Paul Ryan will receive 80% of all funds contributed.