There is no greater compliment to a sport person than when team mates say "they're someone who everyone wants to play with."
Graeme Rummans is the epitome of such a sports person.
Graeme played first class cricket for New South Wales and Victoria and is quite rightly regarded as one of the most successful cricketers ever to play grade cricket across all states in Australia. He's a winner.
Graeme was part of the successful NSW team that won the one day domestic competition in 2000/01 and played 38 first class games for NSW and Victoria and 57 one day games for both states.
In first class cricket Graeme scored 1,605 runs at an average of 29.18 including 2 centuries with his highest score being 188 for Victoria.
In one day cricket he scored 1,264 runs at an average of 30.82 with nine half centuries.
At Grade, District and Premier Cricket Graeme is without peer.
With St George in Sydney, Graeme won 4 premierships including two as captain and a one day competition.
For St Kilda he was also won 4 premierships and 4 one day competitions.
13 Premierships. Phenomenal.
For St George Graeme scored 6,753 runs at an average of 46.25 including 14 centuries and 35 half centuries. His highest score for the Dragons was 199.
In Melbourne for St Kilda he scored 8,644 runs at 48.83 including 20 centuries and 54 half centuries. His highest score was 233 not out.
In total for St George and St Kilda Graeme scored 15,387 runs in 391 innings. 68 not outs. Average 47.64, 34 Centuries. 89 Half Centuries.
After leaving St Kilda Graeme went to play sub districts cricket for Caulfield and as winners do, he continues to this day to score hundreds and win competitions.
Let's find out more about Graeme's journey in the game.
Warren Saunders Insurance Brokers are one of the proud sponsors of St George Cricket Club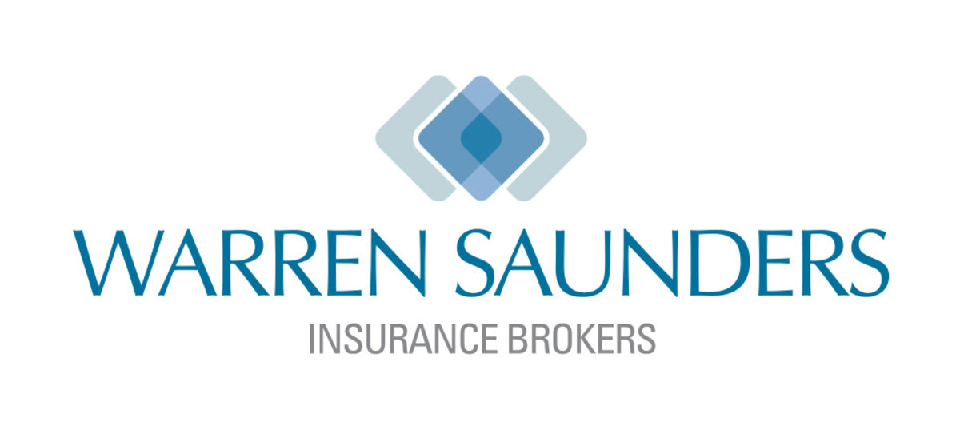 What year were you born?
1976
Where did you go the high school?
Narwee High School
Do you remember your first ever game of cricket?
Age 7, I think I got 6 or 7 with the bat and didn't bowl as I was throwing them back then.
Where did you play your junior cricket?
Kingsgrove United CC
Which clubs have you played for?
St George CC, St Kilda CC, Caulfield CC, Ayr CC in Scotland, Milverton CC and Leigh CC in England.
What age did you make your first grade debut?
17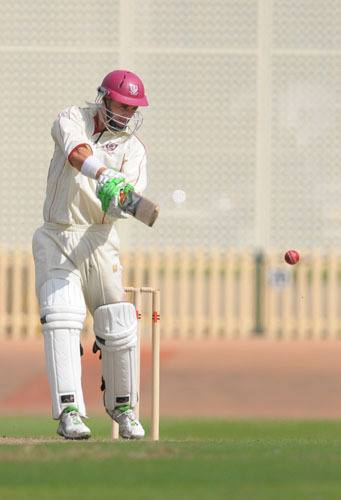 Who were the three bowlers you admired most in terms of skill, their competitive spirit and how they challenged you in Sydney Grade cricket?
Don Nash- So skillful. Swung the ball both ways, great yorker and bouncer. Nasty competitor.
Greg Matthews- I have never faced a spinner that drifted and dropped the ball like Mo. Great challenge to face and all the carry on that came with it was good fun.
Stuart Clark-Tall, fast and accurate made scoring off him very difficult. He hit the seam regularly but the bounce he generated made him very challenging to survive or score runs.
Who was the fastest bowler you played against in Sydney?
Don Nash
Who was the best spinner you played against in Sydney?
Greg Matthews
Who were the best three batsman you played against in Sydney Grade cricket?
Greg Mail- record speaks for itself. Ultimate professional that worked so hard to improve his game. He knew what his strengths were as a batsman.
Mathew Phelps- Technically beautiful player to watch with shots all around the ground. Played some nice innings against the Dragons.
Martin Haywood- Moose scored a 100 in one of my first games in first grade when he was playing for Randwick. I couldn't believe anyone could hit the ball so hard.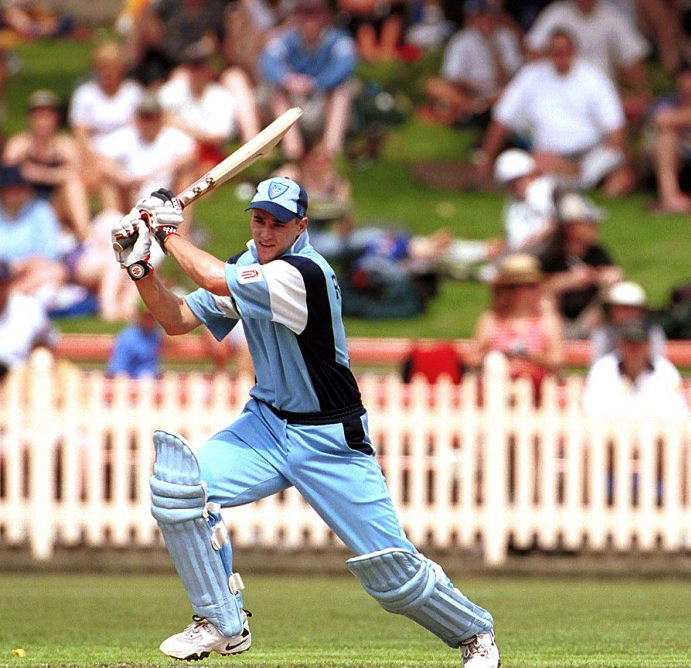 Who played the best innings you saw in Sydney Grade Cricket?
I was lucky to see many great innings.
Brett Van Diensen 168 v Bankstown. Brett scored 100 in the first session against a good attack. He had an amazing ability to judge the length of the ball so if it was slightly short he would pull or cut or drive if it was full. There was no length the Bankstown bowlers could bowl that day.
4 other innings stand out- Michael Slater 200 against St George, Jeremy Bray 159 for St George in Grand Final v Mosman, Brett Van Diensen 172 in Grand Final v Easts, Simon Katich 160 against St George in a semi final. All amazing innings to witness.
Who were the two players you admired most in Sydney Grade Cricket in terms of their skills and competitive spirit?
Brad McNamara- His record for St George with bat and ball is amazing. Sometimes his pre match preparation was not the best but he always came ready to compete. He was idolized by all the St George players. Never short of a word and he always made the day of cricket entertaining.
Grant Lambert- His amazing statistics show how good he was. Grant would bowl 30 overs every Saturday at good pace then go and open the batting. It was great watching his improvement from not making under age NSW teams and seeing him have a great career for NSW through hard work and perseverance.
What was it about the St George club you enjoyed most?
Everything. My Green Shield coach was Brian Booth then I started playing 2nd grade at 16 and couldn't have hoped for a better environment to learn and develop my cricket. The players all respected the history of the club. Hurstville Oval is my favourite ground to play and watch cricke.
When did you make your first class debut for NSW and what can you remember about the game, who against and where?
1997-98 against Tasmania at Bellerive Oval. I was 21 and probably not ready to play Shield cricket. Corey Richards scored a brilliant 164. Colin Miller got me out for 14 in first innings bowling mediums then he got me out for 6 in 2nd innings bowling off spin. Jamie Cox and Dene Hills smashed us and we lost the game.
What was your most memorable moment playing for NSW?
Winning the One-day final against WA at the WACA. I dropped Mike Hussey when he was on 20, if I caught it they probably only make 200-220. He then smashed 80 and we were chasing 280 I think. Luckily Michael Bevan scored 130 to win us the game. It was a great run chase and even better celebration.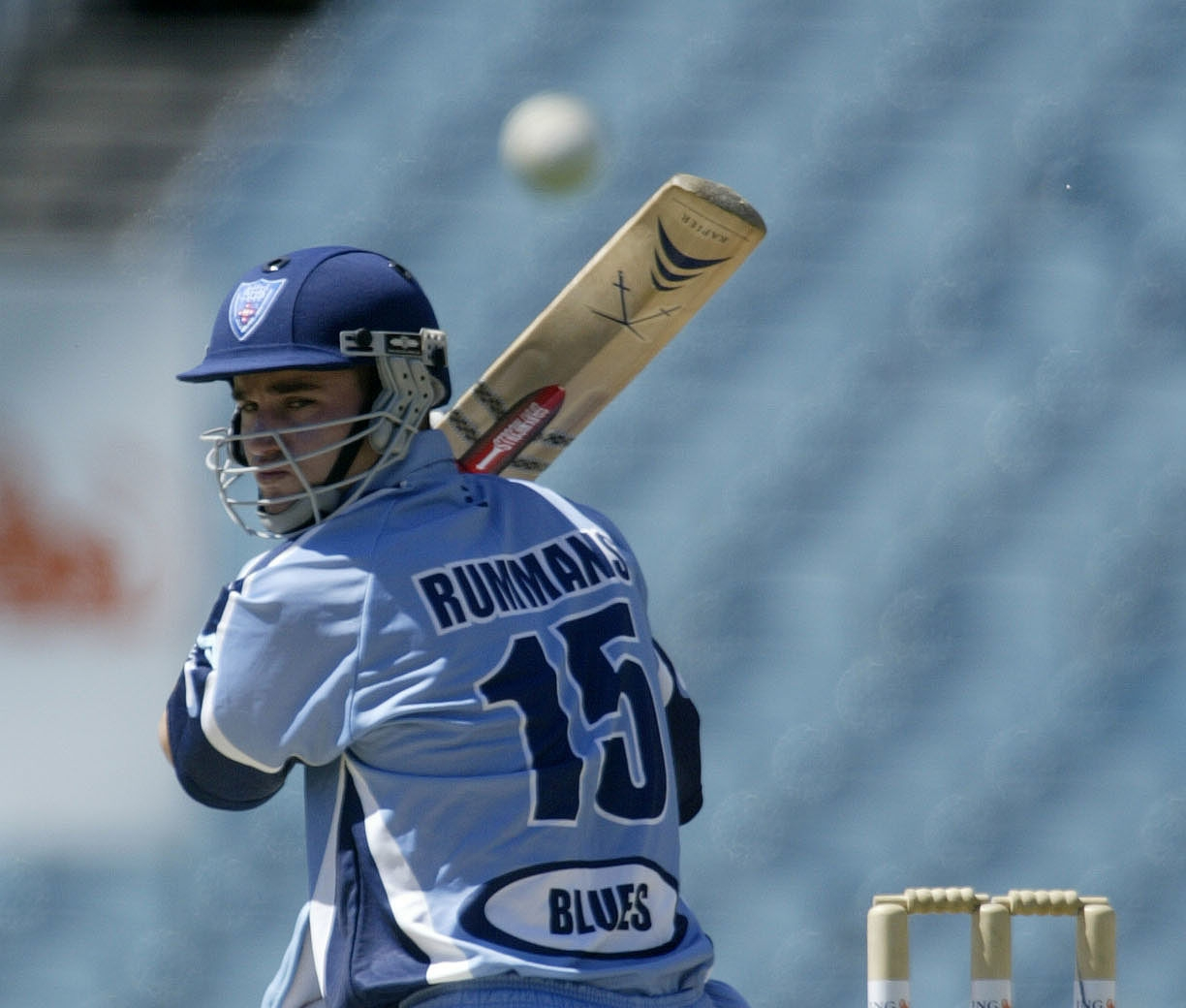 What prompted the move to Victoria?
Opportunity. Victoria approached me looking for a batsman and I was not looking like playing much Shield cricket for NSW.
What attracted you to play with St Kilda?
St Kilda and St George had a relationship with many players playing for both clubs when moving interstate for work or cricket. I knew some of the St Kilda players. It was an easy choice.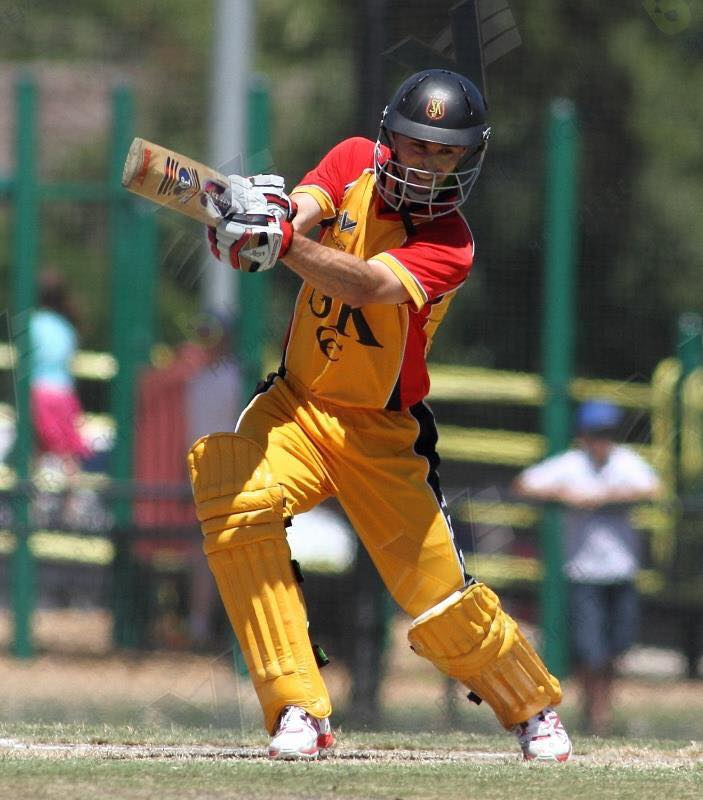 Who were the three bowlers you admired most in terms of skill, their competitive spirit and how they challenged you in Melbourne District Cricket?
Adam Dale- hardest bowler I have ever faced. Amazing wrist control swinging it both ways and seemed to hit the seam every ball. He was slow so if you knicked it the keeper or slips generally caught it.
James Miller- He just hit me in the pads or I would knick one off him. Very skillful swing bowler and excellent reverse swing bowler.
Shane Harwood- Fast arm action that made it hard to judge the length of the ball. He was the fastest I faced and caused many a sleepless night thinking about facing him in the nets. Hit me many times.
Who was the fastest bowler you played against in Melbourne?
Shane Harwood
Who was the best spinner you played against in Melbourne?
Fawad Ahmed
Who played the best innings your saw in Melbourne District Cricket?
Bobby Quiney- 224 out of a team score of 352 against Camberwell. No one else got over 30. One of many great Bobby Quiney innings I saw for St Kilda.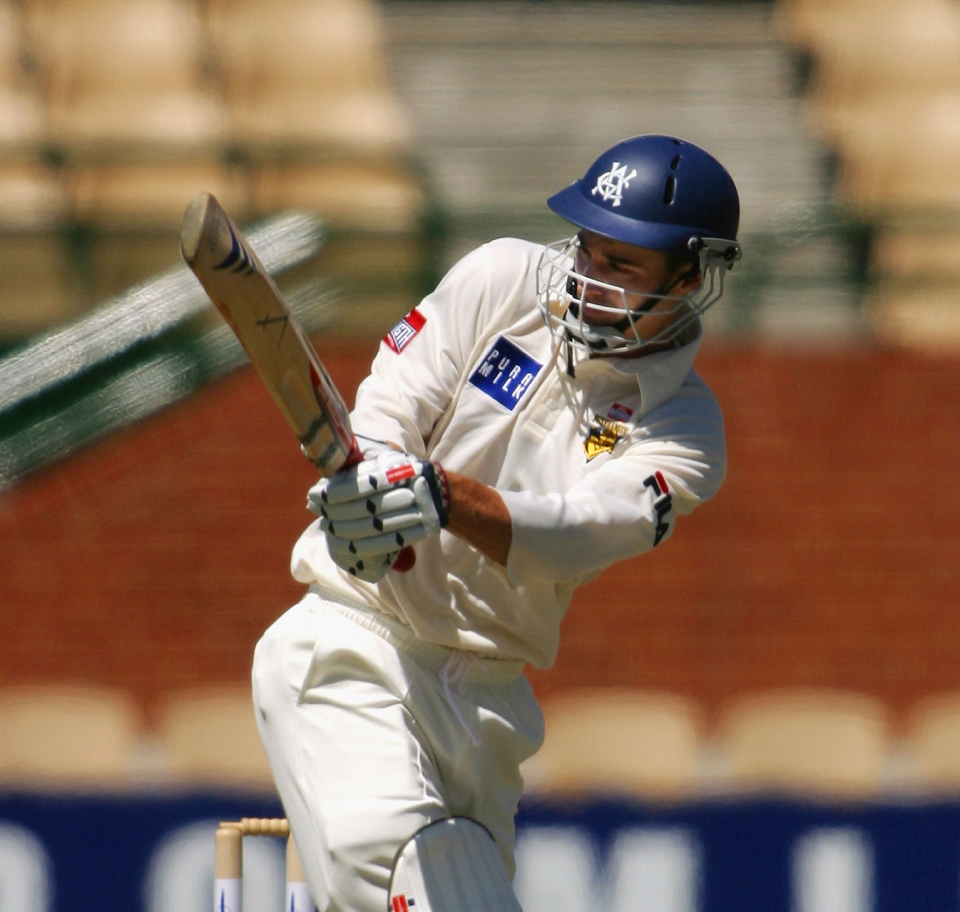 Who were the two players you admired most in Melbourne District Cricket in terms of their skills and competitive spirit?
Matt Chasemore- Genuine cricket nuffy. He just improved his game every season through hard work. It was great to play with him in his last few seasons and watch him dominate with bat and ball.
Nick Jewel- Achieved so much for St Kilda and Victoria through his mental strength. Made his team mates better players. Nick made runs in all the Grand finals so his ability to play under pressure stands out.
Back to your First Class Cricket, how do you look back on your career?
Proud I represented NSW and Victoria. I didn't believe in myself enough that's why I wasn't consistent enough at First Class level. I loved the training and the opportunity to play with the genuine superstars like Steve Waugh and Shane Warne.
What was your most memorable moment playing for Victoria?
Scoring 188 against Tasmania. It took me 6 years to score a Shield century, so it's fair to say it had caused a few sleepless nights thinking if I would ever get one. I got 0 in the first innings 20 wickets fell on the first day then on day 2 the wicket settled down. I either played and missed or hit everything else in the middle. It was a relief and satisfying moment after lots of hard work.
Who were the best 3 batsman in first class cricket you came up against and why?
In my 3rd game for NSW Greg Blewett scored 206, next game Stuart Law scored 214 then Matt Elliott scored a century in both innings of the next game. All 3 of these guys were batting on a different level to the rest. I was standing in the field thinking what am I doing out here I can't play half the shots these guys are playing.
Who was the quickest bowler you played against in first class cricket?
Andy Bichel bowled a quick spell one day at the SCG.
Who would you consider to be the best spinner in your time playing first class cricket?
Colin Miller- he bowled quick off spin and was turning the ball miles on an absolute road at Bellerive Oval.
Was there a particular moment in any game where you thought, wow, this player is a step above the rest?
Michael Bevan every time he played for NSW. His consistency and drive to score runs was special.
Who were the two players you admired most in first class cricket in terms of their skills and competitive spirit?
Mike Hussey and Simon Katich- loved the way they prepared and played. Both humble, respectful and approachable.
Who was the best wicket keeper you saw firsthand playing with or against?
First class cricket – Brad Haddin
Sydney Grade Cricket – Nathan Pilon
Melbourne District Cricket – Damon Rowan
What's been your most memorable moment in cricket?
The premierships. 4 for St George and 4 in a row for St Kilda. Brings a smile every time I think about those games.
Who's been the biggest influence in your cricket career?
My father.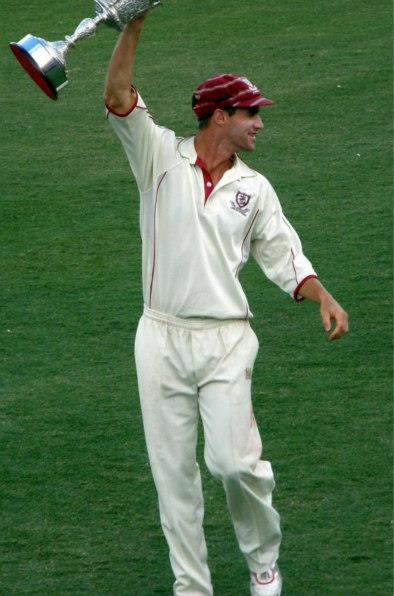 Who would you consider to be the best Captain of the team you played in and why?
Paul Ryan from St George- made me feel valued in the team as a young player. Learnt so much from him tactically. Created a great environment where all the players enjoyed their cricket and thrived. More importantly a great friend and mentor off the field.
Who was the funniest cricketing team mate?
Nathan Pilon
Who is your favourite all time cricketer?
Allan Border
What was the best win you were involved in?
2 games- both in One day finals for St George and St Kilda defending scores of 140.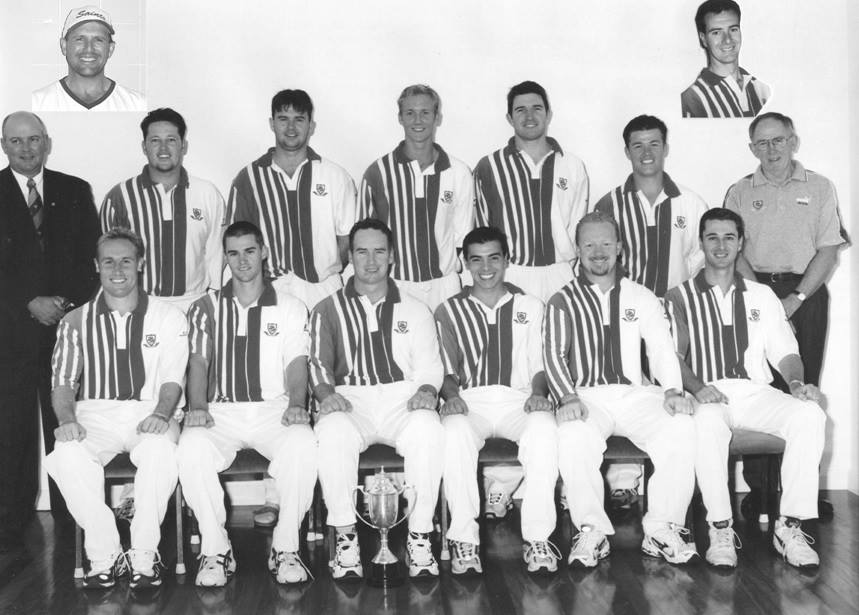 St George One Day Premiers 2000
What did you enjoy most about playing Premier/Grade Cricket in Sydney and Melbourne?
The friendships of team mates and opponents. Watching the development of young players. Celebrating wins and commiserating losses with plenty of beers.
Was there much of a difference between playing in Sydney and Melbourne?
When I first moved to Melbourne in 2002 the wickets were much slower than Sydney leading to ring fields and negative cricket. The quality of wickets and grounds has improved greatly so now I don't think there is much difference in the standard of cricket.
If you're in the middle seat of the middle row of Qantas QF1flight to London which team mates would you choose to on your left and right?
Nathan Pilon and Adam Warren
Did you have any cricketing superstitions?
Just prepare well and you give yourself a chance to do well.
What's the best advice you ever received?
Keep the ball on the ground- from my dad.
Are you still involved in Cricket and if so, in what capacity?
I play for Caulfield in the VSDCA. I still love playing and will play while still physically able to.
Do you like the modern game and what can the game do to make it better?
Love all forms of cricket. Same as most people I want to see a contest between bat and ball with some Test wickets too flat. I think team scores of 200-250 are better to watch.
What advice would you offer a young 18 year old who has the ambition of playing test cricket?
It's a marathon not a sprint hang in there. For batsmen - hit more balls with purpose, you can never hit enough balls. 1 innings doesn't make you a good or bad player.
What are your hobbies?
Watching sport.
Are there any lessons from your time in cricket that you take into work or life in general?
Resilience. Cricket is tough game at professional level with so many things out of your control. I think cricket prepares you to handle anything life throws at you.
Join the cricket network to promote your business and expertise. Make it easy for people to search and find the people and services they need through people they know and trust.
Join the network