In January of 2019, Kurtis Patterson, a local junior who attended school at St Joseph's Riverwood became the 14th cricketer to represent Australia whilst a member of St George District Cricket Club.
In just his second Test Match he peeled off his maiden century with a classy innings of 114 not out against Sri Lanka at Manuka Oval in Canberra. It's been a crazy ride for Patterson who was ear marked by St George at an early age. He became the youngest NSW player to score a century on debut and since then it has been a bit of a roller coast ride.
This season was different though. Things just clicked and now he's looking at the possibility of an Ashes Tour.
St George club legend and life member Hamish Solomons managed to grab a hold of Patterson before he continues to take on the World to find out more about what was an incredible season.
Hamish: You've had a few months to digest the seemingly surreal events of the past cricket season, obviously one of the biggest of your life, are you still pinching yourself?
Kurtis: To be perfectly honest, not really. It was a fantastic experience for me personally, but once the second test ended, I had so much fun that I told myself I would do everything I could to be back in this change room again in the future. I think having that desire for more probably stops me from pinching myself, which keeps me focused. There will be plenty of time for reflection post career, I'm sure!
Hamish: Reflecting back on the summer, did you have a goal or expectation that the season would go so well in regards to making your test debut or was the focus simply on performing at shield level?
Kurtis: There certainly weren't any outcome based goals of making any particular team. I had a couple of specific technical things I knew I needed to work on going into the season, but my big improvement areas were maintaining concentration and desire at the crease. I did a lot of work with our psychologist on this and I'm glad I did. I now have a routine that I know works at the highest level, which is a nice feeling.
Hamish: So, describe the moment you found out you had been selected to make your test debut against Sri Lanka?
Kurtis: I was sitting at home with my fiancée when Trevor Hohns called. It was about 9pm on a Sunday and they had been in meetings all afternoon discussing whether to bring me in after the CA XI game. It was a pretty quick call, he mentioned I'm in the squad and that I'll be on a flight first thing in the morning. It was a great moment straight after, being able to ring my parents was very special. Finding out I was in the final XI was a little more subdued, Trevor came up to me the day before and just shook my hand and said, "You're in, good luck". By that stage, I was in game mode and was ready to play so I didn't get too emotional.
Hamish: What was it like sitting there in the Aussie dressing room and who stands out for you in the Aussie team as helping you fit in and / or keeping the dressing room alive?
Kurtis: It wasn't too surreal to be honest. Luckily I get to play for NSW, so I've played a fair bit with experienced Australian players like Nathan Lyon, Pat Cummins and Mitchell Starc who made the experience a little more familiar for me. Nathan Lyon was great, he went out of his way to make me comfortable which was nice of him. I field at gully and he's at point for both NSW and AUS so we always spend a fair bit of time during games talking about anything and everything which keeps us both relaxed, I think!
Hamish: What was the difference for you this season as opposed to previous seasons?
Kurtis: The biggest difference was focusing on my training and game processes and sticking to them. In previous years I was probably guilty of chopping and changing too many things when I'd miss out a couple of times in a row, which is a bad place to be in as a batsmen! Along with this, I just concentrated on getting better and put far less energy into things which were out of my control.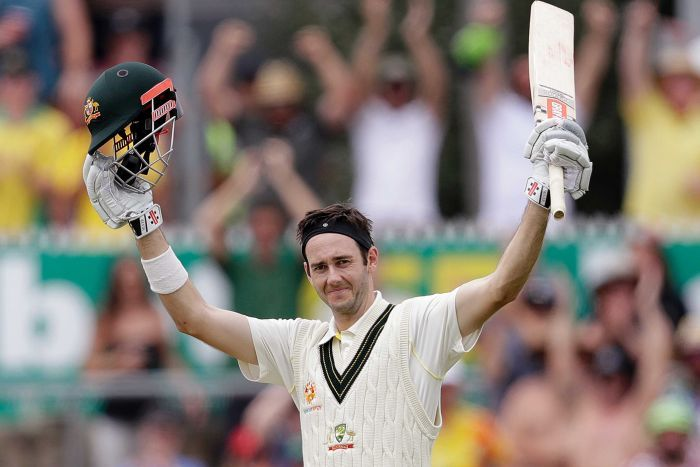 Hamish: With Steve Smith and David Warner back in the fold are you confident of retaining your spot in an Ashes line up given you scored that wonderful century in the most recent test against Sri Lanka?
Kurtis: There's nothing guaranteed, I'm completely aware of that. When two of the best batters in the world become available, you can't complain. The upcoming tour of the UK will just be another opportunity to learn and score runs in different conditions, that's all that I'm thinking about with my training and preparation. If Australian selection comes, then great. If not, it's about getting back and helping NSW win games of cricket.
Hamish: You have now played 2 tests, was there any noticeable change going from many seasons of first class cricket to playing at the highest level?
Kurt is: Not a huge deal from a physical point of view, not at least from my short experience. Shield cricket from what I've seen/heard is the closest thing you will get to test cricket, so in that respect, we are very lucky as domestic players in Australia. The biggest difference I found was the obvious increase in media and public attention towards your game. I'm quite low-key as an individual so I didn't feel too much extra pressure going into the tests, which is something I hope continues.
Hamish: Your first class debut at age 18 can only be described as unbelievable – Do you recall thinking at the time maybe I'm good enough to play for Australia or was that already a definite goal prior to your first class debut?
Kurtis: The goal of playing for Australia had always been there for sure. It'd always been in the background as it was never the number one priority. After my shield debut, that didn't really change. I just saw it as a stepping stone in my career and in similar fashion to the tests, it just made me hungrier to play more shield cricket for NSW.
Hamish: This season there was no Big Bash cricket for you, obviously, but do you still want to be considered a player for all formats or are you happy to focus for now on the longer form of the game in the same vein as India's Cheteshwar Pujara?
Kurtis: I certainly want to play across all three formats. Not getting an opportunity this year was certainly disappointing, but as things turned out, it wasn't the worst result, as it allowed me to stay focused on red ball cricket leading into the tests. I know that my strength is the longer format and that my best chance to play for Australia is in test cricket, so it's just about balancing my training and finding the right time to develop the white ball side of my game, whilst still working on my strengths such as red ball cricket.
Hamish: What does Kurtis Patterson the bloke like doing outside of cricket and what things do you find yourself doing in spare time on the road with cricket?
Kurtis: It's really nothing that out of the ordinary. I love being outside and being active, whether it's going for a walk, playing golf or tennis, I just enjoy soaking up the weather we're lucky to experience here in Sydney. Since moving closer to the city, I've enjoyed keeping up with the food scene around town and sampling new cafes or restaurants when they pop up as well. In keeping myself busy, I'm also towards the end of my business degree. I've been chipping away at it for a few years now but I find it helps my cricket as it gives me goals to achieve outside of the game whilst allowing me to develop skills that I'm sure I'll need once my career comes to a close.
Hamish: Let's backtrack to the early days, you started your cricketing life as a St George junior with St Joseph's Riverwood and South Hurstville Carss Park. Now that you've played a few tests do you look back at those days any differently?
Kurtis: The only difference would be more gratitude for those days! They were some of the best days of cricket anyone will ever have. My love for the game really grew during those times, and I'm thankful for everyone who was a part of that. If I didn't have as much fun as I did, I'm sure my desire to be the best cricketer I can wouldn't have turned into what it is today.
Hamish: Your parents are legends around the Booth Saunders Pavilion and have obviously played a major part in your success. Give us an insight into their guidance of your career from the early days through to now?
Kurtis: They've both played major roles on my journey. Mum was always there to provide support, for drop offs and pick-ups, lunches and the occasional unwanted opinion (the latter hasn't changed). Dad was my coach until about fourteen or fifteen. Outside of all the great knowledge and technical expertise he passed onto me, which gave me a great base for my game at a young age, the thing I'm the most thankful for was his ability to keep enjoyment as the number one priority. I grew up playing with and against other guys who were just as talented as I was, but had overwhelming pressure put on them by their parents, which I know became a detriment to their development. It's something I've always held onto and will certainly be passing onto my kids when the day comes. We play the game because we love it, period. That was always the message from Dad.
Hamish: The buzz around the club when you were selected and then scored your century was something to behold, how important has the club been in regards to your development when you are arrived as a very lean youngster?
Kurtis: I've always been very thankful to Saints for the way I was managed at an early age. Starting in 3rd grade, I learned that you have to earn the right to move up the grades by weight of runs, it's not just handed on potential - something I think is lost a little these days. Having the opportunity to play with guys like Hamish Solomons and Steve Wark – someone who hated losing more than anyone I know – in my first year of men's cricket were crucial learning curves for me. Being able to spend time at Hurstville Oval with guys like Moises, Copes, Steve Cazzulino, Graeme Rummans and Stu McCabe shaped the player I am today and gave me the best possible chance to succeed at 1st grade for Saints and beyond.
Hamish: Playing with the likes of Copeland, Henriques and others can only be healthy for an aspiring young cricketer?
Kurtis: No doubt. Not many guys had the opportunities I did to train and talk cricket with the guys I previously mentioned. My only regret is that I didn't pick their brains more as a youngster!
Hamish: Does much change from here, is the planning more tactical, the training harder or will it be a case of more of the same in order to keep moving forward with your career?
Kurtis: I think there's always room for improvement. I have a routine that I'm confident works for me now, but there are always little changes you can make, particularly when facing different conditions. I think that's the beauty of the game, you rarely face the same bowlers on the same wicket under the same conditions ever in your career. The best players are those who constantly learn, adapt and implement changes quicker than others. Steve Smith is the best example of this for me, his ability to pick up cues and adapt (sometimes mid innings) is second to none.
Hamish: Given the time / moment you are in right at the moment, have you given much thought to life after cricket?
Kurtis: I actually give it a fair bit to be honest. I'm big on personal development and I know the dangers athletes can face once they exit their respective sporting careers. I just want to be as best prepared for this as I can be. I know it will be a big change, but it's one I'm actually looking forward to once the time arrives. I'd like to eventually work in the administration side of sport with the big goal of getting a job for either the NBA or an NBA franchise. I also firmly believe that there's a responsibility to give back to the game in some respect, so if I'm not working in cricket, I'll certainly be involved in some capacity. Hopefully a few more runs before I need to worry about that though!
Join the cricket network to promote your business and expertise. Make it easy for people to search and find the people and services they need through people they know and trust.
Join the network
If you'd like to see more content from St George District Cricket Club, they'd be very grateful for your support and contribution. St George District Cricket Club will receive 80% of all funds contributed.