Kerry O'Keeffe's celebrity status as "Skull", the Australian leg-spinner turned radio commentator, does not always do justice to his amazing teenage bowling performances for St George.
By the time he turned 20, Kerry would have 200 first grade wickets if playing for NSW had not caused him to miss so many grade games. In his first season of first grade, 1966-67, when he was 16 turning 17, he took 33 wickets at 18. Everyone was amazed, including the legendary Neil Harvey who faced Kerry's first over in first grade, and after play he told Captain Warren Saunders he found it hard to believe a 16 year old could bowl leg spin that well. In the following two seasons, he took 65 and 74 wickets, including 5-29 in the 68-69 final. Then in limited appearances over the next two tears of the premiership hat-trick, he took 30 wickets in each at an average of 12, and also 29 at 16 in the last season of the Saunders era.
Yes, many teenage batsman do well in Sydney grade cricket, and occasionally pace bowlers but teenage leg spinners? Kerry was indeed a prodigy. Statisticians at Cricket NSW can find no other bowler – pace or spin – who has taken so many wickets by the age of 20.
In those early years he bowled quickish leg-spinners, with a top spinner and a googly, plus a well disguised off spinner. He was accurate and feisty, and he spun the ball hard. He didn't turn a lot, but he certainly turned it both ways. Above all he had flight, and a spinner's best asset: drop. His deliveries always seemed to land 30cm further away than the batsman expected, his leg-spinner fizzing past the bat on the outside, or his wrong'un and offie doing likewise on the inside.
While aged 17 to 19, he was the best spinner in Sydney grade and perhaps the best bowler. He'd come on second change, upwind with the ball worn, allowing John Martin, Peter Leslie, Trevor Osborne and Keith Francis to rotate at the other end.
Growing up, his family circumstances were not ideal, as he has detailed in his books. But under the protective umbrella of "father figures" Saunders, Brian Booth and Billy Watson, plus his near contemporaries, Leslie, Wilson, Rogers and Martin, he flourished. He has gone on record to say they were the happiest days of his cricketing life. He played with exuberance and confidence, fielding beautifully and batting both stoically and with flair. The lead photo of him being congratulated by his St George teammates on his test selection shows the warmth in which he was held.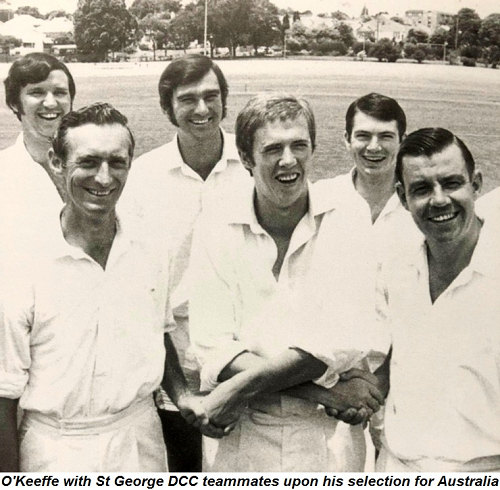 In Shield cricket his bowling average of 27 (from 187 wickets) matches that of Richie Benaud and exceeds Shane Warne's 34.72 average for Victoria. While having some memorable matches at Test level, especially the 1977 Centenary test, he has made it clear that he did not always feel comfortable in the no holds-barred Australian team of the 1970s. His return of 53 wickets from 24 tests at an average of 38 seems to reflect that.
At St George he was a wonderful free spirit who fitted perfectly into the team environment – and was a key element in the premiership hat-trick in the 1960s.
This story was originally published in the book written by John Rogers titled "Mr St George" - Warren Saunders and the culture of success he inspired.

Join the cricket network to promote your business and expertise. Make it easy for people to search and find the people and services they need through people they know and trust.
Join the network
If you'd like to see more content from St George District Cricket Club, they'd be very grateful for your support and contribution. St George District Cricket Club will receive 80% of all funds contributed.