Ross Trewartha started playing grade cricket with St George in 1983 at the age of 19. In 2020 Ross is still playing albeit a couple of games a year in the lower grades for Manly.
He played 11 seasons with St George and 3 for Manly. Over the past 10 or so years Ross has played lower grade cricket for Manly and been a wonderful contributor to the club in helping young players come through the grades and working with the junior representative teams.
Ross has the distinction of playing all 5 grades at both St George and Manly.
It's been quite a journey and as is clearly evident Ross has a wonderful outlook on the game and a true servant.
Warren Saunders Insurance Brokers are one of the proud sponsors of St George Cricket Club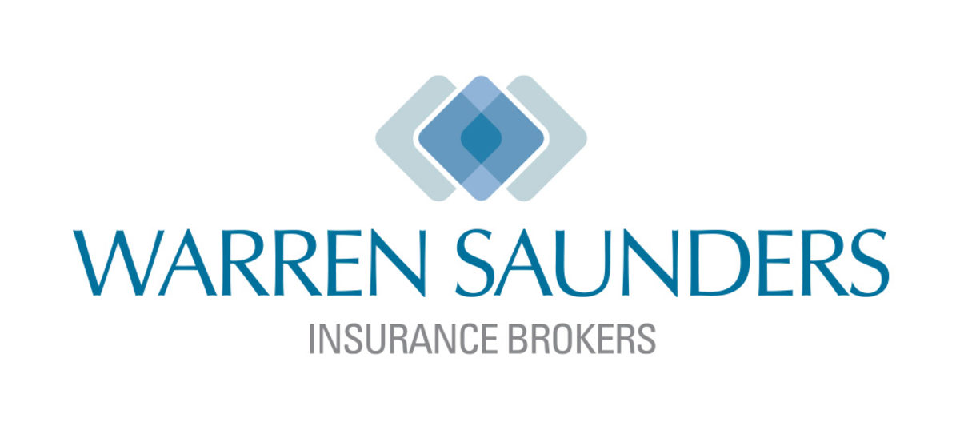 What year you were born?
1964
Can you remember you first game of cricket?
I was 8 or 9 and played in the Under U10s for Oatley West at Gannons Park. We lost outright and I scored 19 and 13 …don't remember bowling
Tell us briefly about your cricketing journey?
All my junior cricket with Oatley West, then 3 years of men's park with them, and a season for Mortdale Uniting.
From 1983/84 to 93/94 I played with St George and then Manly from 1994/95 to 1996/97. I made a comeback in 2011 and played with Manly until 2015/16 and in the last 5 seasons I've played a few games a year in the lower grades at Manly.
In 1989/90 I played two thirds of a season with the University of QLD in Brisbane Grade Cricket and spent the winter of 1988 with Malden Wanderers in the Surry League in the UK.
I also played around 4 for 5 games for Warringah Shires in 2010 ish
What other sports do you play?
These days just cricket and golf but growing up I played soccer and a few years of Aussie Rules.
In which grade and at what age did you make your debut in grade cricket?
I was 19 when I went to grade cricket and played 4th grade for Saints at Sutherland Oval. I batted at 9 and bowled 1st change. Scored 19 and took 3-18 off 15 straight overs.
My mate Mark Vandermaal scored 110 in that game, and to this day I'm still friends with him and Andrew Momsen from that team. Hadn't met them until then.
At what age did you make your first grade debut in grade cricket and what can you remember of the game?
I was 21 and it was a one day game against Wests at Hurstville. Believe it or not I opened the bowling with medium-slow (dibbly dobbly) outswingers. No wickets. The pitch was pretty green, Wests made about 130, I batted 7 made a dozen or so not out at the end.
If you can share with our audience, how would you describe yourself as a cricketer?
Batsmen who bowled a bit…. solid short leg!
What was your highest score in senior cricket?
I scored 208 not out for Uni Qld 3rd grade in my first game in Brisbane in November 1989. I went up to 2s and had 1 game in Firsts, but didn't pass 50 the rest of the season, but had a great time! Great bunch of guys at the club.
Highest score in 1st grade was 119 for St George v Wests at Hurstville.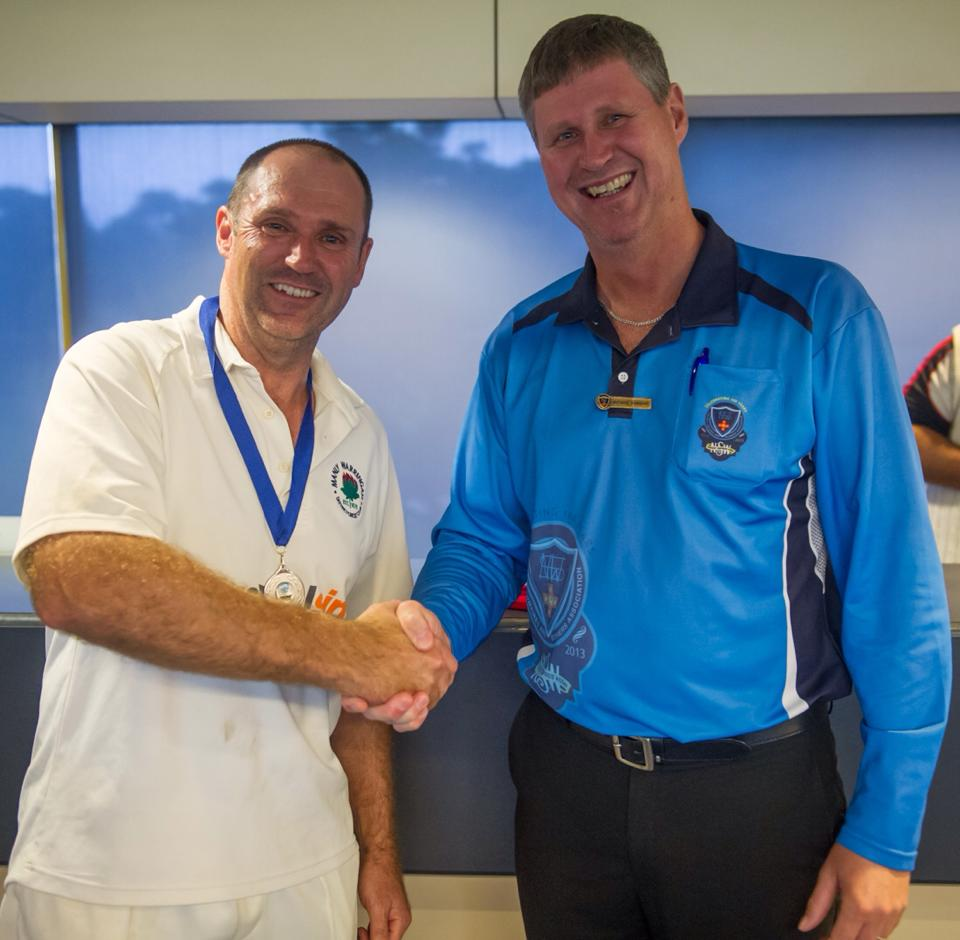 Ross - player of the 4th Grade Grand Final in 2013/14
What were your best bowling figures in senior cricket?
5-21 for Saints 4th grade game at Cook Park. Was stinking hot and we lost the toss but luckily rolled them for 40. Mark Dunkley took 5-19 at the other end.
Who were been the best three fast bowlers you have played against?
Andrew Jones, Wests and Balmain, quick and unusual action to pick up. Played him in my first game on a pretty green wicket at Hurstville with no lid back then and compared with 2nd grade he was the quickest guy I'd ever seen by a mile. John Bain who was batting when I came in gave me the heads up. Bainy said he was a "bit quicker than what I'd be used too", before he walked to the non-strikers end chuckling away to himself.
Luckily the first bouncer went down the leg side and I made it through a few overs and managed to get down the other end where I stayed. 5-6 years later against Balmain I still found him difficult…. 1st innings golden duck – yorked, then in the second innings, I was dropped at slip off my first ball……ran 2, then yorked next ball. So in 3 balls, out twice, dropped once, 2 runs!
Don Nash on a green top at Asquith when I was playing for Manly – my heavily pregnant wife nearly went into labour while watching us all duck and weave in both innings! He was brutal and we lost outright.
They were quick and good… plenty of other quality quicks around, most got me out at some point. Dave Gilbert and Murray Radcliffe were pretty decent at Wests. Nicholson, McGrath, Clark, Nikitaris, Karpinnen, Horsley.
I only played Brett Lee once when he was coming back from injury so that was good fortune.
Cracker Holdsworth beamed me once at Hurstville so that was fun. I'd bought a grill for my lid that morning, there were lots of good fast bowlers around.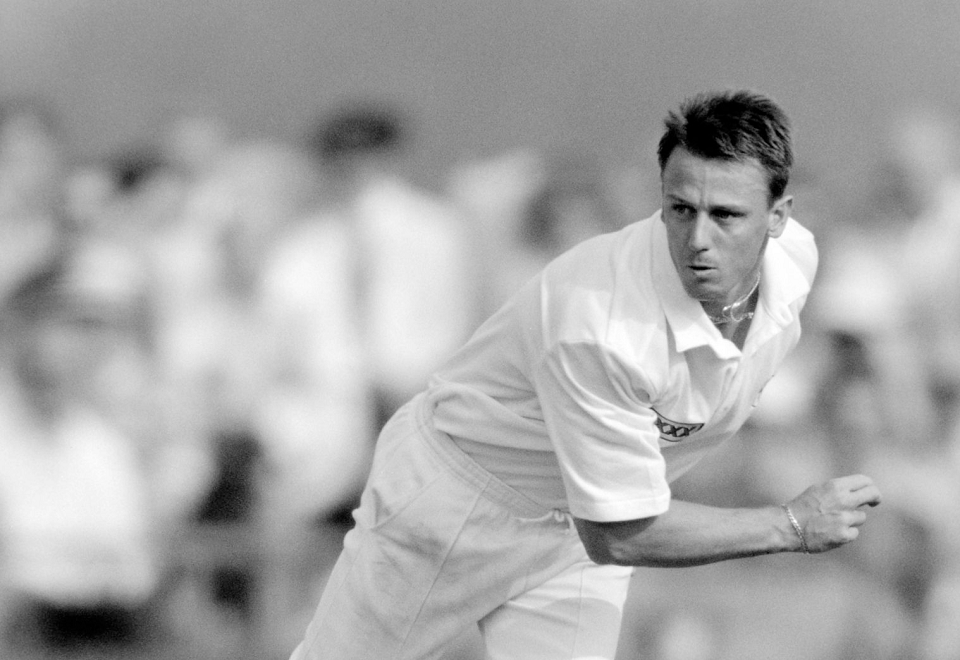 Wayne Holdsworth
Who were the best three spinners you played against?
All of them. When I first got to 1st grade I really struggled against spin. Lower grades you could sit on them and wait… but it was a different story in 1st Grade. I learnt to sweep and cut off the stumps.
Trevor Jay was pretty consistent and hard to get away, and Tom Shiner was always fun to play against because he was so vocal.
I only lasted 4 balls against David Hourn and obviously Greg Mathews was challenging on the few occasions I played against him. Wayne Mulherin from Petes, Gav Roberston, and Mark Chapman from Sutho got me out a few times. Basically most of them were too good for me.
Luckily, Murray Bennett and Mark Osborne were on our side, Murray was the best going around during his time.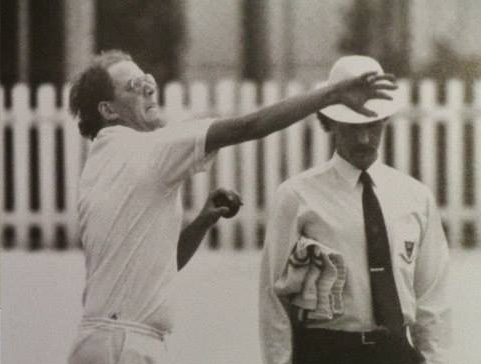 Murray Bennett bowling for St George
Who has been the best 3 batsman you've played against?
Scott Hookey scored 3-4 hundreds against us over the years. It seemed like every year he'd get runs, including a memorable innings at Manly Oval when he was 147 not out at lunch!
Greg Geise scored an effortless hundred in my first season of 1st grade. Trevor Bayliss and Marty Haywood always got runs. Back then most of the State squad players were pretty much head and shoulders above everyone else.
Brad McNamara and Geoff Milliken were certainly standouts for Saints.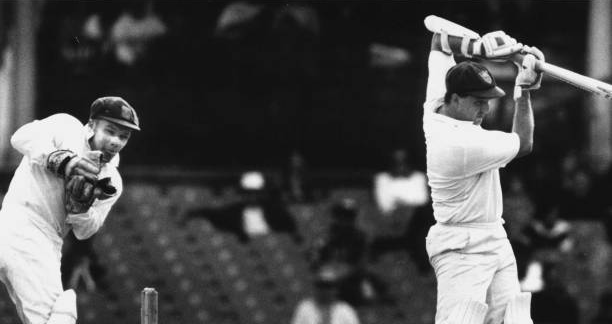 Brad McNamara playing for NSW
Who played the best innings you've seen first-hand playing with or against?
Scott Hookey is the standout. As mentioned before at Manly Oval, he absolutely slaughtered us. He hit about 10 sixes (maybe more), put one onto the Manly Ferry I think. He was out about 20 minutes after lunch for 177 (from memory) It took a great catch to get him out otherwise he'd have scored 300 or more by tea.
Plenty of others. I remember John Saint and Randall Green both put us to the sword at Hurstville in different games and I also remember standing at mid-off watching Phil Marks bomb balls over my head on his way to 80 in about an hour.
And Matt Hayden got a breezy ton in a Brisbane One Dayer before he was in the Qld squad.
For Saints though, Brad McNamara scored 5-6 in one season as did Geoff Milliken, so they played plenty of great innings.
In lower grades, a 16 year old Jeff Cook and I put on 100 in a 2s game v Balmain at Drummoyne, he got 88 of them!
Who have been the best wicket keepers you've seen firsthand playing with or against?
David Moore and Mark Atkinson.
Both great standing up, David Moore unlucky not to play more for NSW.
Atko stood up to Paul Stepto with the new ball at Hurstville one day. He was pretty quick and all over the shop like Steppy could be and from memory Atko stood up the whole time. It was unbelievable.
Who are the two players you admired most in terms of skills and competitive spirit in the competitions you played?
Brad McNamara and Geoff Milliken.
Both funny blokes and great to play with and both great to bat with.
Spike had this ability to just bat for as long as it took. Didn't matter how he looked or what was happening, he just never gave his wicket away. Massive run-scorer over the years.
I think most people who played with Brad at any level would say he was just awesome to play with.
Always in the battle whether batting or bowling and gave 100% on the field every day for Saints, irrespective of his preparation, or lack there-of, and often with a State game the next day.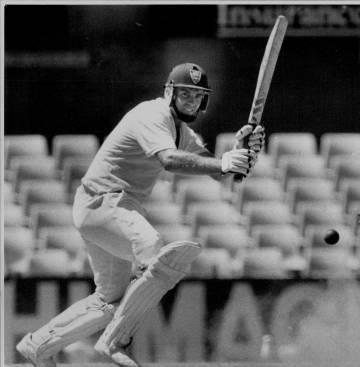 Geoff Milliken playing for NSW
Who was the best captain you had the good fortune to play with?
Wayne Turnbull was 2nd grade captain at Saints for a long time and ensured plenty of young talented players made it through to 1st grade.
When I came into 2s there were a lot of juniors coming though and a lot of talent. Guys like Graeme Rummans, Jeff Cook, Justin Gale and the Quint boys.
Wayne gave us the freedom to play virtually how we wanted, but also made us be responsible at times to get the results. He batted down the order and saved us on a few occasions, but on the whole he was happy to play 2nd fiddle to everyone.
He welcomed 3rd graders and 1st graders in the same way and there were no egos. It was a great team to play in and great memories off the field.
Who has been your funniest team mate?
Geoff Tucker and Billy Darcy from Manly.
Lots of others were entertaining on their day. Pat Farhart and Rowan Buchanan doing WWF each weekend at Hurstville was pretty funny
Who was your childhood heroes?
Roy Fredericks, Viv Richards, Rod Reddy and Teddy Goodwin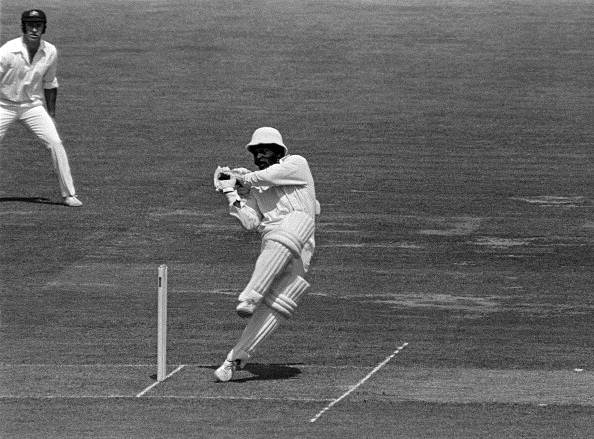 Roy Fredericks
Who's your favourite cricket commentator?
Richie Benaud and Bill Lawry, and now Ricky Ponting on t20s. He gives really good info on the game, ball by ball.
What was your favourite ground to play at?
Outside of Manly Oval (because it's never hot) and Hurstville Oval I always enjoyed Bankstown and North Sydney Oval.
Was there a particular team you especially looked forward to playing against?
Bankstown. In 1s and 2s they were always a good challenge and always good hard competitive games. In 2s we'd play them twice a year as we'd always be in the semis or finals against them.
I always seemed to do ok against Wests and enjoyed playing Balmain, good lads
What do you enjoy most about playing cricket?
It was always fun for me and I never found training a chore until I was juggling work and training. I like batting and hitting some in the middle is a good feeling. And when you're playing it's a good feeling to be fully absorbed and enjoy being on the field and not thinking about much else.
But above everything, it's the friends you make and the great people you meet. A cricket team is filled with all types, and you spend so much time together that you learn how to talk, get on, have a laugh, learn how to amuse yourselves for hours after you get out in the first over of the day…but also given the time spent together you find out a fair bit about them, so you make good friends.
It while it sounds a cliché, Cricket also builds resilience and teaches you how to cope with failure and enjoy success and the success of other people.
It's a giant community and it's just great to be part of it, and to be part cricket teams, no matter what grade.
What has been your most memorable moment in cricket?
Winning 4th grade premiership in my first season and making 100 in the final. We only needed a draw but we chased 310. I batted for about 5 hours and doubt I ever batted that long again, I was blocking full tosses! Magnificent celebrations afterwards!
My first hundred in 1st grade with Craig McComb getting 160 at the other end. We put on 284 after being 5 for 50. It's still the highest 6th wicket partnership in 1st grade.
Plenty of memorable last ball win and losses and I've been lucky to play in 8 grand finals. 50% win/loss, so yeah plenty of finals, plenty of memories.
Playing with both my boys has been pretty special too. Been lucky enough to do it more than once.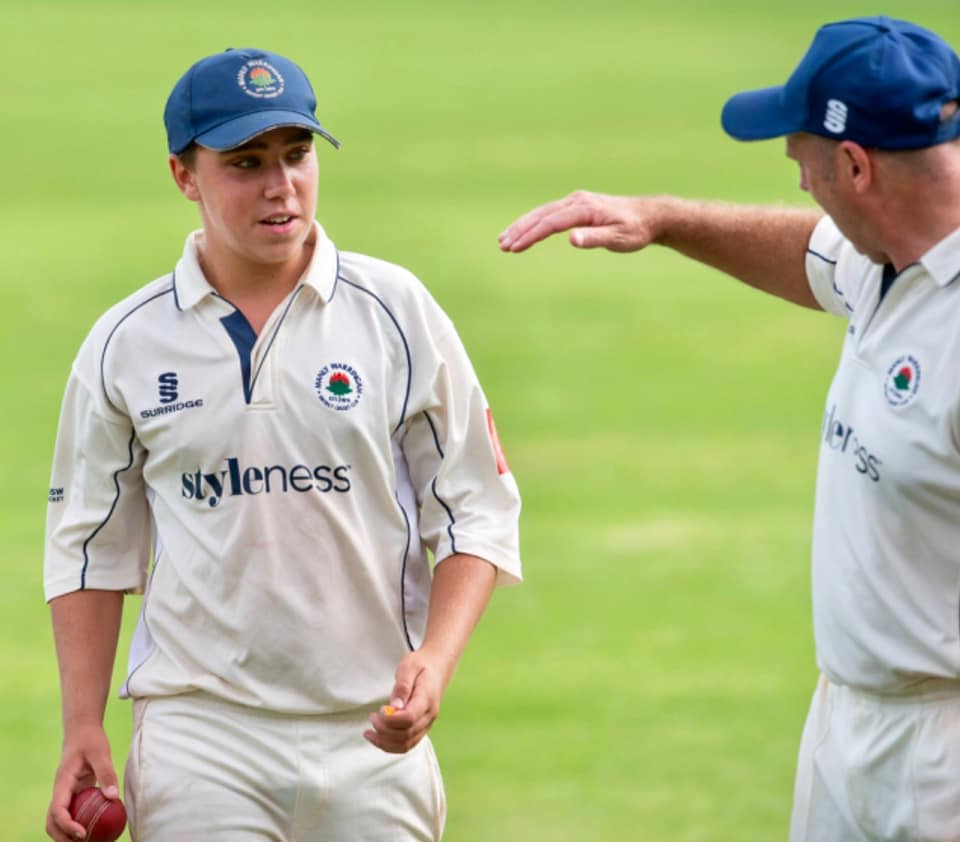 Lachlan Trewartha
Your sons are now playing grade cricket for Manly. Are you able to sit quietly on the sidelines and watch or do you roam the boundary with nerves?
Yeah I'm good at sitting. There's nothing I can do for them so I just enjoy watching and having a chat about cricket and other things.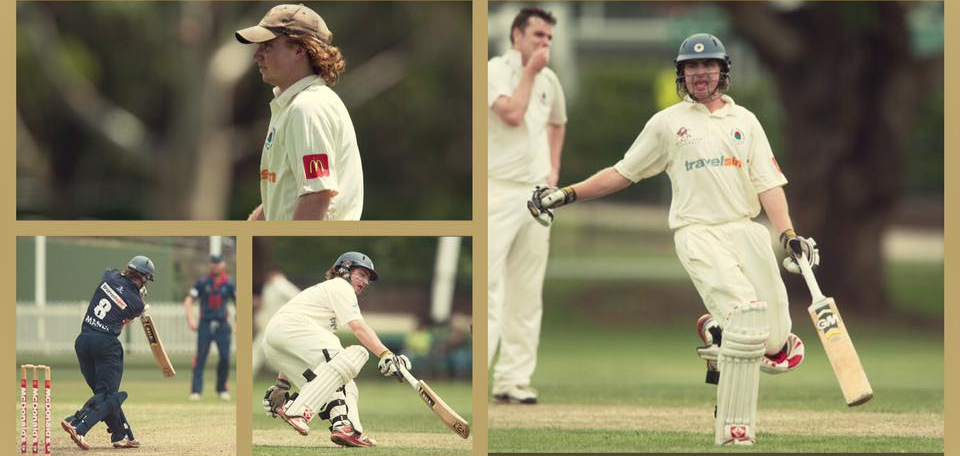 Zac Trewartha
What's the best win you've been involved with?
At Saints we played a 3rd grade semi final against Sutherland way back in 1984/85 I think it was. Barry Davison was captain of Sutherland and he called it the best game he'd ever played in.
Sutherland were minor premiers by a mile and we'd lost our first 3 games of the year but went undefeated after that to qualify 4th.
Sutherland batted first and they made about 140 ish I think. I got a 15 year old Rod Davison out first ball which was a bonus because he'd scored about 900 runs in the season.
I think we finished the day 3 or 4 down for about 40, I got a golden duck as well.
Next day we lost steady wickets including Craig McComb who smashed half-tracker into short legs arse and was caught. We scraped along and our Number 7/8 Ross Hobden made 35 or 40 not out to get us home by 1 wicket, as he'd done for us a few times that year.
Sutherland went back in and declared about 160 in front with probably 50 overs to go or so. We ended up chasing the target down but we had a few scares along the way.
We lost the final to Randwick the next weekend.
We had a similar game the following year in 2nd grade grand final on a wetty against Norths at Bankstown when Pat Farhart took 8 wickets. We fell over the line maybe 8-9 down
Also Graham Chudleigh referred to one the other day in 2s Saints v Bankstown. We made 300 and they were 8-299 and Steppy took 2 wickets in 2 balls and we won !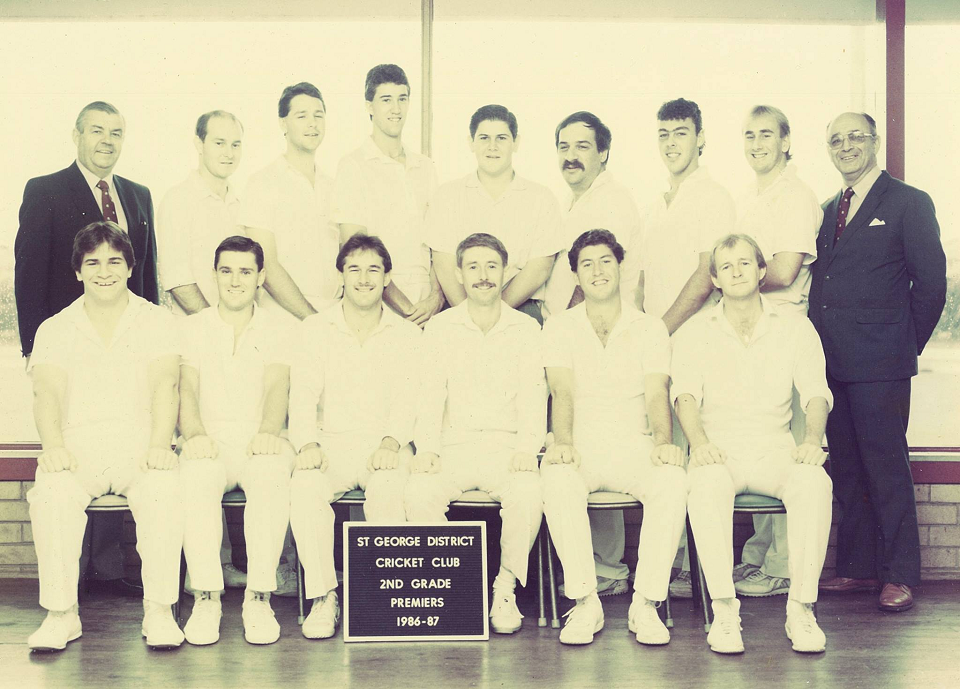 St George 2nd Grade Premiers 1986/87
Back row – Warren Saunders, Matt Hayes, Gary Mulcahy, Justin Quint, Brendan Pavey (scorer), Peter Nicholson, Ross Hobden, Mark Gardner, John Russell (secretary)
Front row – Craig McComb, Ross Trewartha, Greg Matchett, Wayne Turnbull, Dave Roberts, Trevor Trotman
What is your favourite sports movie or documentary?
Death of a Gentleman
Free Solo – it's about free climbing. Just crazy, but amazing and terrifying all at the same time.
I haven't seen the Test or the Chicago Bulls one yet.
What's the one thing about you most people don't know about?
Probably nothing in particular, apart from 2 sons I also have 2 daughters, most people seem surprised at that!!
.. and I got Mathew Hayden out in a game in Brisbane, my only test victim! He probably doesn't know that either !
What are your hobbies?
None really, play some golf, watch cricket and other sports. Watch Netflix, love crime thrillers, comedy/drama and horror.
What's the best advice you've received?
90% of life is just turning up.
Are you still involved in cricket and if so, in what capacity?
For a dozen years up until 2 years ago I was involved in the Manly junior representative set-up, either as a coach and or chairman for a few years.
I still play a few lower grade games for Manly as a fill in.
If you were running Cricket NSW what would your 2 priorities to ensure cricket in NSW remained strong and successful on and off the field?
Don't get me wrong, I think it's great that more players can make a decent living but I think grade cricket is the best pathway we have and it seems like it's been put on the back burner in recent years with so much emphasis on youth pathways etc.
So I think I'd pay more attention to the players who do well in 1st grade. Doing it week in and week out in grade cricket should count for more in selections. There seems an unhealthy and at times unfair obsession with youth. One day someone will take out a law suit for unfair non-selection!
I think there's also an obsession with 'not playing' and resting or just training. Again, I know there's contracts and money and guys careers but use the grade system as a training ground and a form of higher level preparation in its own right.
Despite what some think, you can't fully replicate match conditions anywhere else but in a live game. It'd be nice to see fringe state players and Big Bash players released more to clubs rather than wrapped in cotton wool for very little genuine reason other than they are the 15th man for a Big Bash franchise and have to be around the team, or that they may have played a little bit during the week.
Join the cricket network to promote your business and expertise. Make it easy for people to search and find the people and services they need through people they know and trust.
Join the network
If you'd like to see more content from St George District Cricket Club, they'd be very grateful for your support and contribution. St George District Cricket Club will receive 80% of all funds contributed.