To celebrate the Centenary of First Grade Cricket for St George DCC in 2020-21 we'll be taking the opportunity to catch up with some of our esteemed former first grade legends to find out more about them and their time with The Saints.
First up we have the charismatic Jeremy Bray, a true cricketing journeyman who went from winning a premiership with St George to playing in the 2007 Cricket World Cup for Ireland
Club Central Hurstville is one of the proud sponsors of St George District Cricket Club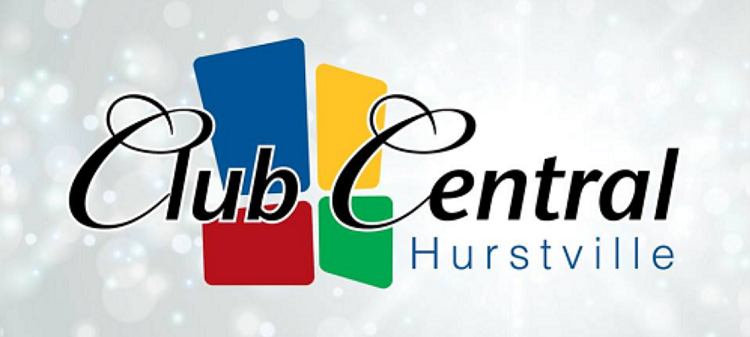 What year you were born and where?
30TH November 1973, Newtown, Sydney, NSW
Can you remember your first game of cricket?
My first competitive game was in the U13's for Christian Brothers High School, Lewisham. I was 11 years old and I think I was batting as a tailender who bowled some rubbish spin. Definitely didn't score many runs but maybe a few cheeky wickets.
Tell us briefly about your cricketing journey?
I played my school cricket with CBHS Lewisham right up until I left school. I made my senior debut for the school when I was 13 which was pretty scary since all the senior guys were 17 and 18.
I started my club cricket with Petersham Marrickville, now the Randy Petes and spent about 3 great years with them until I moved to the legendary St George District Cricket Club, where I played for 3 seasons before I left for Ireland.
I played club cricket in Ireland for 15 years playing for Pheonix, Clontarf, The Hills, Ymca and briefly Rush in the Leinster province. I played just under 2 seasons for CYMS in Belfast in the Northern Province and Eglinton CC in the North West Cricket Province. All great clubs in their own right. I also played for Joondalup in Western Australia and Camberwell Magpies in Victoria who were also brilliant clubs to have played for.
What other sports do you play?
I don't play any other sports now but I used to play a lot of tennis which I hope to return to one day. I also played soccer and rugby league as a youngster.
Who is your favourite sports movie or documentary?
I actually haven't watched too many sport movies or documentaries. But I love major league with Charlie Sheen if that counts. I am a cricket tragic so anything that is cricket related I love.
Who's your favourite cricket commentator?
Ricky Ponting, Ian Chappell and Mark Waugh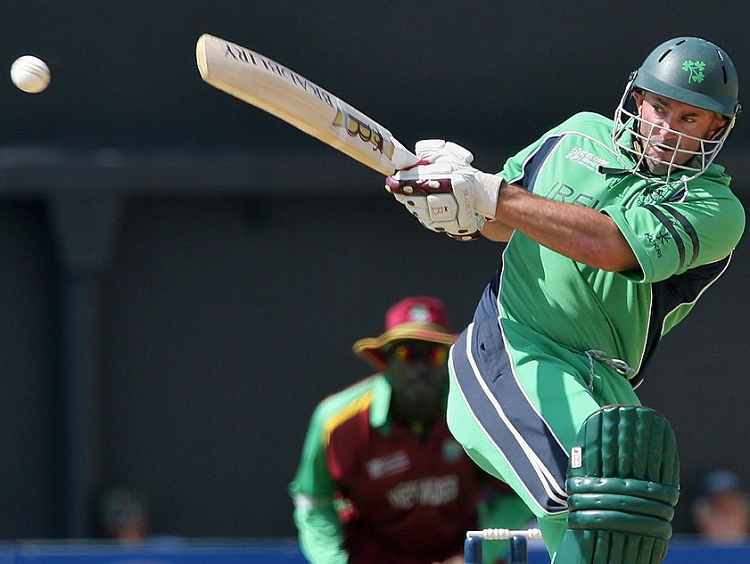 Jeremy Bray playing for Ireland against the West Indies
What's the one thing about you most people don't know about?
I am extremely good looking and a former male model lololol
How many years did you play at St George?
Just under 4 seasons
St George Nickname?
Words
Highest Level Played (St George or Representative including Jnr Level)?
Played NSW U19'S, 2ND X11 and 2 list A games for NSW against Transvaal 1st class team from South Africa and New Zealand. Australian u19 representative and player of the Under 19 state carnival. Represented Ireland for 5 years before retiring and had the honour of playing in the 2007 World Cup in the Caribbean.
What's your highest score in senior cricket?
It was in Ireland I think I got 170 in a 50 over game against Clontarf. (Editorial Note: Jeremy seems to have forgotten his highest first class score of 190 against the Unite Arab Emirates which was actually a record for Ireland that was only surpassed by Eoin Morgan double century.)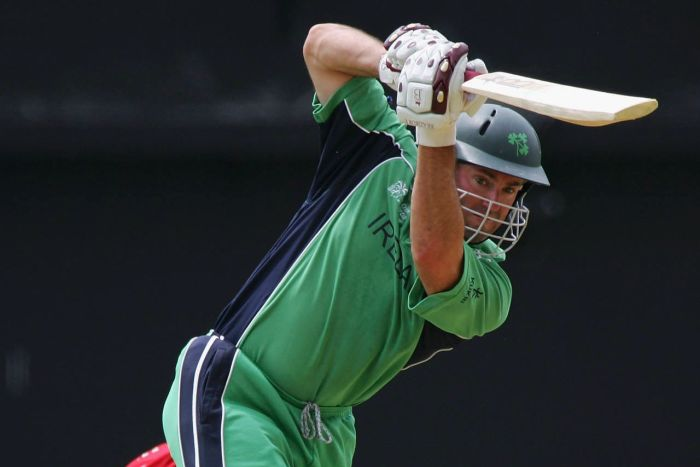 Jeremy Bray on his way to a century for Ireland against Zimbabwe in the 2007 World Cup
Highest Score for St George?
I think it was around 160 (Editorial Note: 159 not out in the 2nd Innings of the 1996-97 Final to seal a famous victory for St George against Mosman in which he scored 76 in the 1st innings).
What has been your best bowling figures in senior cricket?
4 wickets for 1 run in Ireland. All 4 wickets were off absolute pies against a rubbish team
For St George?
My last game for St George I was given my first over in senior cricket and I got one of the Aitkens out caught by the one and only Buzzard McNamara at slip.
Who has been the scariest bowler you have played against so far?
Steve Harmison was easily the quickest I faced. Brett Lee, Steve Nikitaras on his day was as sharp as anyone as was Brad Williams. I always hated facing Stuart Clarke, even though he wasn't quick he was an awesome bowler whose bouncer was lethal as I couldn't pick it.
Who has been the best spinner you have played against so far?
Greg Mathews and Graham Swann by a mile.
Who has been the best batsman you've played against?
Adam Gilchrist, Brian Lara and Anthony McQuire before he went to the Cricket Academy in Adelaide.
Who has been your funniest St George team mate?
Brad McNamara by a mile then Paul Ryan.
Who was your childhood hero?
Probably Allan Border and most definitely Sachin Tendulkar throughout my career and still now.
Who are the three sports people in the world you'd most like to meet?
Andre Agassi, Tiger Woods and Virat Kohli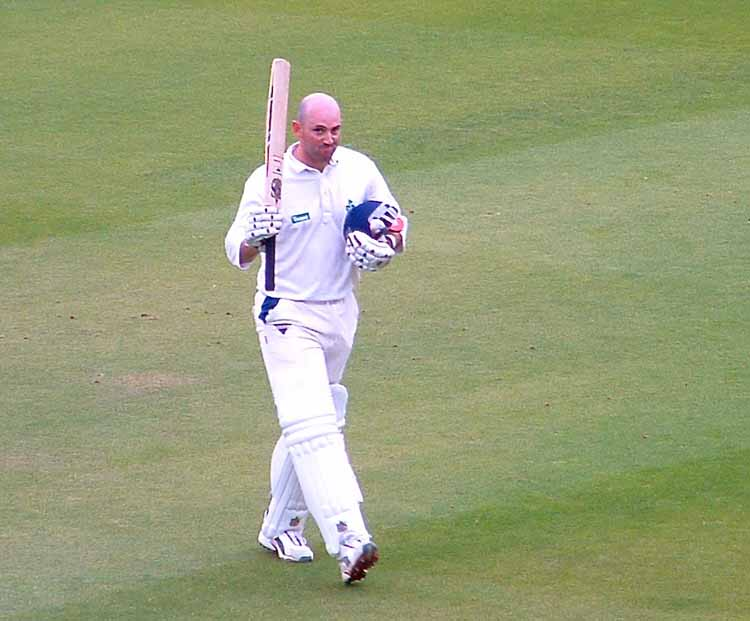 Name some St George players you admire most in terms of skills and competitive spirit?
Paul Ryan, never took a backward step and should have played for NSW as a keeper/batsman.
Geoff "the spike" Milliken, as tough as they come and love how determined a player he was.
Anthony McQuire, unbelievable talent and I have no doubt if he hadn't gone down to the Cricket Academy in South Australia he would have played for Australia. Still a great player but not the same when he came back from the year he spent in Adelaide where they changed his game in my opinion to his detriment.
Greatest St George influence?
Paul Ryan.
What do you enjoy most about playing cricket?
Being with your mates in the heat of battle.
What didn't you like?
Being hungover and having to play and face someone rapid.
What did you enjoy most about playing at St George?
The unbelievably proud tradition of the club and the awesome people that it attracts to the club and the people within.
What has been your most memorable moment in cricket?
Just playing with and making friends for life. Best sport ever for that.
At St George?
Winning the premiership v Mosman with probably the best group of players I have ever played cricket with in all my years.
Favorite Saints Tradition?
Winning mentality
Tell us about the best win you've been involved with?
The First Grade Grand Final against Mosman in 1996/97. Mosman had a team of superstars. Brett and Shane Lee, Martin Hayward, Phil Alley plus a host of others.
For Ireland it would be beating Bangladesh, Pakistan the West indies and Surrey County cricket club with 9 international players.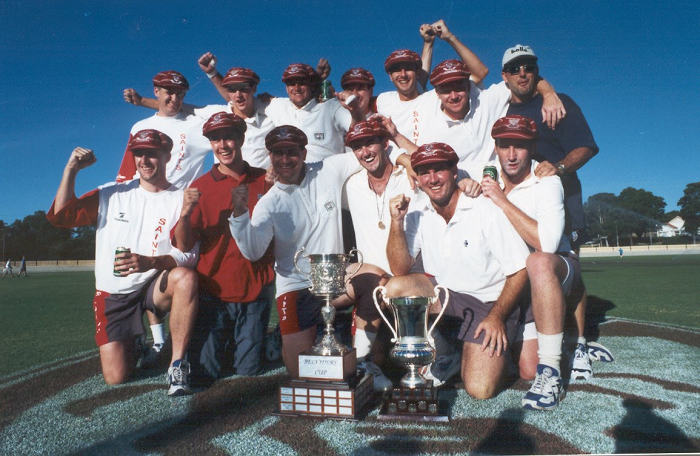 St George 1996/97 premiership winning team
"Favorite" worst injury playing cricket?
Plenty of broken and fractured fingers
Favorite Beverage?
Beer
Favorite Food?
Indian
Favorite Holiday Destination?
Perth Western Australia and Nerja in Spain
What are your hobbies?
Cricket, cricket and more cricket.
What's the best advice you've received?
Play straight and get your head close to the ball. Pretty simple but great advice.
Coaching Credentials?
I'm an ECB Level 3 coach and I have tutored the last 3 years on the ICC Global level 3 in Dubai and specialize in the batting. I have coached Ginninderra Cricket Club in Canberra, ACT Comets assistant coach for a season, Ireland senior ladies and Irish Under 19 boys. Got both the Irish sides to qualify for their respective World Cups.
What do you do for a living?
Professional cricket coach. Currently the National Head coach of Denmark.
Greatest achievement outside of cricket?
My 2 sons
Advise to any youngsters looking to make it?
Become a scholar of the game, do your coaching badges as it makes you so much more self-aware of your game and the game itself and if you think you are working hard, you need to work harder. Work hard but smart.
Join the cricket network to promote your business and expertise. Make it easy for people to search and find the people and services they need through people they know and trust.
Join the network
If you'd like to see more content from St George District Cricket Club, they'd be very grateful for your support and contribution. St George District Cricket Club will receive 80% of all funds contributed.