The legendary cricket exploits of W. J. "Tiger" O'Reilly are very well known. Club records show, that Bill took an amazing 766 wickets at an average of 8.7 runs in his years playing first grade cricket for St George.
Those same records show that another O'Reilly - John William (St George Player No 186) and no relation to Tiger Bill – played 9 successful seasons with St. George. At the end of his time with St George in 1965-66, this "Other O'Reilly" ranked among the club's top wicket-takers after Bill, having taken 304 wickets at an average of 18.4.
In 7 of his 9 seasons at St George, John took out the club's aggregate and/or average bowling honours. John was among the leading Sydney First Grade wicket takers in many of these years being the top wicket taker in 1958-59 and 1962-63.
John was a vastly different style of slow bowler to Bill. When you read some of the match reports of the day, you are left wondering whether the "Other O'Reilly", was a leg spinner or an "offie". The truth is that as a slow leg spin bowler he relied on variation, persistence and accuracy, and was adept at using the breeze to exploit a batsman's weakness.
Warren Saunders Insurance Brokers are one of the proud sponsors of St George Cricket Club
John O'Reilly's significant contribution to the St George story during the Warren Saunders' era of the late 1950s and 60s is supported by his outstanding performances during this time and his selection in the St George 1960-70 Team of the Decade. 304 wickets at 18.4 average per wicket for St George speaks for itself. John also took close to another 100 wickets prior to his time at St George with Mosman and Petersham taking his overall 1st Grade wicket tally to just under 400.
In achieving his 304 wickets over 9 seasons with St George, the following performances are highlighted:
1957-58 – 50 wickets at 15. (St George Aggregate/Average, 6-15 v Waverley, 6-50 v Gordon, 5-61 v Balmain, 5-22 v Mosman, 5-37 v Northern Districts).
1958-59 - 42 wickets @ 18.02 (1st Grade Aggregate, 7-60 v Waverley, 5-30 v University).
1959-60 – 24 wickets @ 20. (5-69 v Paddington)
1960-61 – 19 wickets @17.77 (St George average, missed most of season with fractured ankle, 8-64 v Waverley, 3-57 v Mosman in Final – St George Premiership.) Also took 6-144 v Fiji XI at Hurstville.
1961-62 – 27 wickets @ 20.51 (St George aggregate, 7-30 v Cumberland)
1962-63 – 42 wickets @ 15.5 (1st Grade Aggregate/Average)
1963-64 – 33 wickets @ 18.75 (St George Aggregate)
1964-65 – 33 wickets @ 21 (St George Aggregate)
1965-66 – 34 wickets (7-59 v Sydney)
In 7 Shield matches for NSW, John scored 190 runs at 38 and took 13 wickets at 24.9.
John started playing for St. George in 1957. At this time he had already established himself as a first class cricketer having been selected for the very strong NSW Shield team in 1954 and impressing particularly with his batting prowess in his initial 3 games against WA, SA and Queensland (96 runs @ 48 and 5 wickets @ 30.2).
In fact, John started his First Grade cricket career with Mosman as a school boy way back in 1947. It is worth noting that John, aged 15, in his first game of grade cricket in the previous season with Mosman Third Grade made a most memorable debut. He took 7 wickets for 10 runs on a perfect Mosman Oval batting wicket. The team captain reported that the young spinner was only brought on for one over to enable the opening bowlers to change ends. As it happened, John bowled two batsmen out in that one over but was taken off, only to be brought back later on when the fast bowlers failed to have any real impact, to take another 5 wickets for 7 runs.
Playing in the local Under 16 Competition, John had already given early indications of his batting potential in scoring 160 runs and winning the trophy for the highest individual innings of the season.
In the course of that first season (1945/46) with Mosman, John went on to establish a new Third Grade Club bowling average record of 5.08 runs per wicket that has yet to be beaten by a slow bowler.
Despite limited bowling opportunities, John quickly established himself as a First Grade cricketer in his time with Mosman batting mostly at No.4. He also did well in the Mosman Poidevin-Gray (Under 21) team (which also included future test players Graeme Hole and Ian Craig). The Mosman Club Annual Report extract states:
"John O'Reilly headed the aggregate and average for the second season in succession, scoring 318 runs at an average of 53. His two consecutive centuries, 119 v Glebe and 102 not out versus Randwick, were gained by sheer determination. He also took most wickets."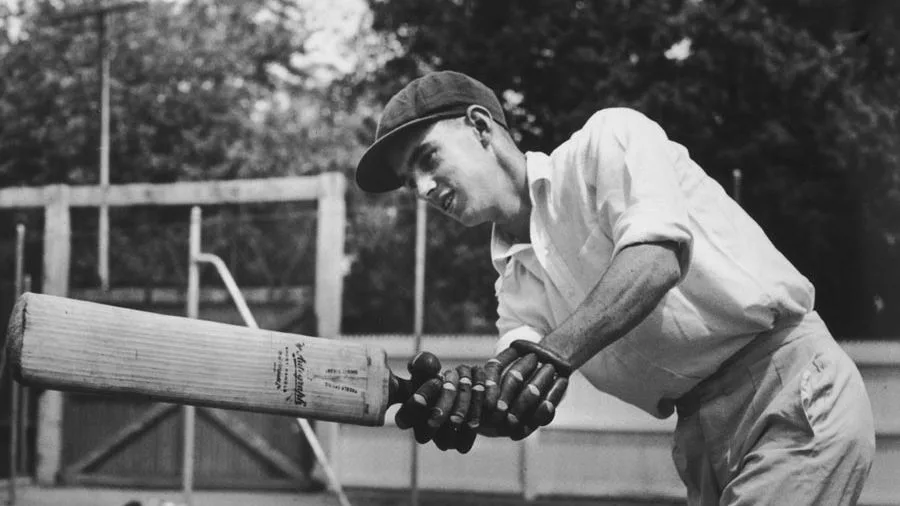 Ian Craig - John O'Reiily's Poidevin Gray team mate at Mosman became the youngest Australian Test Cricket Captain at just 22 years of age
In January 1952 - shortly after turning 21- John was transferred from the Sydney Taxation Office (where he had been working since leaving school), to the Head Office in Canberra. He travelled down to Sydney each weekend to finish off that cricket season in First Grade with Mosman, scoring 238 runs at an average of 59.75 and taking 15 wickets at 18.80.
Next season, after taking up residence and starting work in the ACT, he soon made a name for himself as a promising all rounder in Canberra and Country representative cricket. He captained Canberra to a Burns Cup victory and played a major part in the new club Turner taking out consecutive First Grade premierships. John contributed match winning "doubles" in the two finals, with runs and wickets in the first and a century and 8 for 137 with the ball in the second.
During the period up to December 1954 that he played cricket in Canberra, John had the "Tiger-like" season bowling figures of 71 wickets at 10.1 average and 65 wickets at 7.95. In one match in 1953 John took 15 for 77 (8-21 and 7-33) to get outright points.
John's batting was no less impressive. In four successive innings John scored centuries in ACT and representative Country cricket matches. As the dominant cricketer during this time in Canberra John won numerous awards and his feats were widely recognised by the ACT Cricket Association and in the local press.
Against the touring NSW Sheffield Shield team in a match at Goulburn, he top scored with 32 out of a team total of 102 in the first innings, and 104 not out in the second, against the NSW bowling attack consisting of Miller, Lindwall, Davidson, Benaud and Simpson.
An interesting incident occurred late in the match that had spectators at the ground puzzled. According to the Goulburn newspaper report of the day's play, John was on 93 at the start of the last over of the match with the other Goulburn batsman on strike. The Goulburn batsman hit the first ball to deep mid- off and they ran through for an easy single to give John the strike and the chance of getting a well - earned century. However, on reaching the ball, the NSW fieldsman (reputedly Alan Davidson) kicked it over the boundary with the aim of keeping the other batsman on strike. Captain Keith Miller argued the case but the umpire maintained his decision and awarded the Goulburn batsman 5 runs (instead of a four), thus giving John the strike. The report went on to describe John's century innings as full of confidence and good strokes, and indicated that he had several times hooked faster balls from Miller for fours.
Shortly after the Goulburn match, John was selected to captain the NSW Colts against the Queensland Colts in Brisbane in December 1953.
Having lost the toss, the NSW Colts were sent in to bat on a dangerous rain affected wicket. John scored a brilliant 113 runs (including 13 fours) after receiving a nasty blow to the head from the Queensland fast bowler Barry Fisher early in his innings. Billy Watson (St George player No 169) was also hit and had to retire hurt but came back in after treatment to put on a partnership of 126 with John which set up an unlikely victory for NSW.
John's outstanding batting achievements during this period led to his selection in the NSW Sheffield Shield team to play against Western Australia and South Australia in February 1954. In his 2 games in the 1953-54 Shield season John scored 77 runs at 77 average and took 2 wickets at 24.5 average.
In the press at the time, John's innings of 41 not out against WA at the SCG was especially highly praised, and he was given full marks for his impressive stroke making, particularly the cover drive and scoring at twice the rate of a noted aggressive batsman Keith Miller during their partnership. Favourable batting comparisons were also drawn with the likes of Ian Craig and Bobby Simpson also making their first class debuts. As Sydney Morning Herald cricket columnist, Bill O'Reilly himself wrote that he had not "seen a better debut for many years". Based on John's batting performances in his first two shield games, the press were listing him as a potential future Ashes tourist.
Following his first 2 Shield games in the previous season, John was selected to play against Queensland in Brisbane with the NSW Sheffield side in October 1954. Billy Watson was also in that team along with Miller (Captain), Morris, Burke, Davidson, Benaud and Simpson. John batted at number 8 scoring 19 and toiled away with the ball taking 3 Queensland wickets for 78 off 22 overs as Queensland compiled a big score on a good SCG wicket. (Richie Benaud's figures were 0 for 87 off 27 overs). This was not, however, good enough for him to retain his position in the strong NSW Shield side. John was selected as 12th man in the NSW Team that played the MCC team at the SCG in November 1954.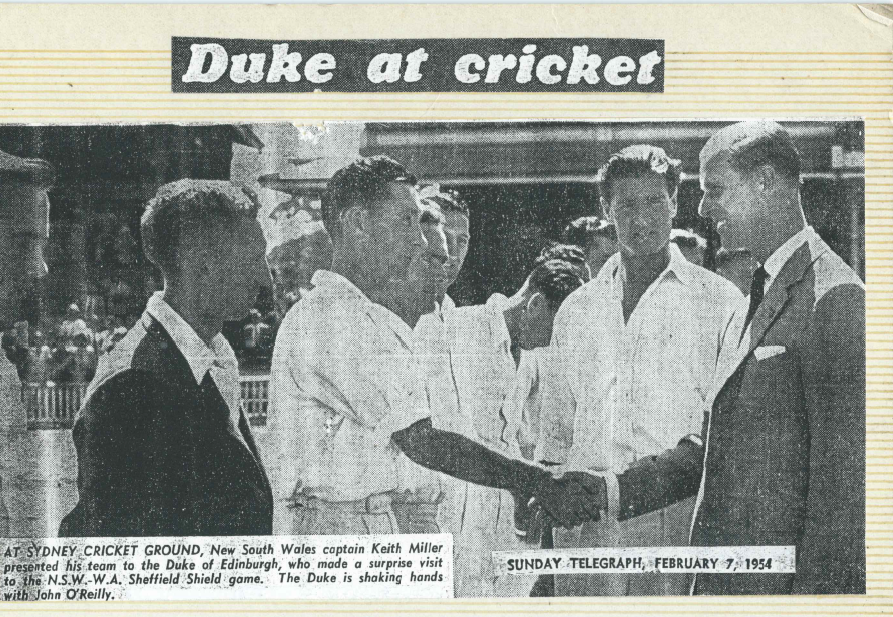 John O'Reilly meets the Duke of Edinburgh
About this time - that is towards the end of 1954 - John followed up the suggestion of one of the NSW State selectors and sought a transfer in his work back from the Canberra Head Office to the Sydney Taxation Office. The transfer was approved on the proviso that John meet stringent technical and performance requirements within 6 months that would normally take a number of years to achieve. These requirements were met but were an additional challenge as John sought to also establish himself back into the very strong NSW Shield team.
John moved back to Sydney in December 1954 to work in the Sydney Office, and rejoined the Mosman First Grade team to play out the second half of the 1954-55 cricket season. He scored 238 runs at an average of 59.75 (including 102 not out against Waverly and 87 not out against Northern Districts). He also took 15 wickets at 18.80 despite limited bowling opportunities.
John signed up to play with Petersham in the 1955-56 season, but only played 8 matches as the result of breaking a knee cap whilst practising with the State cricket squad. He was a member of the Petersham team that took out the First Grade premiership with Bobby Simpson at the helm.
After a further season with Petersham in 1956-57, John decided to try out for St. George in the hope of getting more bowling opportunities. A key factor in this decision was his existing friendship with Warren Saunders ("Mr St. George"), and the fact that he and Warren were already having regular Sunday morning pre-season practise sessions at the Kogarah Marist Brothers cricket nets. There was, however, another important development.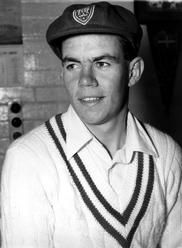 Warren Saunders
Around this time, the friendship and personal connection between John and Warren was cemented as a consequence of Warren setting John up with a blind-date with Warren's cousin Patricia Curran, who was at one time Ken Rosewall's mixed doubles tennis partner.
To cut a long story short, John and Patricia "hit it off" and married in mid 1956, taking up residence in the St. George area shortly after.
Warren is, of course, widely known and respected for his achievements in many spheres as a "Match winner". But in the context of the "Other O'Reilly" family, he also has a very special place as the ultimate "Match maker".
It is interesting to note that both John and Warren were ball boys in their early years, Warren with St. George Dragons and John with the North Sydney Bears. Both are Marist Brothers old boys, Warren with Kogarah and John with Mosman. Both served for a time as a Director of a Rugby Leagues Club, Warren with the St. George Leagues Club and John as a founding Director of the North Sydney Leagues Club. Both had fathers prominent in rugby league circles.
John's hopes of getting more First Grade bowling opportunities were quickly realised. He had an immediate impact, taking 6 wickets in his first game for St. George, and went on to take 50 wickets at an average of 15 in his first season with the club. He followed this up by topping the First Grade bowling aggregate with 42 wickets at an average of 18.02 in his second year, and continued to be the mainstay of the St. George attack up until his retirement from First Grade cricket seven years later.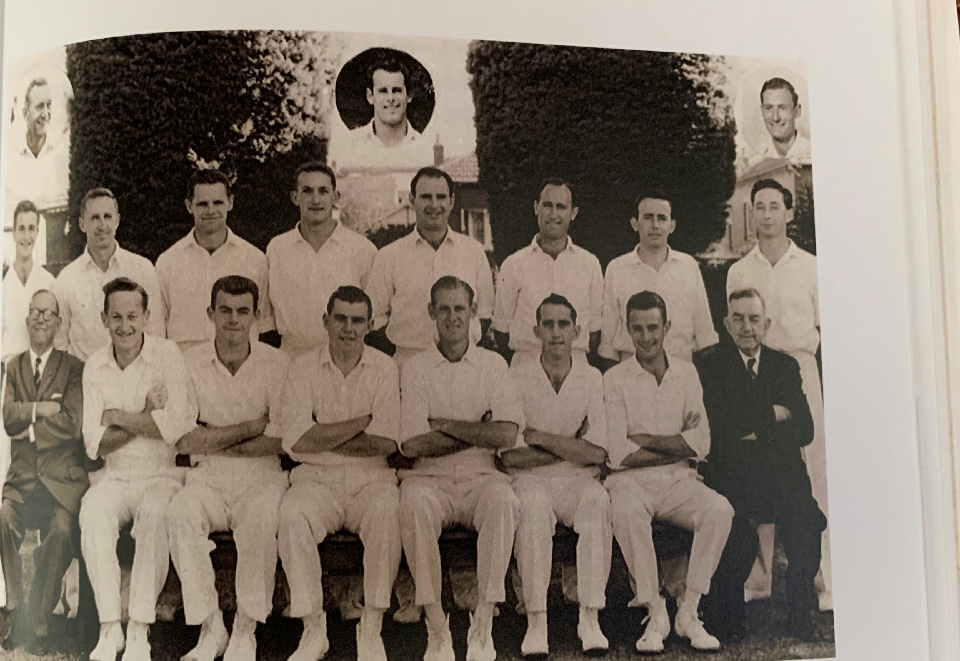 St George First Grade Premiers 1960 - 61
Insets at top left to right - George Barter, Norm O'Neill, Brian Booth.
Back Row, left to right - Len Joyner, Billy Watson, Keith Francis, Don Hinks, Ray Flockton, Viv Michael, Billy Salmon, John O'Reilly.
Front Row, left to right - Frank Cush (President), Don Harkness, Les Edwards, Warren Saunders (captain), Don Buchanan, Grant LeHuray, Don Crew, AL Blackshaw (Patron).
In recognition of his bowling achievements with St. George, John was reinstated in the NSW Sheffield Shield side after a 3 year absence. In the 1958/59 season, he played against Queensland scoring 40 runs (after taking 6 for 36 against a Combined Country team on the way to Brisbane); played against South Australia in Sydney (taking 3 wickets for 62 ); and toured the southern states.
During the Shield match against South Australia John had a partnership of 81 runs with Brian Booth (St George Player No.168) and took 2 for 32 with the ball. John was 12th man in the other two Shield matches against Western Australia and Victoria, and hopes that team mates still remember his decision to include a Father Christmas outfit with his cricket gear when packing for the 1958/59 Southern States tour. This was a time when the Boxing Day cricket was a hotly contested traditional NSW v Victoria Shield match.
As 12th man for the game against Victoria played over the Christmas holiday period (with Christmas Day as a rest day), John arranged to have Ray Flockton (St George Player No. 198) dress up in the Santa outfit, and distribute token gifts bought for each of the players in the course of the team's Christmas Day luncheon.
Later during the 1958/59 season – in the absence of Warren and the other three top order St. George representative players due to Shield commitments, and bowler Keith Francis out with a fractured hand - John captained the St. George First Grade team in a drawn game against Gordon. He scored 143 not out of the team's total of 240 (after having been 6 for 66 at one stage), batting higher in the order and taking responsibility for the innings and leading the side with 5 St George players making their debuts. He also took 4/84 with the ball.
Given John's stellar batting achievements earlier in his career, the fact that his outstanding 143 N.O against Gordon was his only century in his 9 years with St. George showed how his role had developed primarily into the team's "go to" bowler. John often made the first breakthrough after a good start by the opposition or changed the course of the game with wickets when the game looked lost. His tight bowling with Keith Francis often strangled batting line ups generating batting collapses leading to victories. Batting at Number 7 behind a strong line up including Saunders, Watson, O'Neill, Booth, John was a reliable contributor when called on either to chase quick runs or to steady the innings.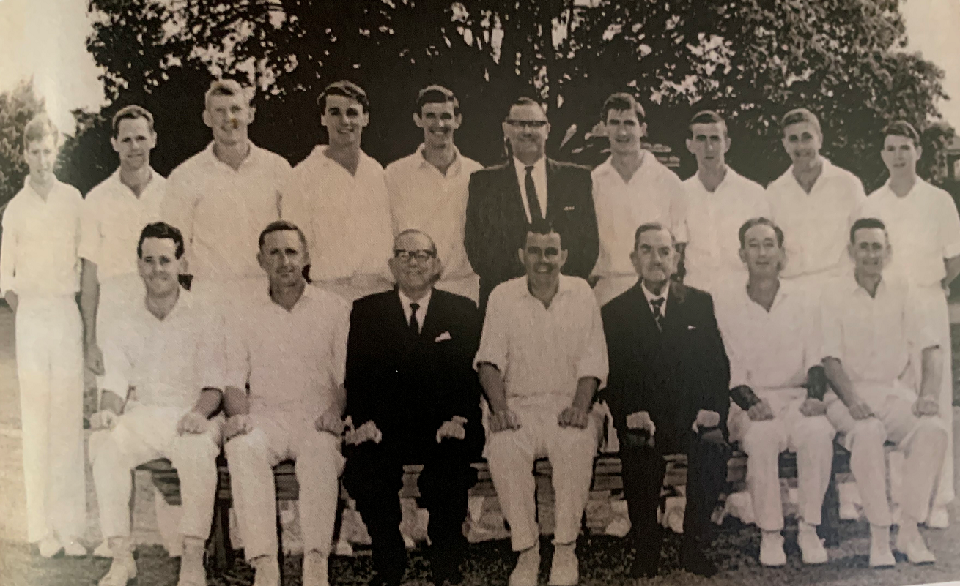 St George First Grade Premiers 1965 - 66
Back Row, left to right - John Rogers, Keith Francis, Peter Leslie, Graham James, John Wilson, Eric Johnson (Secretary), John Martin, Rod Luckman, Eddie Attwool, Ray Tozer.
Front Row, left to right - Vic Cristofani, Billy Watson, Frank Cush (President), Warren Saunders (Captain), AL Blackshaw (Patron), John O'Reilly, Brian Booth.
After his retirement from Sydney grade cricket in 1968, John and Patricia and their young family moved to Canberra for John to take up an executive position in the Head Office of the Taxation Office.
With his three young sons all showing interest in playing cricket, he soon got involved in coaching junior cricket teams, and was instrumental in the start-up of the successful Sunday Social Cricket Competition in Canberra.
John organised for a Taxation Office team to participate in this competition, and the records show that he continued to come up with some fine results with bat and ball.
In 1982, John was appointed to the position of Assistant Deputy Commissioner of the Parramatta Taxation Office. He subsequently retired in 1986 as a Senior Assistant Commissioner in the Sydney Taxation Office.
His three boys have all enjoyed a measure of success as cricketers. Michael played some first grade games in Canberra before establishing a successful and award winning mortgage broking business (MOR Mortgage Options); Peter (St George Player No 275) played 207 first grade games over 14 seasons with St George, Western Suburbs, Campbelltown and Northern Districts scoring over 6000 runs in the top grade. Peter has played the last 4 seasons with Macquarie University in the Sydney Shires competition and at Masters and Veterans levels in Sydney; and youngest son Steve scored close to 10000 runs for Macquarie University with a record 9 centuries to his name.
This "Another O'Reilly St. George Cricket Story" started off with a brief reference to the cricketing exploits of the great William John "Tiger" O'Reilly.
It is appropriate to draw this Story to a close with a brief reference to the exploits of another William John "Bill" O'Reilly - John's Grandfather - who came to Australia from Ireland on his own in 1890 as a teenager.
This young Bill O'Reilly joined the NSW police force in 1897 and retired as an Inspector in 1930 after 33 years service. He received various awards and commendations during his police career. For example, he was a pivotal figure in the 1923 "Baby in a suitcase" murder investigation; stopped a runaway horse and buggy; rescued two women from a burning building; "collared" and arrested on his own four men attacking him with bottles; brought to justice armed thieves and crooks and so forth.
He was also a champion athlete (as was Tiger Bill). His athletic achievements are summarised in the following tribute on his death at age 72 in 1942:
"In his younger days, he was a well known athlete, holding Australasian and New South Wales records for the shot- putt and hammer throw. He competed in New Zealand and State championships until he was 44".
At the age of 63, he was still being referred to as the "caber king" in the light of his mastery at tossing the 10ft (200lb) pole at the Scottish or Highland games events. It was also said that he had never been beaten at "collar and elbow" wrestling, something he had apparently included in his athletic repertoire as a boy athlete in Ireland.
Looking through John's grandfather's scrapbook records, you soon realise that it is not possible in these notes to do full justice to the police service and athletic achievements of this "Other Great W.J. "Bill" O'Reilly".
What a pity the "original" Bill O'Reilly never played cricket. It looks like he could have sent them down and wielded the willow a bit as well!
Join the cricket network to promote your business and expertise. Make it easy for people to search and find the people and services they need through people they know and trust.
Join the network
If you'd like to see more content from St George District Cricket Club, they'd be very grateful for your support and contribution. St George District Cricket Club will receive 80% of all funds contributed.